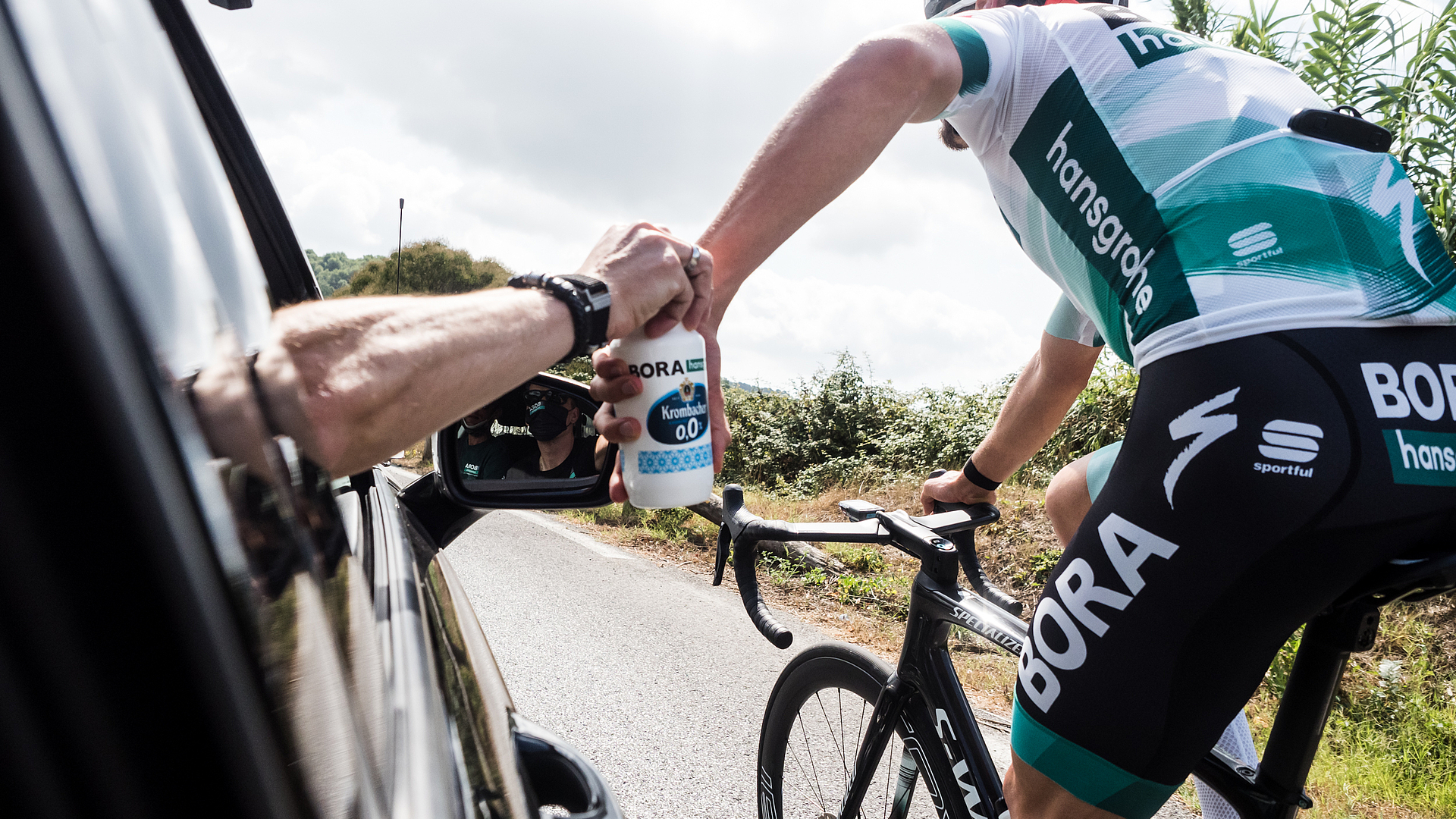 July 2021
When hunger strikes – the energy consumption of a professional cyclist during The Tour de France
This year's Tour de France route will once again cover over 3,000 kilometres. These are divided into 21 challenging stages, crossing Alpine and Pyrenees passes, through the heat of Provence and across blustery sections in the west of the country before reaching the Champs-Élysées in Paris. To counteract physical strain, provide plenty of energy and keep the cyclists in high spirits, a balanced and performance-optimised diet is essential for the members of the BORA – hansgrohe team.
But how many calories do the professional cyclists actually burn on a daily basis during the Tour de France? And how much do they have to eat to counteract this? The answer is simple: a lot! The quantities will seem unimaginable to a non-professional, but are necessary to optimally cope with the high stresses placed on the body.
Photo Credits:
BORA – hansgrohe / Bettiniphoto
BORA – hansgrohe / veloimages.com
BORA – hansgrohe / Ralph Scherzer
BORA / StefanSchuetz.com
There is no fixed answer as to exactly how many calories a professional cyclist will burn during a stage as it depends on several factors. These include:
The cyclist's weight and muscle mass – these define the basal metabolic rate
The cyclist's role during a race – is he cycling out front in the wind or enjoying the protection of the peloton's slipstream?
The intensity of the stage – how fast it is ridden? Is it a flat or a mountain stage?
As a rough estimate, on a flat stage lasting four to five hours, a light cyclist is likely to burn an extra 2,500 – 3,000 calories on top of his 2,000 calorie basal metabolic rate. That means approx. 5,000 calories in total. In the case of an intensive mountain stage, however, a medium-weight rider can even burn as many as 7,000 or 8,000 calories. These levels of energy have to be taken on in a well-balanced manner throughout the day. This is the only way to ensure an ideal energy supply, good metabolism and quick recovery.
Sample meal plan for a professional cyclist:
Breakfast
1 large glass of fresh smoothie (banana, kiwi, apple and berries)
1 – 2 portions of fresh fruit (berries, banana)
2 cups of porridge made with water and almond milk (1 cup equals approximately 240 ml)
2 – 3 egg omelette
2 slices of spelt bread with jam, honey and nut butter, possibly with a small amount of cheese or ham
1 – 3 cups of pasta or basmati rice with some olive oil and possibly avocado
Possibly 1 natural yogurt with nuts
Coffee, tea and water
Pre-race snack:
Possibly 1 cup of pasta or rice, possibly rice cake/energy bar
'Race menu'
3 – 4 l energy drinks (concentration depending on the temperature and course distance)
1 – 4 l pure water or electrolyte drinks
3 – 4 energy gels
2 – 4 'silver parcels' – rice cakes wrapped in aluminium foil (sweet or savoury)
2 – 3 energy bars
Possibly 1 banana or a sandwich at the start of the stage
Immediate post-race snack:
2 different recovery shakes
Small number of gummy bears as required
Fresh and dried fruit
Post-race meal on the bus:
Pasta/rice/potatoes with various sauces and Parmesan or feta, fruit
Sample evening meal:
Puréed vegetable soup
300 g steamed or cooked vegetables
200 g fish, meat, poultry or vegetarian alternative
4 cups of pasta or basmati rice, plus polenta and/or potatoes
Small dessert (fruit purée, on rare occasions spelt cake or semolina)
Water as required
With such complex and diverse needs, it goes without saying that many people need to be involved in order to ensure that each cyclist receives the optimum diet. Dan Lorang, Head of Performance at BORA – hansgrohe, explains: "The logistics are a major challenge: we have to ensure that each cyclist receives the right amount of the right food at the right time (e.g. straight after crossing the finish line)." It sounds complicated but is something that can provide a competitive advantage to teams at the highest level of the sport. BORA is proud of being able to play its part in this success with its products and its Kitchen Truck.
The BORA – hansgrohe nutritional guidelines can be downloaded here. They're sure to give you a few handy tips on how to lead a healthy lifestyle.