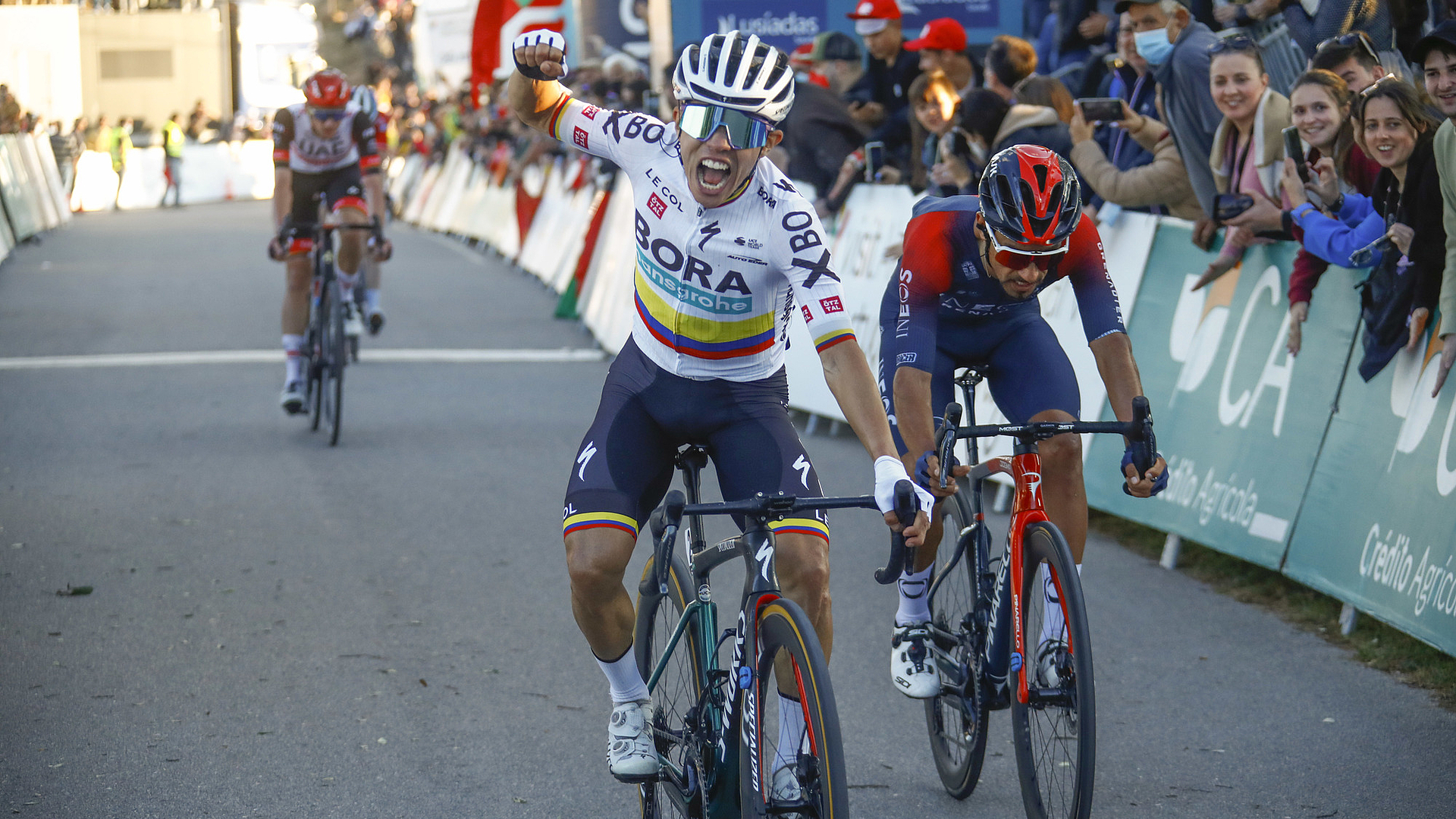 Sergio Higuita – the 'monster' from Colombia
August 2022
To switch off, all you need is music. "It doesn't matter what, nothing special. Simply to relax. Music is food for the soul," explains the man from Medellín, Colombia's second-largest city. Before he takes on a time trial or a difficult stage, he often listens to something like Metallica, but to calm down he prefers more peaceful sounds. When asked if he plays an instrument himself, he answers "No, not any more". He once had a guitar, but he gave up playing when it broke.
Photo credit:
BORA – hansgrohe / Sprintcycling
Kick-starting his career in Colombia
His career got off to a very early start. He competed in his first cycling race at the tender age of five, as his sports teacher had signed him up for it. From then on, his love of cycling grew steadily. To start with, he spent more time on his BMX; a little later on his racing bike. His father and his entire family gave him their full support. He is the first member of his family to become a professional cyclist.
Sergio can remember his first ride really well: "On the first day on my bike I had a crash with a taxi which ended up breaking the car's lights. That wasn't exactly the best start to my cycling career, but it was certainly one to remember."
Role models and coming to Europe
In 2016, at the age of 19, Sergio became a professional cyclist with the Manzana Postobón team, a Colombian talent pool which subsequently folded in 2019. He then went to Spain, the team's European base, and to the home of one of his biggest role models: "Alejandro Valverde. He can win everything from one-day races to Grand Tours, from February to October", enthuses Sergio. What impresses him most about Valverde is his persistence and his versatility. Sergio also has a huge amount of respect for the major cyclists of his homeland, as they have done a lot for cycling in Colombia and that's his major goal too: "It's important for me to be a role model for the next generation."
From trainee to master
The first years were conventional learning years punctuated by a few small achievements. In 2018, the team EF Education First took an interest in the Colombian lightweight rider. But first, he had to prove himself with the Basque team 'Fundación Euskadi' in spring 2018. Highly motivated, Sergio went from strength to strength. Securing 3rd place at the Gran Premio Miguel Indurain, he finally showed himself to be worthy of the highest league in cycling and switched to EF. During his début performance, he came second in the general classification at the Tour of California in 2019, beaten only by Tadej Pogacar, who went on to win the Tour de France in 2020 and 2021. The absolute highlight, however, was Sergio's first Grand Tour stage win at the Tour of Spain in September. Here, the strong climber got to where he'd always wanted to be.
Home and family
Sergio still enjoys spending as much time as possible living in Colombia, generally from October to December when no races take place in Europe: "My family is what matters most to me. They give me strength and support whenever they can. I don't see them all year round, therefore I couldn't do without my mobile phone and the internet. Obviously a bit less time on the internet wouldn't hurt from time to time – but as a Colombian who spends many months of the year far from home, my mobile phone is extremely important to me."
When asked about his best moment on his bike so far he doesn't have to think for long: "February 2020", he cries out. In this month Sergio won the Colombia National Championships and just a few days later he secured overall victory at the Tour Colombia. "This Tour is the greatest race in my homeland, so winning it was the best thing of all!," he enthuses. He signed with the BORA – hansgrohe team in 2022, just before winning the Colombian Championships once again – his first victory in the colours of the Raubling-based team.
The monster…
…as he is nicknamed. Off his bike, he is very friendly and funny with a constant smile on his lips, but he can become a completely different character when he hops onto the saddle. Something of a monster, in fact. How did the nickname 'monster' come about? During his time with EF Education First, his former team manager used to call him this because there's a lizard known as the 'Gila monster' in South America. This lizard species is small but very venomous. Just like Sergio: small but powerful.
At BORA – hansgrohe, Sergio went off like a bomb right from the start. In spring, he formed an almost unbeatable duo with Aleksandr Vlasov, literally taking it in turns to win. After a stage win at the Volta ao Algarve, he took home the overall victory title at the Volta a Catalunya Tour, then second place at the prestigious Tour de Suisse. Now, for his absolute highlight of the season, he's in the starting blocks at the Vuelta a España. Racing alongside Giro winner Jai Hindley, he now aims to continue the success he has enjoyed so far in 2022.
He knows how to combine all of the ingredients perfectly to make a great recipe, both on his bike and in the kitchen: "I'm a big fan of home cooking: rice, salad and meat always feature on the menu. I enjoy cooking and I cook a lot. But I have to anyway, as I live on my own", says the Colombian with a slight grin on his lips. When asked if he has heard of Frankfurter sausages, he sums up neatly that they are "hard to pronounce but easy to eat"!