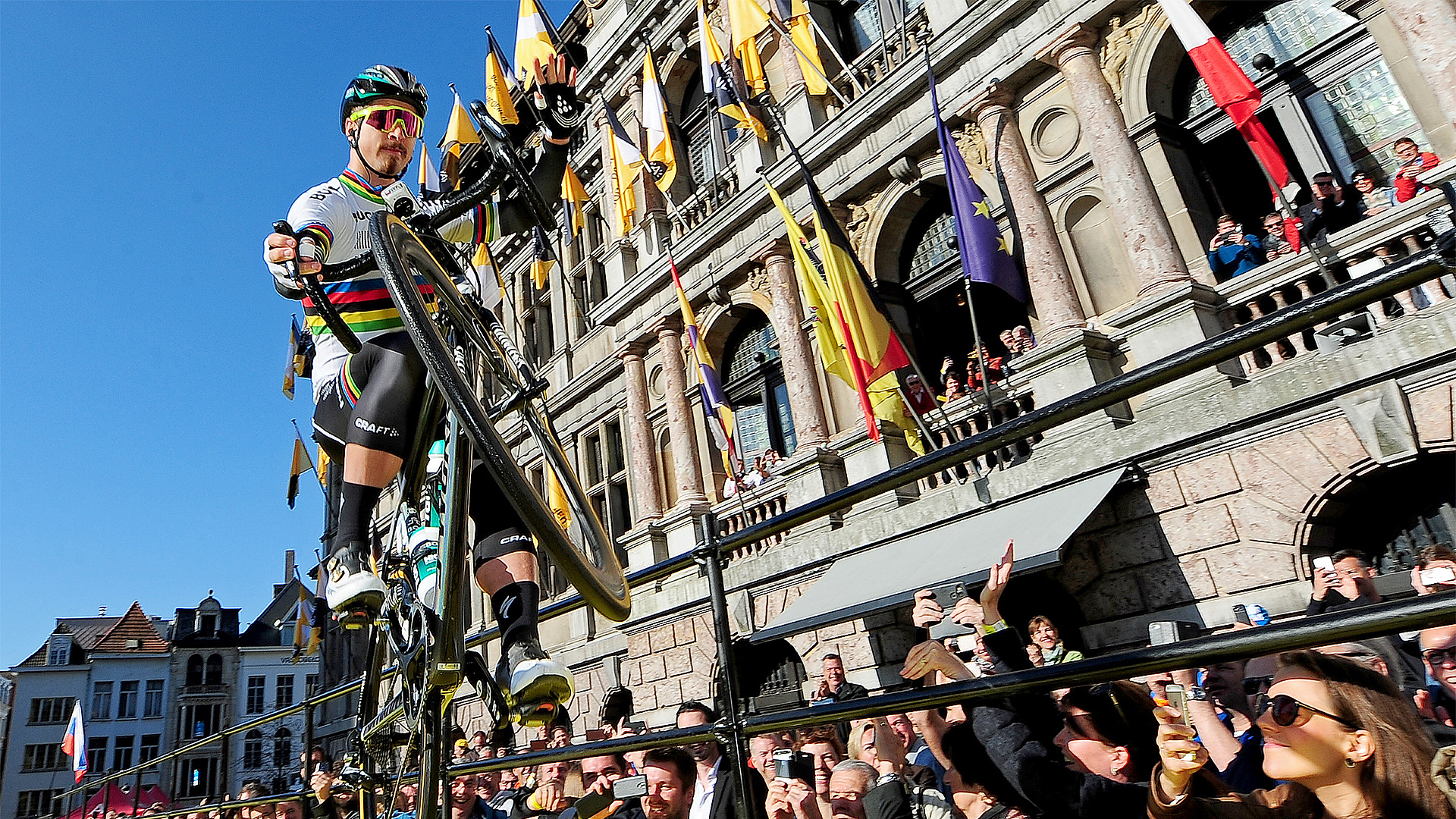 Peter Sagan – the unconventional cycling legend
As the postponed cycling season finally commences, a very special cyclist returns to the spotlight: Peter Sagan. The 30-year-old Slovak on the BORA – hansgrohe team is already considered one of the greatest professional cyclists of all time. It would be hard for anyone to top the many achievements that Peter has already made in his career. By winning his third World Championship title and seventh green jersey in the points classification for the best sprinter at the Tour de France last year, Peter made history as the first rider to have ever achieved such greatness. But Peter Sagan would not be Peter Sagan if he had not turned his full attention to 'green' once again this year. After all, in his own words "Wearing the green jersey on the Champs-Élysées is both a privilege and an honour". Although incredible fighting spirit and teamwork were seen on the route from Nice to Paris, it was ultimately not quite enough this time. But this is no reason for Peter to stick his head in the sand; his next goal is just around the corner.
From a mountain biker to a road cycling legend
Whatever the sport, it is the highlight of any athlete's career and a life goal to be crowned World Champion. Peter has celebrated this triumph not just once, but three times – and three consecutive times at that! No road cyclist has ever before achieved this. As a one-day race, the World Championship is extremely complex and you have only one chance. Success depends on many factors and everything must come together perfectly: tactics, will and naturally a bit of luck. Each year, Peter had the perfect day and thus made the impossible possible. In just a few years, a Slovak mountain biker became a road cycling legend.
But it is not just the extroverted pro cyclist's successes that are capturing attention. Whether crossing the finish line on his back wheel, signing autographs during a mountain stage or causing a stir with his theatrical antics away from racing, Peter is a media favourite. During his first Tour de France, Peter was incited into a 'Sagan performance' by his teammates: "Do a Forrest Gump if you win tomorrow!". The next day, the then 22-year-old Peter outpaced the competition, lifted his arms off the handlebars, swung them back and forth as if he were running and crossed the finish line as the winner. "I'm here to have fun and simply test my luck every day". Peter Sagan regularly delivers what the media, his sponsors and his fans expect: results, titles and the show that comes with them.
"Whether I win or lose a race, in the evening I'm still the same person."
From a sport perspective, he is always one to be reckoned with and always has something to offer. Even after his supposedly greatest successes, he never ceases to surprise. He believes that spectators deserve to be entertained. Peter is considered the rock star of cycling. "Sometimes, I like taking on this role. After all, it's a show of appreciation for me and my achievements. But I also find it annoying at times and simply want to race. I don't feel like a rock star. I'm not a musician or an actor, just a cyclist", says Sagan.
"I turned pro in 2010 and have since worn prestigious jerseys and won major races, but I haven't changed." Despite all his successes and the attention he receives, Peter has remained grounded and does not always take life very seriously. "Why so serious?" is his motto – and potentially also the secret to his success. "You shouldn't overthink things; you can't always win, that's sport. As long as I cross the finish line with the knowledge that I did my best, I have to be satisfied with the result." Sagan's philosophy really is simple and has taken him a long way.
Sagan the family man
Born in Žilina, a small city in the north of Slovakia, the young Peter grew up with his siblings in rather simple circumstances. Even then, a fire raged in the fidgety youngster that never allowed his parents a moment of peace. He preferred being outside in nature than at home with his school books. Inspired by his older brother Juraj, he followed him into cycling, starting mountain biking at age 9 and becoming Junior World Champion several years later. Even today, Juraj is a particularly important person for Peter and is partly responsible for his success. Peter is the humorous joker. Juraj is the determined cyclist with the necessary professionalism and motivation. Without Juraj as a model, Peter's cycling career is unlikely to have developed the way it did and Juraj is still on the team at Peter's side. His oldest brother Milan also had a great influence. When he had the opportunity to become a pro in Italy, it took clear words from Milan to convince Peter that he would forever regret not seizing it.
Peter's father Lubomir also often accompanies him at races – and has been a well-known face since the Tour in 2019 when a video was broadcast of him erupting with joy at Peter's 4th stage victory. Even during the race season, Peter remains dedicated to his family. His almost three-year-old son Marlon is as important to him as the sport. The showman, who is so often in the spotlight, needs the peace and protection of his family ever more and likes to spend the time between the stressful race phases with his son. This balance is the best way to recuperate from all the hectic.
His mental strength makes the difference
As its frontman, Sagan is clearly a key figure for the BORA – hansgrohe team. The glamour that the three-time World Champion brings to the team is unique in the world of cycling. The sport thrives on emotion and media interest, but Peter is more than just a poster child for the team. For young cyclists in particular, having him as a teammate is not only a great honour, but also a major opportunity. You can learn a great deal about mental strength from the 30-year-old Slovak. Team manager Ralph Denk confirms what is possibly one of his greatest strengths: "Peter has the ability to switch from full concentration and an ironclad desire to win to complete light-heartedness at the drop of a hat." And even though he is not recording as many sporting successes as a few years ago, the team still benefits from his experience and extraordinary skill.
Whether record holder Sagan will be able to achieve further successes at his Giro d'Italia debut has yet to be seen. But one thing can certainly be anticipated: Peter Sagan will once again capture attention in the postponed 2020 cycling season. After all, everything Peter does, he does in his own special way; he never ceases to surprise, and that is precisely what makes him so unique.
Photo credit:
1. BORA – hansgrohe / Bettiniphoto
2. BORA – hansgrohe / Bettiniphoto
3. Ötztal / Ernst Lorenzi
4. BORA – hansgrohe / Veloimages.com
5. BORA – hansgrohe / Veloimages.com
6. BORA – hansgrohe / Bettiniphoto
7. BORA / Sam Barker