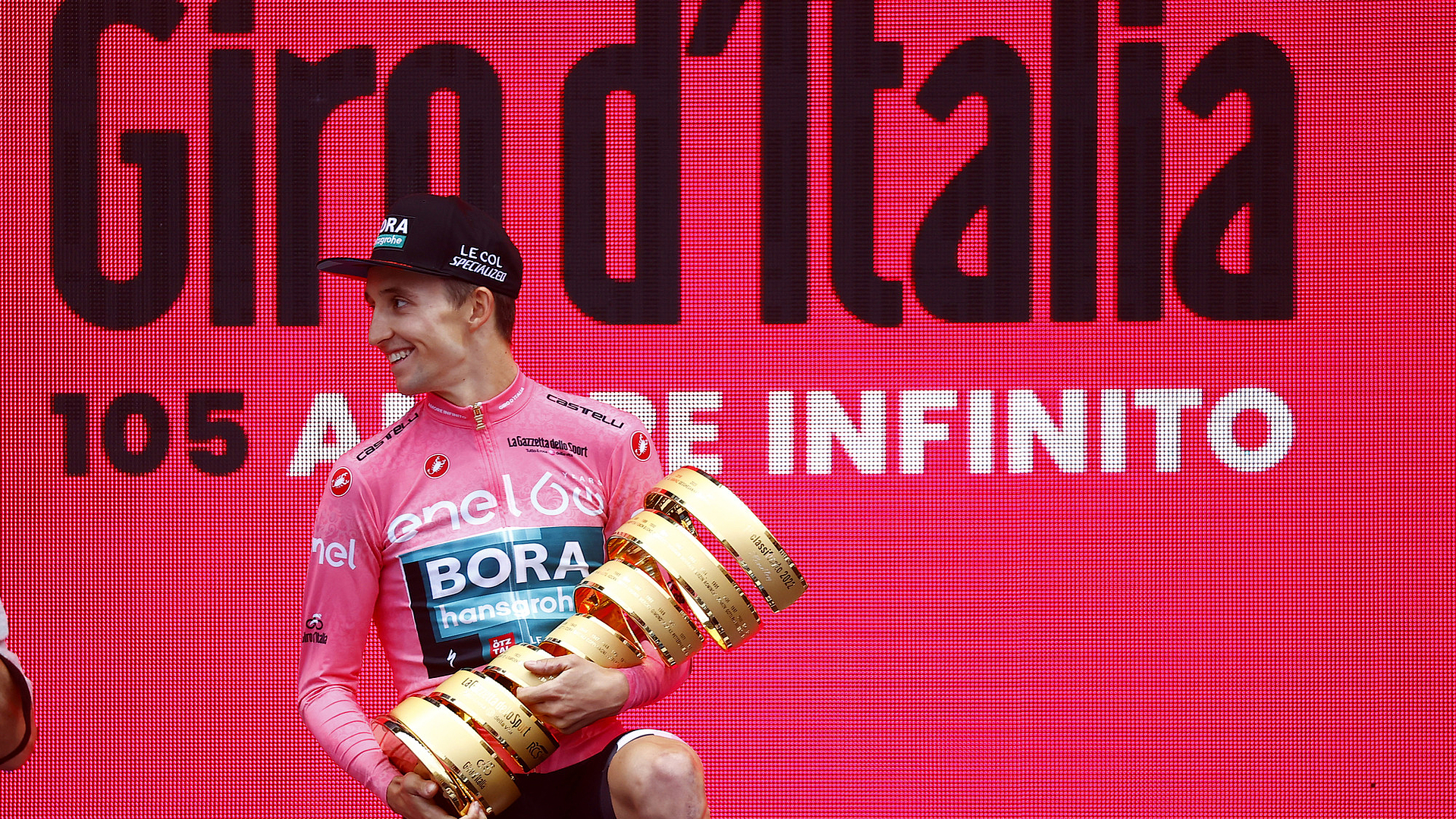 Jai Hindley – A F1RST LOVE
August 2022
"It was a crazy and emotional day in Verona," recalls Jai Hindley, reflecting on his triumph at the Giro d'Italia in 2022. After winning second place in 2020, the diminutive Australian from Perth struck gold in May 2022, when he won "La Corsa Rosa". Two factors helped the cyclist to get through the race: his unstoppable team at BORA – hansgrohe, but most of all, the thought of seeing his parents at the finish line. "Finally being able to hug my family and friends again after more than two years of the pandemic was just crazy and wonderful."
Photo credit:
BORA – hansgrohe / Sprintcycling
BORA / Tom Schlegel Photography
BORA / PhilPham
The best head start
After a year of playing rugby, Australia's no. 1 sport, Jai was encouraged to start cycling by his father at the age of six. Gordon Hindley, born in Britain and a cyclist himself, didn't get much joy from watching his son play rugby. Once Jai traded in the pitch for the road, however, everything happened very fast. It was around the age of seven – although he doesn't remember exactly – that he competed in his first cycling race. But it was clear that if he was going to become a professional cyclist, he would have to go to Europe. Armed with his talent, Jai came to Europe for the first time to race at the age of 17. Each year, he competed in a handful of races for the Australian national team. Then in 2016, he secured a contract with an Italian racing team and immediately showed what he was capable of. Winning fifth place overall in the Tour de l'Avenir (the under 23 equivalent of the Tour de France), as well as third place overall and a stage win in the under 23s "Baby Giro", Jai launched his world-class career.
Bike crazy
One thing quickly becomes clear if you take a quick glance at the cyclist's Instagram profile: Jai loves cycling and puts his heart and soul into it. He also loves his home, his family, and his friends – although pursuing his dreams means he only gets to see them for a few months in the winter time. "It can be difficult sometimes, but I love what I do, and the fact I get paid to do it is just the icing on the cake," says Jai, on the pros and cons of cycling far from home.
His first professional years with Team Sunweb began as an apprenticeship like any other, but even then it was clear that he had the talent to make it to the grand tours. Winning second place in the Tour de Pologne in 2019 was the first highlight of his career, followed by a spectacular second place the following year in the Giro d'Italia.
A mountain rider...
...who loves to watch sprints. It's an unusual combination. Yet Jai's role models in his earlier years were Australian cyclists Stuart O'Grady, Baden Cooke and Robbie McEwen, all world-class sprinters. When it comes to getting on his own bike, however, Jai prefers to head for the mountains. His home in Europe is Girona, Spain, a hotspot and paradise for professional road cyclists from all over the world. For altitude training, he travels to nearby Andorra: "I love it. Cycling through the mountains, out on the pass, being in nature and practically living a hermit's life... It can be a strange way to live but it's perfect for a cyclist."
Jai's real breakthrough came in the Italian mountains in 2020. Due to COVID, the Giro d'Italia didn't take place in May as usual, but in October. Jai was in fact supposed to be a domestique for his team mate, Dutch cyclist Wilco Kelderman. That was until stage 19. Wilco was in a promising position for an overall victory. On the penultimate day, however, Wilco fell slightly behind, and Jai stepped in and took the leader's pink jersey for the first time. In the final individual time trial, his rival Tao Geoghehan Hart from Great Britain ultimately claimed victory. Jai finished second, a great success for the young Australian. But the overall victory was a score that remained to be settled.
A new start with BORA – hansgrohe
Jai had already had his eye on BORA – hansgrohe for a long time. He liked their racing style: full of grit and passion. He also appreciates the team atmosphere between the "Band of Brothers". "They're young, brave, unconventional, and different from other teams. Everyone gives their all for the other team mates, which is what makes the team so strong." He also liked BORA – hansgrohe's focus on overall classification and their goal of winning a Grand Tour – i.e. one of the three three-week national tours – within the next three years. The fact that the team managed to achieve this goal on their very first attempt was thanks to the efforts of many people, from his team mates, who brought their A-game, to the managers, coaches, mechanics, soigneurs, and everyone else involved. But the one up on the podium was Jai. It was a dream come true for the team and their sponsors.
The BORA team is delighted to have Jai Hindley on board. Not only is he an extremely talented cyclist, he also takes great pleasure in cooking for his team. "Homemade food just tastes better," says Jai, who particularly enjoys Italian cuisine, in-keeping with the Giro d'Italia tradition. Jai and BORA, that fits on and off the bike!