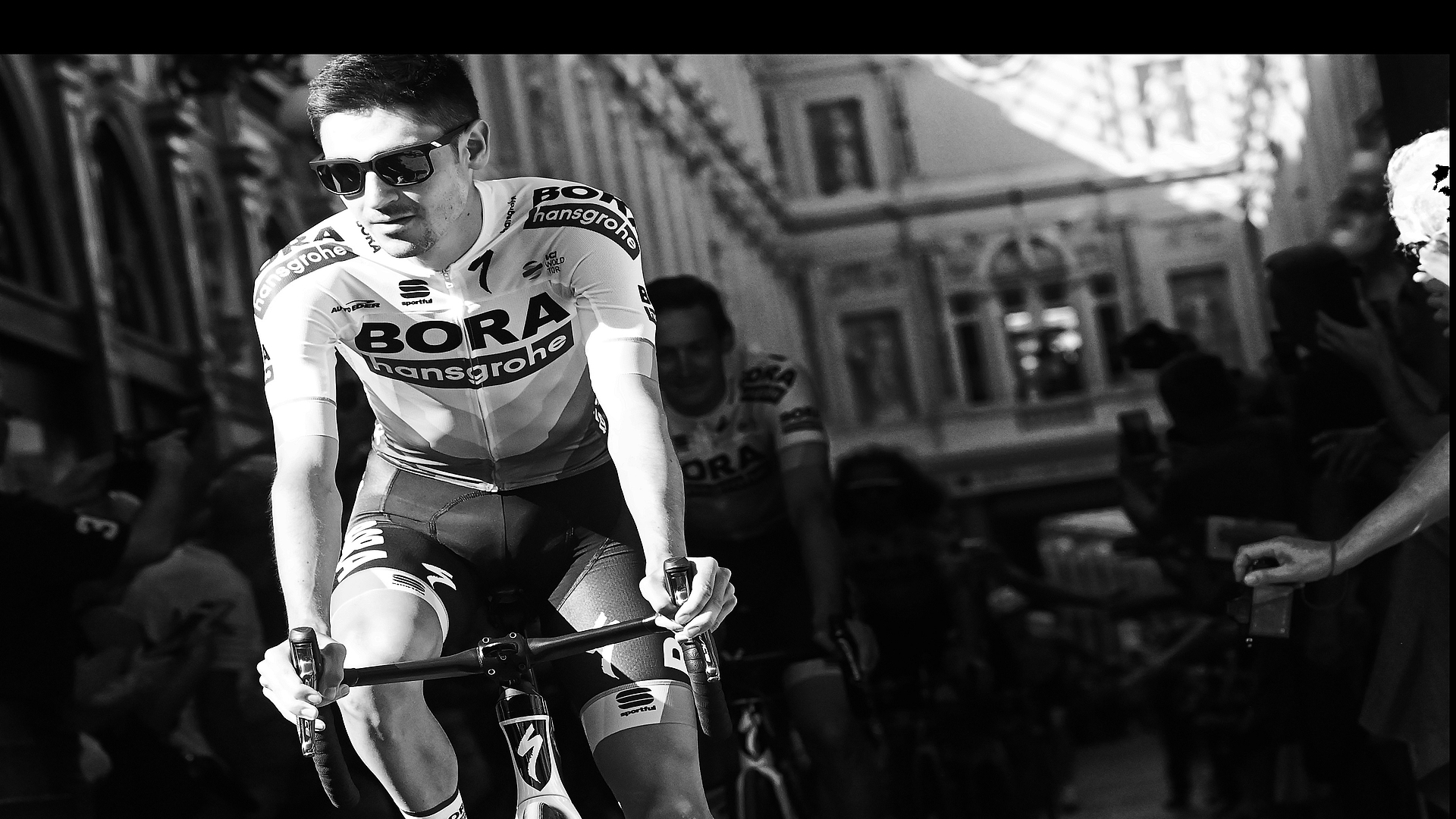 A portrait of Emanuel Buchmann
Behind the scenes with Emanuel Buchmann
Deeds not words
"I'm a man of few words. Everyone knows that. I've always been impressed by people who talk less and do more. I think how I've developed and what I've achieved speak for themselves; there's not much more to say on that."
Emanuel Buchmann is not someone who likes to be in the limelight. However, his mixture of sincere shyness and understatement combined with his achievements earn him a great deal of support and respect in the world of international cycling. His fourth-place ranking at last year's Tour de France gave Emanuel Buchmann considerable exposure in Germany and beyond, making him one of the top favourites again to win this year.
From Ravensburg to Paris, eyes are always on the prize
Hailing from Upper Swabia, he began his cycling adventure at 13 with KJC Ravensburg. He first tried out football and handball before he discovered what he was really good at: cycling. His first coach Tobias Hübner was the one who got the young Buchmann interested in cycling. Hübner says that Emu was already a quiet guy back then who felt most at home on a bike. He always showed up to training on time and in all weathers. Emu always focused on his training and wanted to gain recognition as a result of how well he performed. He won the U23 German National Hill Climb Championship in 2014 and made a name for himself by topping the rankings at other races. It was taking a little longer than expected for his professional contract to be offered so Emu enrolled on an engineering course at the University of Konstanz. Ralph Denk, Manager of the BORA – Argon 18 Team as it was known at the time, was the only one who believed in the young talent and made him an offer. "If Ralph hadn't approached me then I probably wouldn't have made it as a professional cyclist. No one else wanted me," says Buchmann.
Family support gives him strength
In his hometown of Ravensburg, the Buchmann family are known for their modesty. Emu's parents never imagined that he would come so far. The topic of cycling never really came up at home, and Emu discovered his love for the sport all on his own. His father is a master carpenter and ensures he makes enough time for his customers before he sets off travelling to the big races to cheer on his son. "You have to take your time in this line of work even if your mind is actually on France, thinking about the Tour de France," said Manfred Buchmann in an interview before he travelled to France last year for the 18th stage of the race. Emu's health is what matters most for his parents. They don't care about the podium or the win, just their son's excellent performance is spectacular on its own. Emu's friend Claudia is another pillar of support for him. They got to know each other as part of the team as Claudia was their chef and nutritionist when Emu started with the team back in 2015. The way to both of their hearts seems to be through their stomachs, and away from the races and team training camps, nutrition is also essential for performance, recovery and well-being.
Teamwork makes the dream work
Nowadays the quiet climber finds it a little easier to deal with the media, but it's still not an environment in which he feels comfortable. Now and then he finds it hard to be constantly in the limelight and remain fully focused. Nevertheless, he still enjoys time with his fans amid the stresses and strains. He's happy to sign autographs and is thankful for their recognition and support. Emu is not a natural-born captain, he admits that. He's not one for making big speeches in front of the team, but he's certainly good at giving clear instructions when it counts. At key points in the race, Emu tells his team if something isn't working well, and likewise, he appreciates what the others do to help him. Treating each other with respect in the team is really important to the 27-year-old and is the key to success. The relationship with his domestique Gregor Mühlberger especially plays a major role during the Tour de France. They are disciplined, determined and get on really well as they are cut from the same cloth. Mühlberger says that you build a special rapport when you battle your way through the mountains together and keep on making progress both in terms of performance and development. The team and his coach Dan Lorang think Emu is absolutely capable of taking home the overall title. Emanuel Buchmann is a rider that has got both the legs and the head for professional cycling, especially with his strong and focused mind.
Tour de France podium in his sights
Emu always has a clear goal in mind, and this year it's obviously getting on the Tour de France podium. Whether he'll be the man in the yellow jersey at the end of the Tour de France or celebrating on the podium in Paris is still to be decided. "Why not?" says Buchmann, "It's not impossible. You don't have to be lucky; you just need to not have too much bad luck."
We've all got our fingers crossed tightly anyway – allez allez allez Emu!
Photo Credit:
BORA - hansgrohe (veloimages.com, Bettiniphoto, Ralph Scherzer), BORA (Sam Barker)