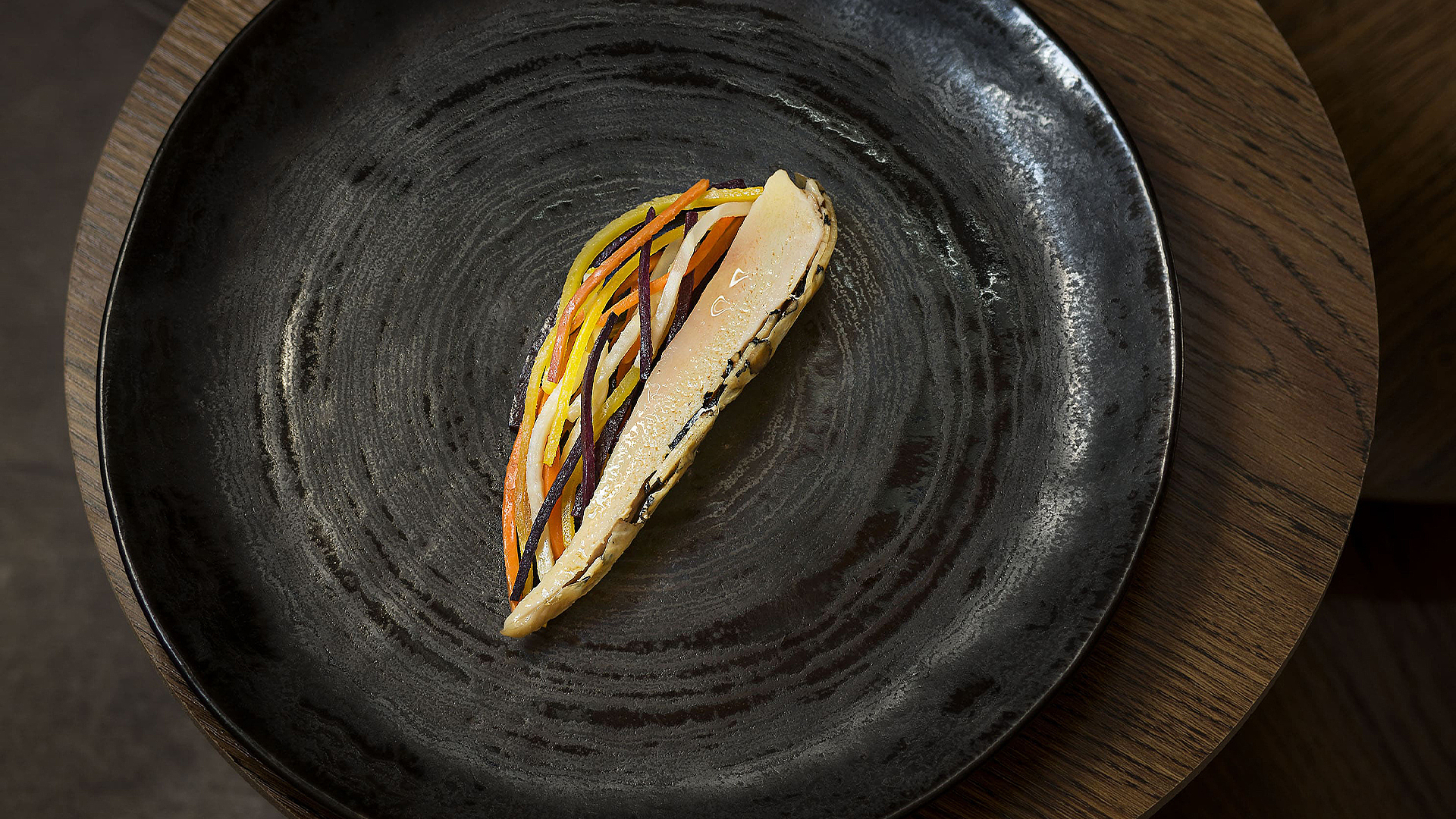 Truffled poularde in a salt crust with root vegetables
Automatic programme 'chicken in salt crust' (Step 2)
Preparation
POULARDE
1. Use a small spoon to loosen the poularde skin from both sides without damaging it. If necessary, remove any dirt from the truffles with a fine brush, then thinly slice them and slide under the skin. Heat the oil in a pan and sear the poularde over a medium heat until brown.
2. Beat the egg whites in a tall mixing jug until foamy. In a bowl, mix the coarse sea salt with the fine salt then add 20 g water and finally mix in the beaten egg whites. Line the universal tray with a baking mat and brush on about a third of the egg white mixture. Place the poularde on top, cover with the remaining mixture and press in well. Cook the poularde in the X BO (170°C/0% humidity) for about 45 minutes to a core temperature of 78°C. Remove from the oven and leave to rest for 10–15 min-utes without any further heat input.
ROOT VEGETABLES
3. While the poularde rests in the salt crust, peel the carrots and celery and cut into strips with a julienne peeler. Put the julienne vegetables on the perforated steamer tray and steam in the X BO (100°C/100% humidity) for about 4 minutes until al dente.
4. Melt the butter in a frying pan. Swirl the steamed vegetables in the butter and season with salt. Remove the frying pan from the stove.
FINISHING TOUCHES
5. To serve, carefully cut open the salt crust on the upper third of the poularde. Remove the poultry and carve on a chopping board.
6. Plate up the root vegetables. Cut the breast pieces into equal-sized slices and serve with the legs.
This and other inspiring recipes can be found in the cookbook for the BORA X BO.
Preparation time: 35 min.
Cooking time: 49 min.
Serves 4
For the poularde
1 poularde (approx. 1.2 kg)
20 g truffle
5 tbsp groundnut oil
3 egg whites (size M)
1.25 kg coarse sea salt
650 g fine natural or sea salt
For the root vegetables
200 g orange carrots
200 g yellow carrots
200 g purple carrots
350 g celery
50 g butter
Natural or sea salt