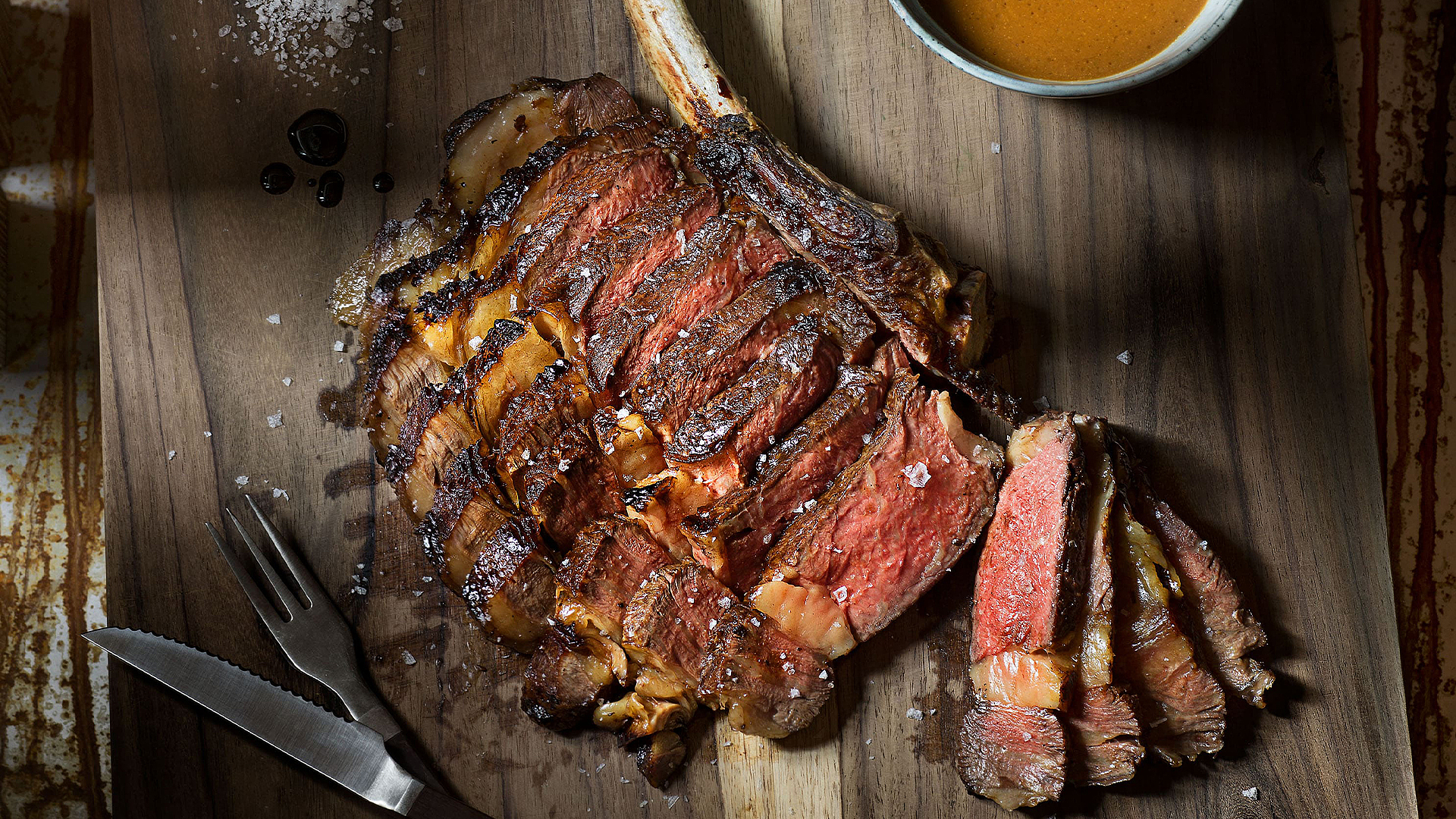 Teriyaki-style tomahawk steak with cucumber, radish and spring onions
Automatic programme "Tomahawk" (Step 3)
Preparation
SAUCE
1. Wash the lime in hot water, dry, zest, then squeeze the juice. Peel and finely grate the garlic and ginger. Mix the miso paste with 5 tbsp water, the mirin, soy sauce, lime juice and lime zest. Stir in the garlic and ginger.
SALAD
2. Trim and wash the cucumber and radish then cut diagonally into thin slices. Trim and wash the spring onions then cut diagonally into the thinnest possible rings, including the fresh green leaves. Wash the coriander and shake dry then pluck the leaves. Place the prepped ingredients into a bowl. Add the rice vinegar, sesame oil and peanuts. Season well with salt and mix loosely.
STEAK
3. Dab the tomahawk steak dry with kitchen roll, coat both sides with the teriyaki sauce and sear briefly on the Tepan grille or in a hot, non-oiled frying pan. Once seared, place the meat on the oven rack. Insert the non-perforated steamer tray under the rack so that nothing drips onto the bottom of the appliance. Cook the steak in the X BO (80°C/20% humidity) for 45 minutes then at 200°C/-20 % humidity for about 30 minutes until its core temperature reaches 54°C. Remove the steak from the oven, cover and leave to rest for about 5 minutes.
FINISHING TOUCHES
4. Carve the steak into around 2 cm wide strips and serve on a wooden board with the salad and sauce. Season the strips of steak with coarse salt.
Serves 4
For the sauce
1 organic lime
1 garlic clove
20 g ginger
50 g light miso paste
4 tbsp mirin (Japanese rice wine)
2 tbsp soy sauce
For the salad
250 g cucumber
200 g red radish
5 spring onions
4 sprigs of coriander
3 tbsp rice vinegar
4 tbsp sesame oil
30 g roasted and salted peanuts
Natural or sea salt
For the steak
1 tomahawk steak (approx. 1.5 kg)
5 tbsp teriyaki sauce