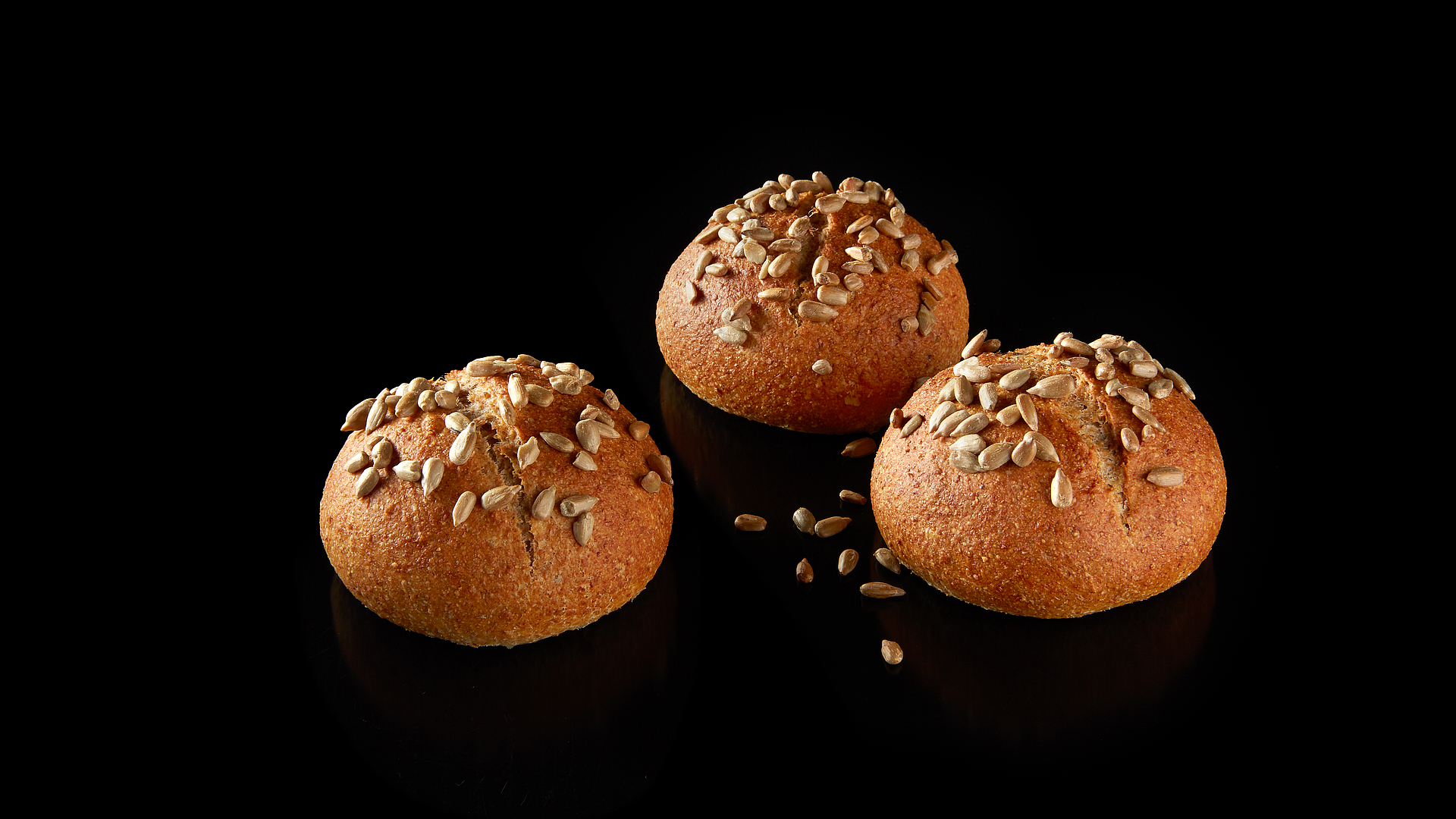 Spelt wholemeal rolls
Automatic programme "Bread rolls"
Preparation
Prepare the dough
Put all of the dry ingredients in your food processor's mixing bowl, gradually pour in the water and oil and slowly knead into a smooth dough. Leave the dough to prove on the oven rack on the bottom shelf of the X BO (35°C/40% humidity, special programme "Prove dough") for 30 minutes.
Shape into rolls
Divide the dough into four equal-sized pieces (approx. 60 g per piece), put them on the universal tray and leave to prove for another 15 minutes in the X BO (30°C/40% humidity, special programme "Prove dough"). Remove the dough pieces from the X BO and shape them into rolls.
Bake the rolls
Cut a cross into each roll and brush with water. Sprinkle with spelt grist or seeds (as desired) and bake in the X BO (180°C/0% humidity, automatic programme "Bread rolls") for 7 minutes. Add bursts of steam after 30 seconds and 5 minutes 30 seconds, then change the settings to 210°C/0% humidity and bake for another 5 minutes. One minute before the end of the baking time, add one last burst of steam.
Pro tip
To achieve perfectly airy, crusty baked goods, use the special programme "Prove dough" after making the dough. Space the rolls out well to prevent them from sticking together while baking.
Preparation: 15 min.
Baking/cooking time: 35 min.
Resting time: 45 min.
Serves 4
70 g wheat flour (type 405)
70 g spelt wholemeal flour
4 g dried yeast
4 g baking powder
0.5 tsp sugar
Salt
90 ml water
1 tbsp sunflower oil
Spelt grist or seeds (as desired)