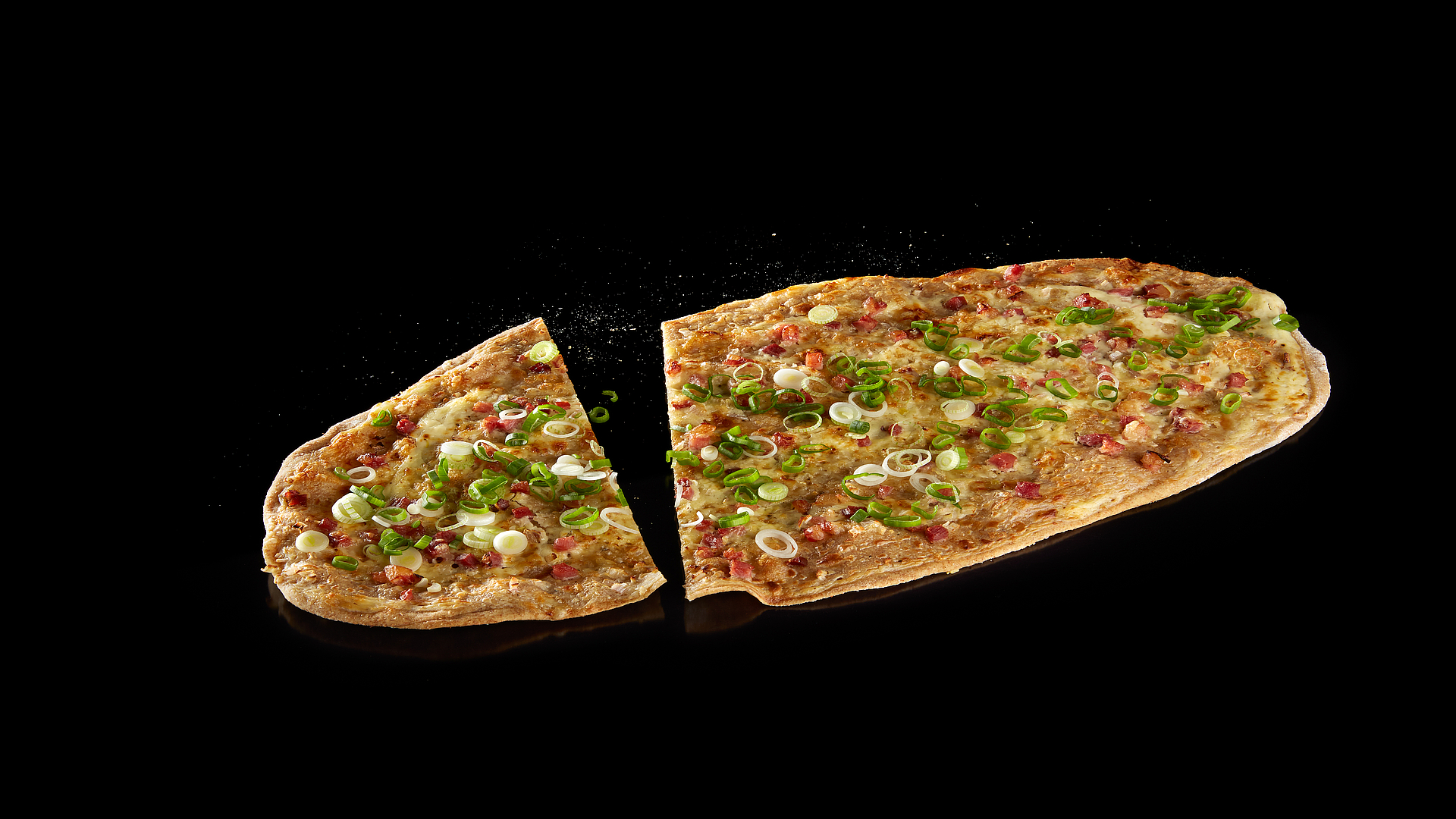 Spelt tarte flambée
Automatic programme "Spelt tarte flambée"
Preparation
Prepare the dough
Combine the flour and salt in a mixing bowl. Gradually add the water and oil then knead the ingredients in a food processor at medium speed for 10 minutes to form a smooth dough. Put the dough in a bowl, cover with cling film and leave in the fridge for around 30 minutes.
Prepare the topping
Peel the onions and chop them into rings (approx. 5 mm thick). Trim and wash the spring onions then chop into fine rings, finely dice the bacon. Season the crème fraîche with salt, pepper and freshly grated nutmeg.
Prepare the tartes
Divide the tarte flambée dough into two portions. Thinly roll out half of the dough on a well-floured work surface and place it on the universal tray. Spread the crème fraîche onto the dough, top with onion rings and bacon and bake in the X BO (180°C/40% humidity, automatic programme "Spelt tarte flambée") for 15 minutes. Repeat with the second tarte flambée. After baking, sprinkle the spring onions on top of the tartes flambées.
Pro tip
To prevent certain ingredients, such as leeks, from burning, they should not be placed on the tarte flambée until the cooking time is nearly up.
Preparation: 20 min.
Baking/cooking time: 15 min.
Serves 4
For the dough
400 g spelt flour (type 630)
4 g salt
250 ml water (lukewarm)
20 ml extra virgin olive oil
For the topping
200 g white onions
50 g spring onions
140 g bacon
400 g crème fraîche
Salt
Ground pepper
Nutmeg