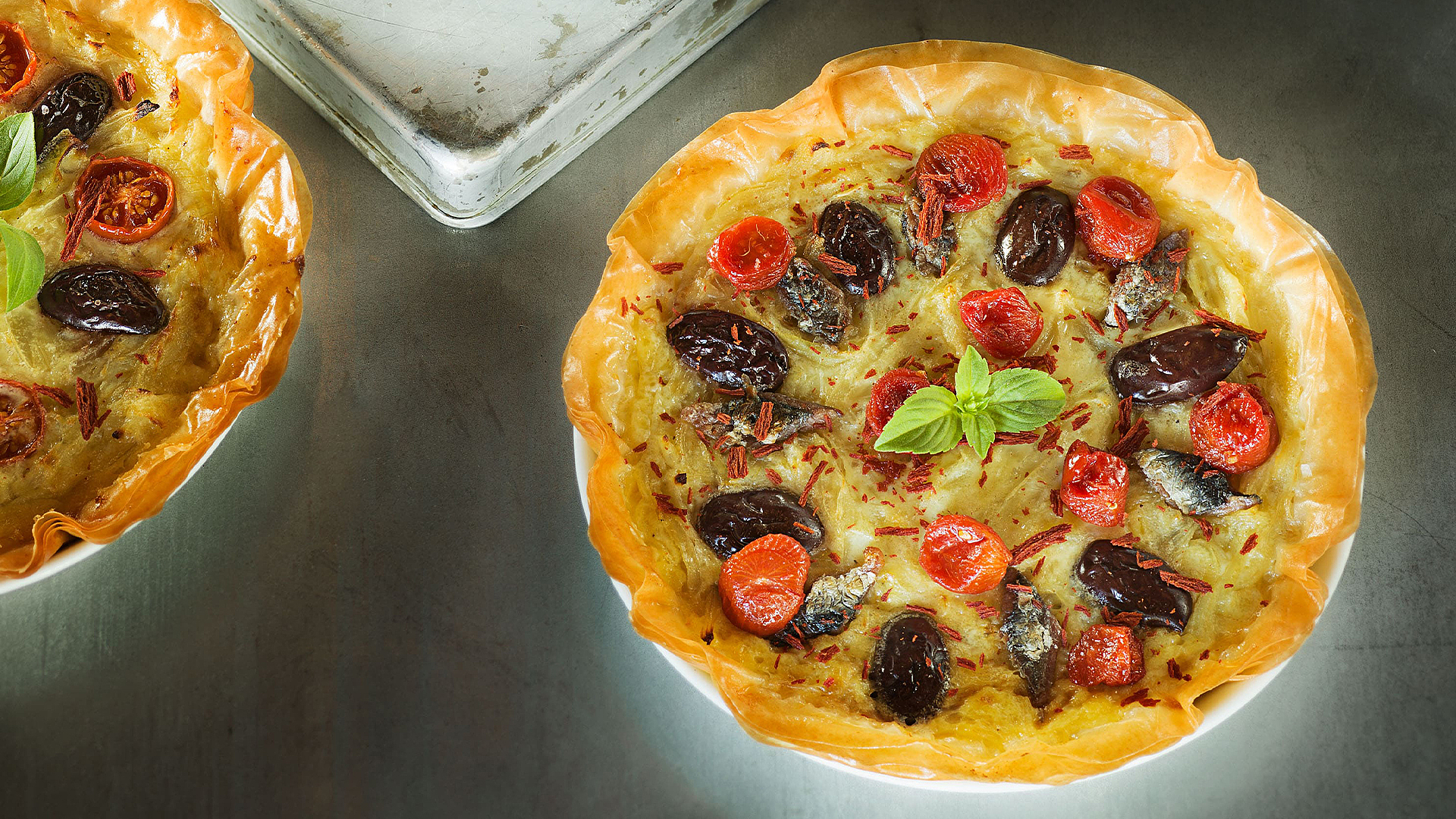 Onion filo tart
Automatic programme 'onion filo tart' (Step 5)
Preparation
TOPPING
1. Wash the thyme and oregano, shake them dry then pluck the leaves. Peel the onions and cut them into thin strips. Heat up 4 tbsp olive oil in a frying pan and sauté the onions. Season with salt, pepper and sugar, then add the bay leaves, thyme and oregano and briefly continue to sauté. Once the onion becomes soft and translucent, remove the pan from the hob.
EGG FILLING
2. Put the egg yolks, the milk and the whole eggs into a mixer and blend briefly. Season with salt, freshly grated nutmeg and cayenne pepper.
TART
3. Grease the tins with some oil. Cut the sheets of filo pastry in half. Put the first tart tin on one half of the pastry and cut the pastry to the size of the tin. Line the bottom of the tin with the pastry. Now brush the pastry with some oil and add 3 more half-sheets of filo pastry on top so that the tin is completely covered, including the edge. Brush the individual sheets with oil and trim off any pastry hanging over the edges. Repeat with the second tin.
4. Remove the crust from the white bread and rub into fine breadcrumbs. Line the bottom of both tins with the breadcrumbs. Spread the onion mixture evenly between the two tins and pour the egg filling on top.
5. Wash and halve the tomatoes then pit and halve the olives. Put equal quantities of each on both of the tarts. Bake the onion tarts in the X BO (150°C/40% humidity) for around 20 minutes until golden brown.
FINISHING TOUCHES
6. Cut the anchovies into pieces. Remove the onion tarts from the oven, leave them to cool then garnish with the anchovy pieces and tomato flakes.
This and other inspiring recipes can be found in the cookbook for the BORA X BO.
Preparation time: 25 min.
Baking time: 20 min.
Serves 4
For the topping
2 sprigs of thyme
2 sprigs of oregano
900 g white onions
4 tbsp olive oil
Natural or sea salt
Ground white pepper
½ tsp raw cane sugar
2 bay leaves
For the egg filling
2 egg yolks (size M)
4 eggs (size M)
400 g milk (or almond drink)
Nutmeg
Cayenne pepper
For the tart
4 sheets of filo pastry
80 g white bread
12 cherry tomatoes
60 g black olives
6 anchovies
Tomato flakes
Additional items
2 tart tins (approx. 19 cm Ø)
Olive oil for greasing