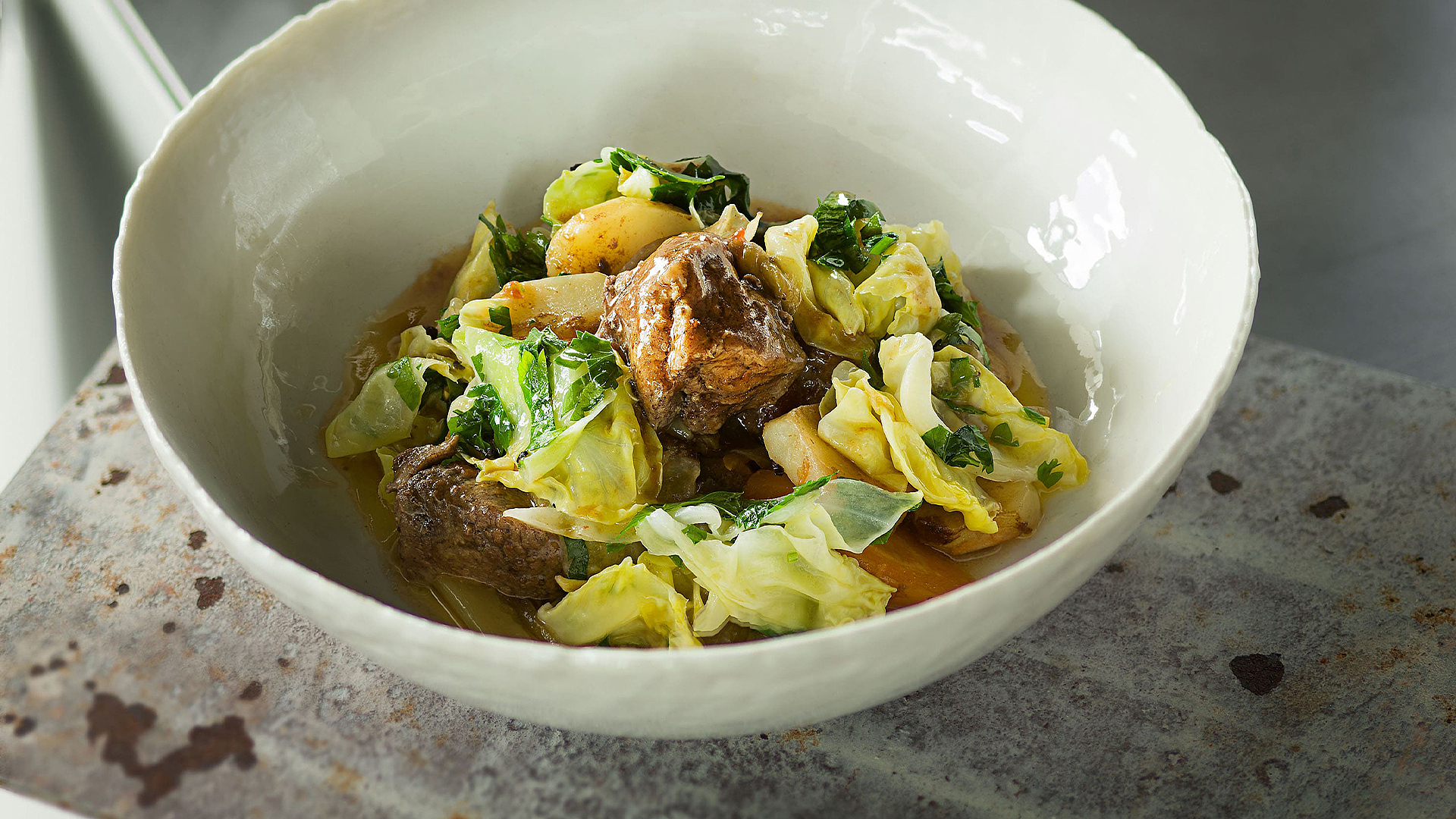 Lamb stew with young pointed cabbage
Automatic programme 'lamb stew' (Step 5)
Preparation
MARINATED LAMB
1. Dab the shoulder of lamb dry with kitchen roll, remove any fat and sinew rem-nants with a sharp knife. Cut the meat into cubes weighing approx. 30 g. Peel and finely chop the garlic. Quarter the bay leaves. Cover the meat with the garlic, bay leaves, dried thyme and 2 tbsp olive oil.
2. Toast the remaining herbs in a non-stick frying pan without any fat. Then grind them into a powder in a mortar and sprinkle it over the meat. Mix the cubes of meat well with the herbs, spices and oil, then leave to marinate in the fridge for around 8 hours.
STEW
3. Peel the onions and carrots, then trim and wash the celery. Cut the prepared vegetables into big cubes. Wash the cabbage, remove the leaves from the stems and cut them into big pieces. Wash the parsley and thyme. Clean and thoroughly wash the leek. Chop the white part into big cubes, tie the green part together with the herbs to make a vegetable bouquet.
4. Heat the oil in a roaster. Add the lamb and the herb/spice marinade and sear over a medium heat for around 5 minutes. Add the curry powder and the onions and fry for another 5 minutes. Next, add the tomatoes and 4 tbsp tomato juice from the tin, followed by the vegetable bouquet and the vegetables. Top up with the stock.
5. Peel the potatoes and cut into 0.5 cm thick slices. Cover the stew with the potato slices and press them down slightly. Braise in the X BO (170°C/40% humidity) for around 1 hour 30 minutes. Then take the stew out of the oven and remove the vegetable bouquet.
FINISHING TOUCHES
6. Wash the coriander, shake it dry, pluck the leaves and finely chop them. Serve the stew in four pre-warmed, deep plates and garnish with the chopped coriander. Serve immediately.
This and other inspiring recipes can be found in the cookbook for the BORA X BO.
Preparation time: 45 min.
Waiting time: 8 hrs
Cooking time: 1 hr 30 min.
Serves 4
For the marinated lamb
850 g boneless shoulder of lamb
5 garlic cloves
2 bay leaves
1 tsp dried thyme
2 tbsp olive oil
3 cloves
1 tsp caraway
1 tsp coriander seeds
½ tsp fennel seeds
1 star anise pod
1 tsp black peppercorns
For the stew
1 large onion
2 carrots
120 g celery
250 g pointed cabbage
4 sprigs of parsley
1 sprig of thyme
1 leek
2 tbsp olive oil
1 tsp curry powder
4 peeled tomatoes (from a tin)
1 kg lamb stock (or vegetable stock)
4 medium-sized floury potatoes
To finish