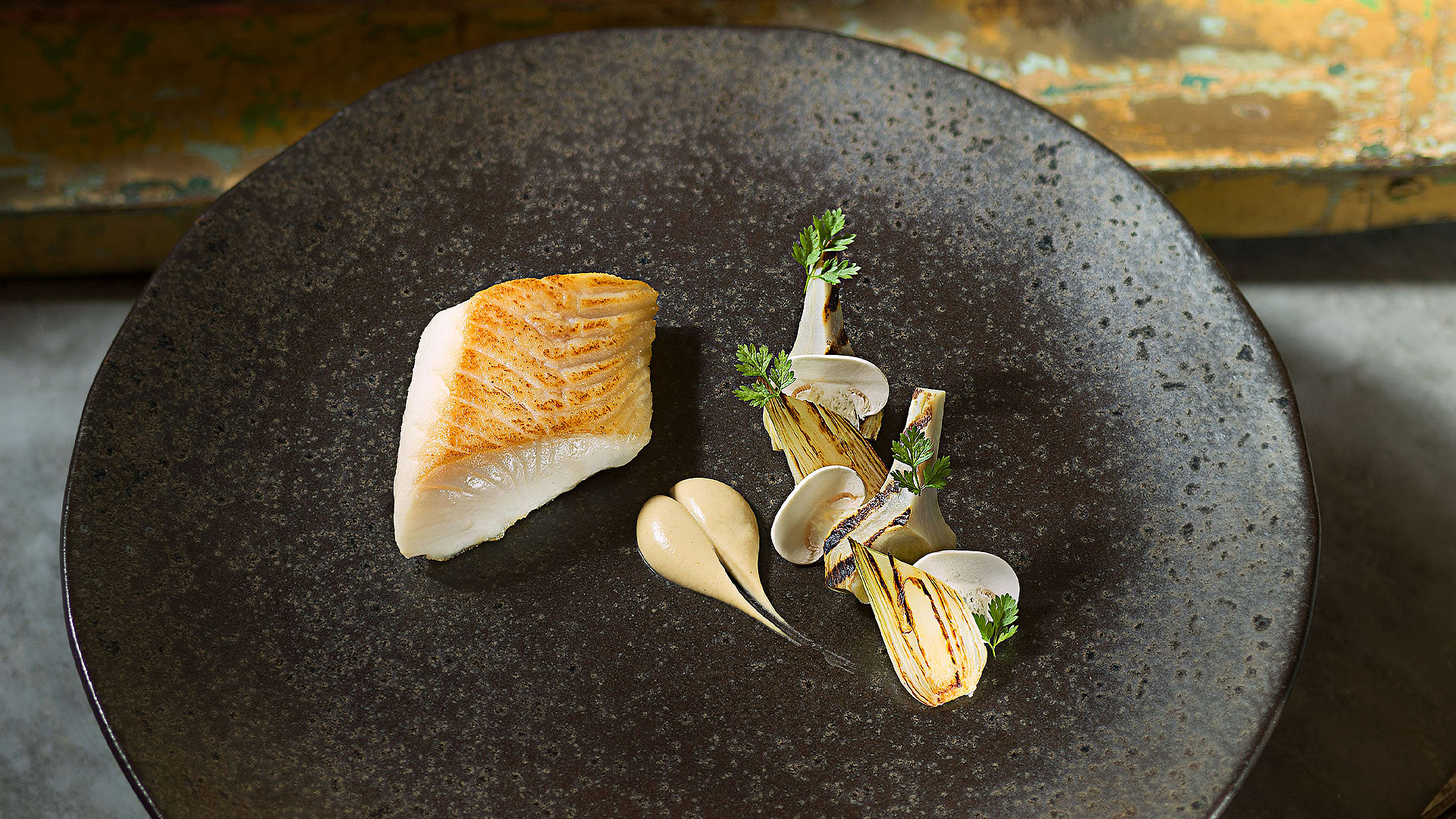 Black cod with artichokes and spring onions
Automatic programme 'artichokes' (Step 4)
Preparation
ARTICHOKE PURÉE
1. Leave the artichoke bottoms to defrost. Peel and finely chop the onion and garlic. Wash the thyme and shake it dry. Heat the oil in an oven-proof pan. Cut the artichoke bottoms into small pieces and fry until golden brown. Add the onions and garlic and sauté over a medium heat, then add thyme and season with salt and pepper.
2. Deglaze the vegetables with white wine then leave to boil off completely. Pour in the milk and cream, then leave to reduce in the X BO (110°C/60% humidity) for around 20 minutes without covering the pan. Afterwards, remove the thyme and blend the remaining ingredients into a fine purée.
SPRING ONIONS
3. Trim and wash the spring onions, remove the green part and place the bulbs in a vacuum bag with the butter. Steam in the X BO (100°C/100% humidity) for around 8 minutes until soft.
ARTICHOKES
4. Prepare the artichokes by removing the outer leaves and cutting off the hard tips. Leave the stalk in half. Place the artichokes on the perforated steamer tray and steam in the X BO (100°C/100% humidity) for around 15 minutes until soft.
BLACK COD
5. Heat the oil in an oven-proof frying pan. Dab the fish fillets dry with kitchen roll and season with salt on both sides. Fry in the hot oil then place the pan in the X BO (80°C/-50% humidity) for 4–6 minutes to cook the fish through. Strain on kitchen roll.
FINISHING TOUCHES
6. Season the artichokes lightly with salt then quarter. Halve the spring onions lengthwise. Fry both vegetables until golden brown, then arrange alternately on the plates, next to the fish. Pipe on some purée. Garnish with mushroom slices and chervil.
This and other inspiring recipes can be found in the cookbook for the BORA X BO.
Preparation time: 1 hr 5 min.
Cooking time: 49 min.
Serves 4
For the artichoke purée
180 g frozen artichoke bottoms
55 g onion
3 g garlic
3 g thyme
25 g groundnut oil
Natural or sea salt
Ground pepper
40 g white wine
50 g milk (or oat drink)
50 g cream (34% fat, or vegetable fat)
For the spring onions
6 large spring onions
70 g butter
For the artichokes
For the black cod
80 g groundnut oil
4 skinless black cod fillets (80 g each; or turbot/skrei)
Natural or sea salt
To finish
Natural or sea salt
2 tbsp groundnut oil
2 mushrooms
3 sprigs of chervil
Additional items
Piping bag with a round tip