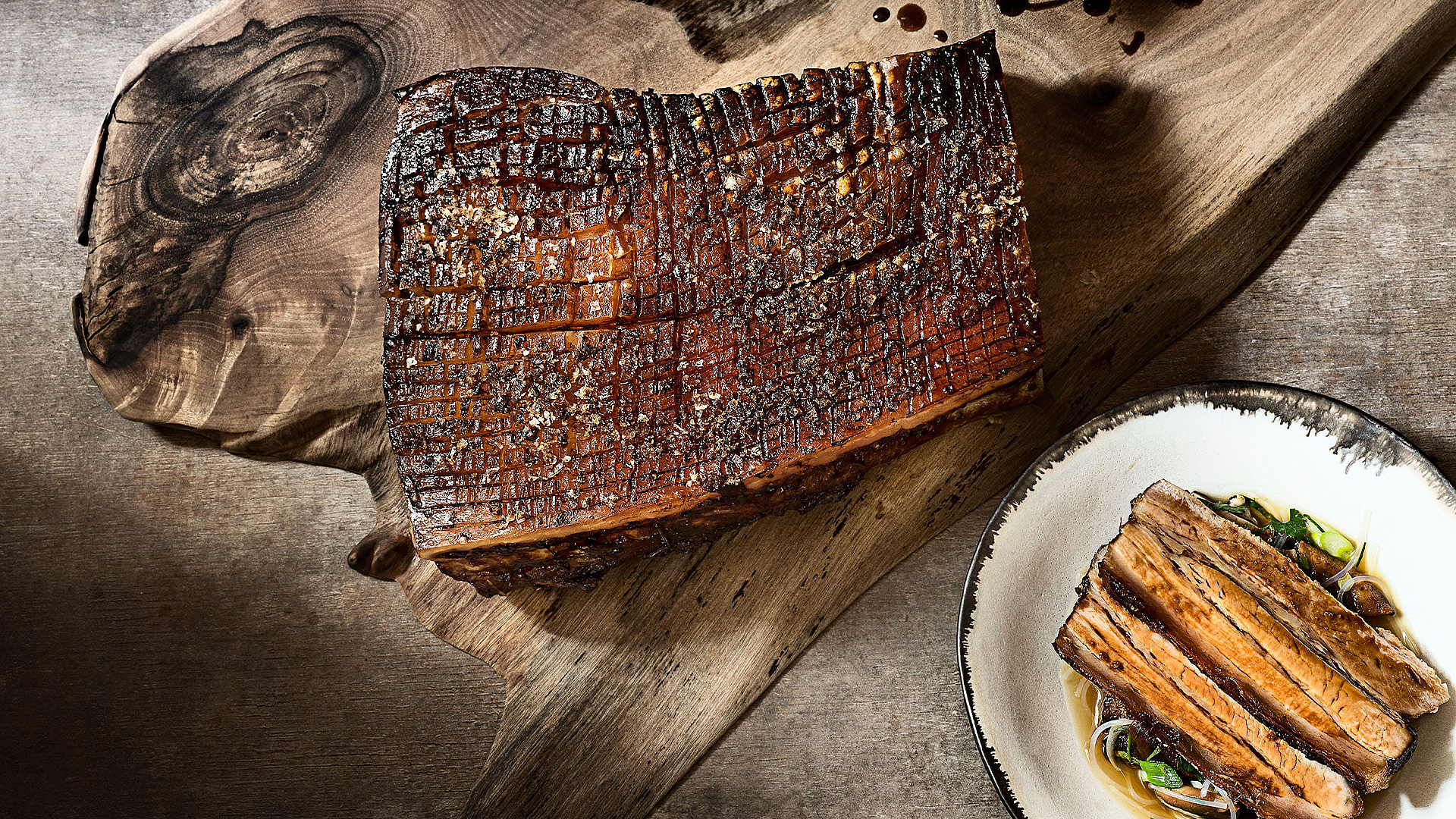 Asian roast pork with crackling
Automatic programme 'Asian roast pork with crackling' (Step 6)
Preparation
ROAST PORK WITH CRACKLING
1. Allow the pork belly to dry in the fridge uncovered for about 8 hours.
2. The next day, use a sharp knife to score the skin every around 1 cm being careful not to cut into the meat. Dab the meat side dry with kitchen roll then season with salt and pepper. Generously season the skin with salt.
3. Peel the carrots and celery. Trim and thoroughly wash the leek. Cut everything into walnut-sized pieces and place in a large roasting tin.
4. Peel and slice the ginger. Coarsely pound the coriander seeds in a mortar. Remove the tough outer leaves from the lemongrass and finely slice the lower 10 cm of the soft inner stalk. Wash the chilli pepper, cut in half lengthwise and remove the stalk base, white ribs and seeds. Roughly dice the two halves. Mix the prepped ingredients into the stock and pour over the vegetables.
5. Place the pork belly on the vegetables skin-side up. Mix the soy sauce, honey and sesame oil in a cup to make a marinade.
6. Sear the meat in the X BO (170°C/0% humidity) for 1 hour then remove and coat with the marinade. Cook for another 45 minutes at 150°C/-100% humidity followed by a final 45 minutes at 130°C/-100% humidity. Repeatedly coat with the remaining marinade in the last 20 minutes to create beautifully dark crackling.
7. Remove the cooked meat from the roasting tin and strain off the roasting juices (retain for use later on).
VEGETABLE NOODLES
8. Cook the rice noodles according to the packet instructions and strain.
9. Trim the shiitake mushrooms, rub them with a cloth if necessary, then quarter. Trim and wash the spring onions then cut into pieces diagonally, including the fresh green leaves.
10. Wash the coriander and shake dry. Pluck and finely chop the leaves. Pour 200 g of the strained roasting juices into a pan and bring to the boil. Add the mushrooms and spring onions and cook for about 2 minutes before mixing into the rice noodles together with the coriander.
FINISHING TOUCHES
11. Carve the roast pork with crackling into slices. Place on pre-heated plates with the vegetable noodles and the rest of the roasting juices and serve immediately.
This and other inspiring recipes can be found in the cookbook for the BORA X BO.
Preparation time: 30 min.
Waiting time: 8 hrs
Cooking time: 2 hrs 30 min.
Serves 4
For the roast pork with crackling
1.4 kg pork belly
Natural or sea salt
Ground pepper
200 g carrots
200 g celery
200 g leek
50 g ginger
1 tsp coriander seeds
2 sticks of lemongrass
1 small red chilli pepper
800 g chicken stock (jarred)
100 g soy sauce
3 tbsp liquid honey
2 tbsp sesame oil
For the vegetable noodles
150 g rice noodles
50 g shiitake mushrooms
4 spring onions
4 sprigs of coriander