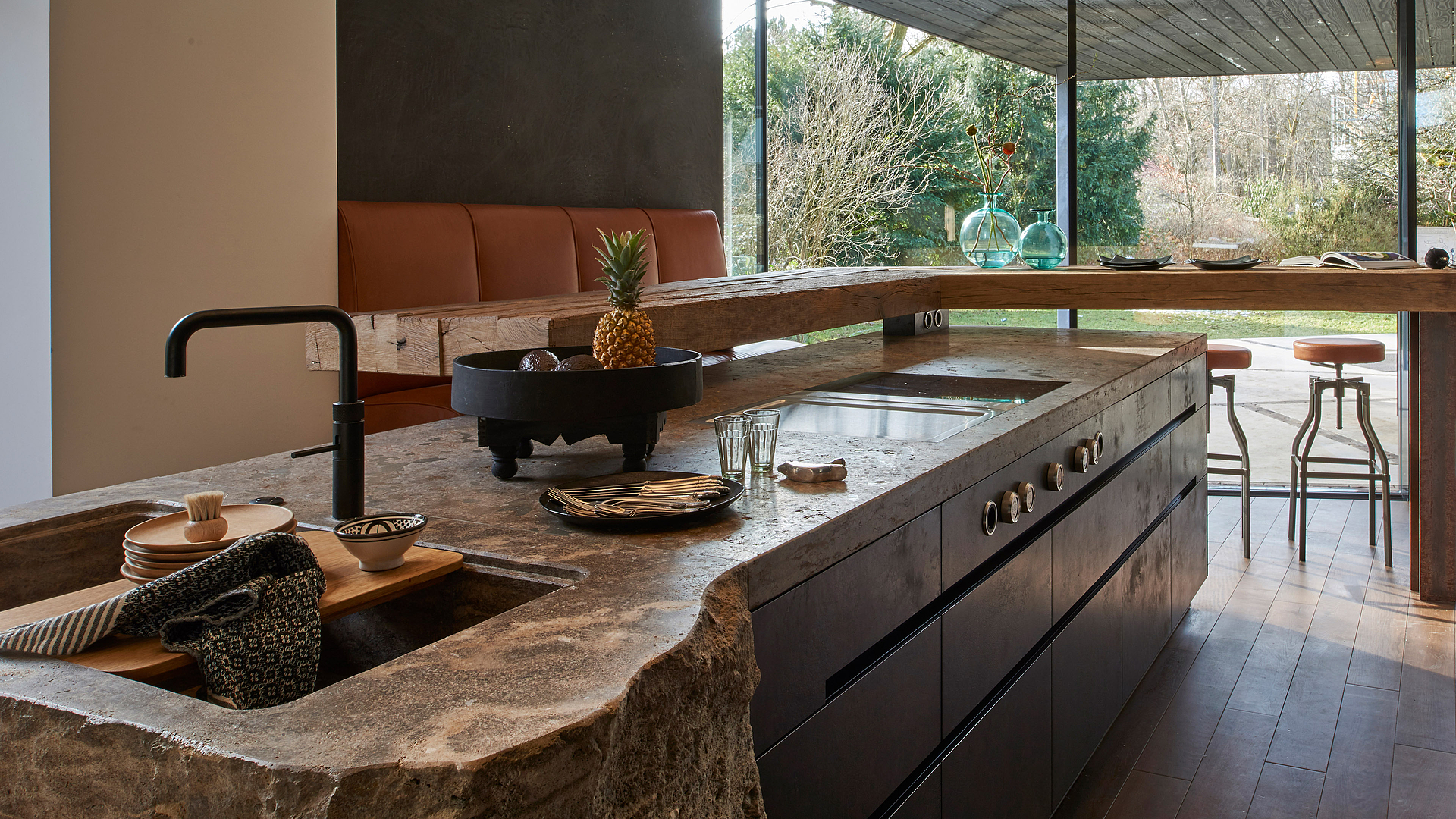 Reused wood and natural stone house the kitchen water supply
This kitchen in an extended, renovated old building in south-west Munich is one of a kind, just like its owners. Highly-skilled masonry is behind this solid 600 kg massive stone island made of Bavarian shell limestone, which at the same time houses the water supply for this customised kitchen. Its owners love an unusual touch. Many visual and practical details together with well-coordinated, perfectly crafted materials meet their high demands in terms of quality and function. And while we're on the subject of function: here the BORA Professional 2.0 cooktop extractor system once again shows the true meaning of design freedom. The cooktops and extractor were fitted precisely to the last millimetre.
Hand-forged iron fronts accentuate the original, artisanal features of the kitchen, such as the natural stone. The sink is milled into the stone worktop. Equally elegant and practical: coordinated sliding chopping boards make food preparation at the sink easier.
The aged oak of the individual reused wood beams of the breakfast bar make this room unique. The kitchen design is completed by the cushioned bench at the breakfast bar and bar stools with matching upholstery which immediately invite visitors to take a seat and have a chat with the cook. If he has time. As a football enthusiast, the man of the house has had a pull-down TV screen installed in the kitchen so he doesn't miss a single goal. And since the BORA cooktop extractor is virtually silent, he won't miss a word that the commentator says either.
The kitchen leads out into the wonderful large garden that surrounds this old house with its new extension in south-west Munich.
Materials:
Bavarian shell limestone
oak reused wood
forged iron
intuo kitchen units
matt black painted fronts
BORA system: BORA Professional 2.0 with Tepan stainless steel grill
Kitchen planning and design: