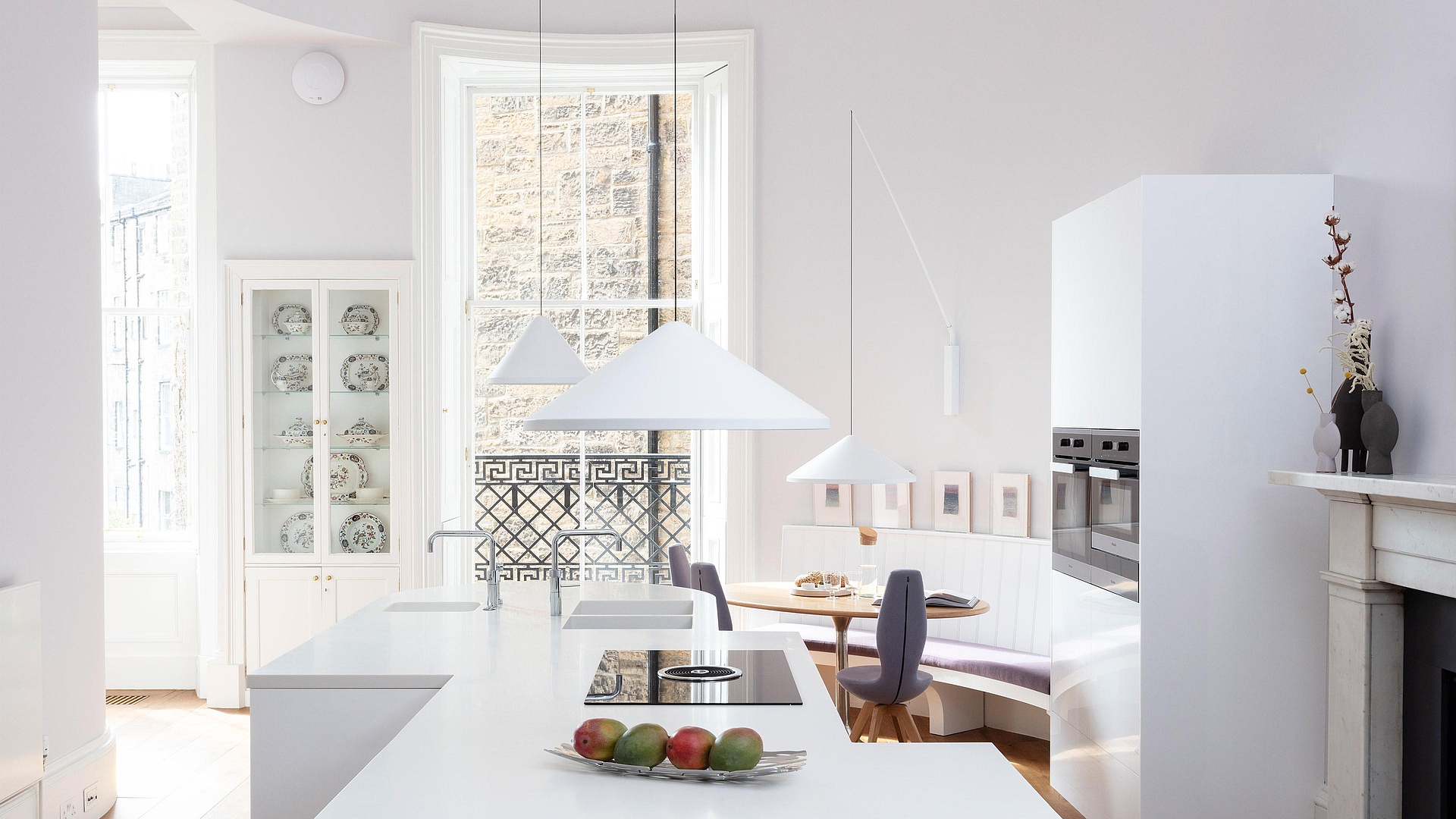 FROM A SIMPLE OFFICE TO A STYLISH COOKING PARADISE
WITHIN THE SCOPE OF A COMPLETE RENOVATION, A TOWN HOUSE IN EDINBURGH FORMERLY USED FOR COMMERCIAL PURPOSES HAS BLOSSOMED INTO A LOVINGLY FURNISHED FAMILY HOME – WITH A KITCHEN THAT ELEGANTLY COMBINES THE PAST AND PRESENT.
The New Town in Scotland's capital Edinburgh is nowhere near as new as its name might suggest. It left the drawing board in the 18th century and was built to create extra living space next to the medieval Old Town, which was bursting at the seams. Even today, this district of the city is still very homogeneous, with wide boulevards and almost exclusively Georgian-style buildings. The area has been a UNESCO World Heritage Site since 1995. One of the finest of these listed New Town residences has now been given a new inner life: the owners converted former offices into an elegant town house spread over several floors.
The heart of the new interior is the extraordinary kitchen-cum-living room, designed by the Edinburgh-based interior design studio Peden & Pringle. The historic environment posed challenges for the kitchen designers, the solution to which actually gives the design that extra special something. For example, the client felt it was important for the architectural features to be reflected in the kitchen units. As a result, the centrally positioned kitchen island follows the outer lines of the room, as designer Adam Peden explains: "The curved end of the island mirrors the curvature of the wall and ceiling. It is also precisely lined up with the middle of the tall external window, while the other side has been positioned right in the centre of the glazed internal wall." In the middle of this kitchen island, dividing it in two, is the BORA cooktop, which has in turn been fitted into the worktop directly opposite the marble fireplace.
The second major design challenge was that the building's listed status prohibited modifications to both the historic fireplace and the ornamental stucco ceiling. A conventional extractor hood suspended from above was therefore out of the question from the start. "As the client also wanted an extractor with a downdraft function, the BORA cooktop was the obvious choice", explains Adam Peden. The cooktop extractor in the BORA Basic system chosen effectively extracts the cooking vapours and odours downwards, releasing them outside via a duct system. As such, the new kitchen in the historic building has been brought into the 21st century both visually and technically. The space where people used to work is now used to cook and live in style.
Interior design studio: Peden & Pringle, www.pedenandpringle.com
Architectural practice: Lorn Macneal Architects, www.lornmacneal.co.uk
BORA system: BORA Basic, surface induction cooktop with cooktop extractor
Photos: Susie Lowe