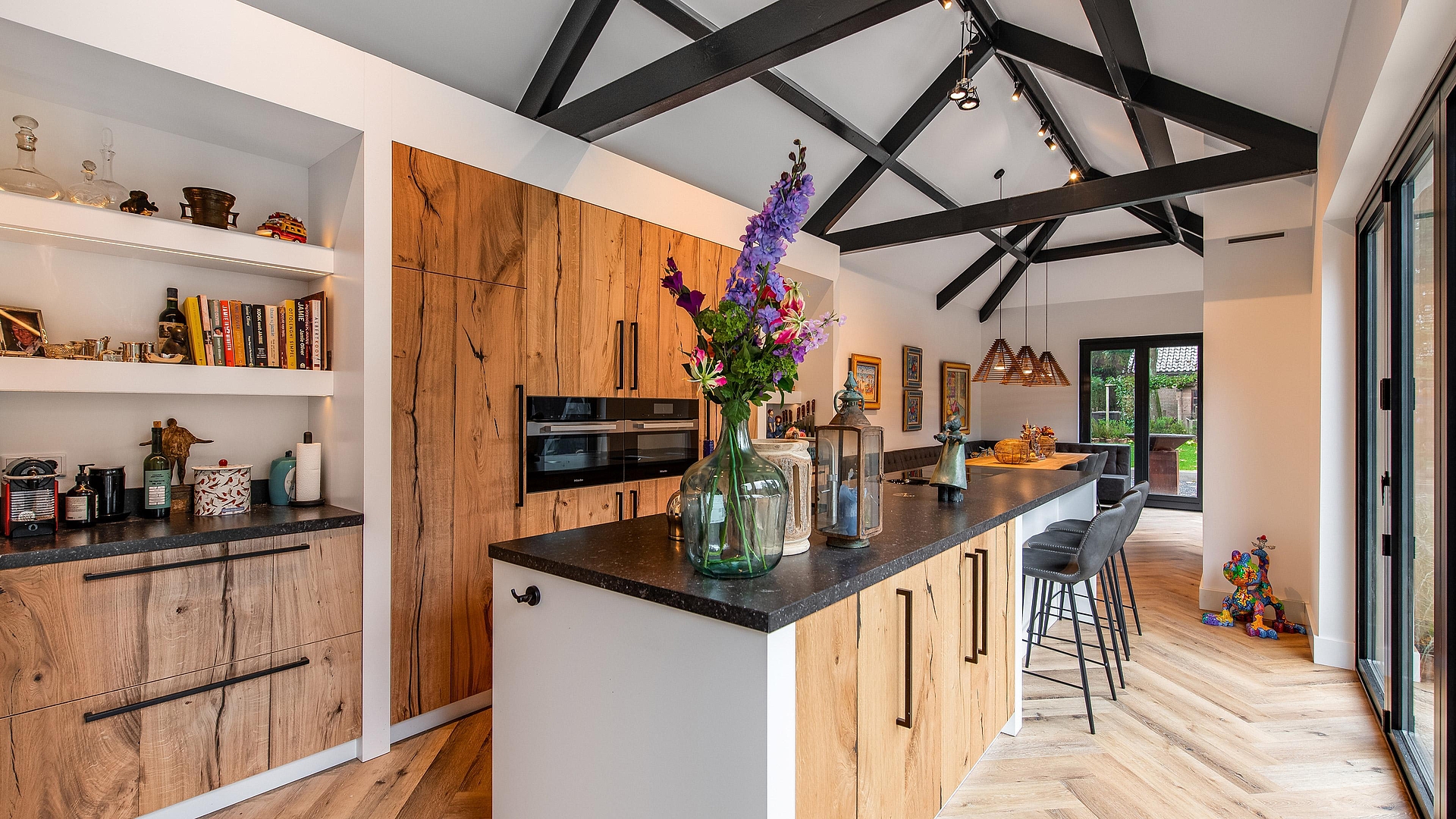 ELEGANCE BROUGHT TO LIFE: A KITCHEN THAT OOZES NATURE
PURE NATURE MEETS DESIGN – THAT COULD BE THE MOTTO OF KITCHEN DESIGNER HANS OOSTEROM. FOR ONE OF HIS CUSTOMERS HE DESIGNED A TRULY SPECIAL KITCHEN WITH A BORA Classic 2.0 SYSTEM, AND GENUINE WOOD AS A RECURRING FEATURE.
The times when a wood kitchen was comparable with a farmhouse kitchen are long gone. And here's the perfect example: this kitchen with its oak fronts, natural stone worktops, clean lines and high-quality equipment was custom designed for a private home in Laren (Holland) by kitchen designer Hans Oosterom. 'The customer wanted a tailored combined kitchen and living room with natural wood as the central theme and a solid appearance,' the owner of Oosterom Keukens tells us. The kitchen was to have a lot of storage space and a kitchen island as the central feature of an open-plan room.
As in all of his kitchen planning projects, Hans Oosterom and his team placed great value on a sleek design combined with functionality. 'A kitchen must have a simple, logical structure,' the experienced furniture maker explains. 'For example, drawers for cookware must be in the right place so that they can be easily reached from behind the cooktop when cooking. And of course we adapt the height of the work surfaces to that of the owner.'
The kitchen manufacturers also place the same demands on the design and functionality of the appliances that are installed in their kitchens. For this reason, when selecting a suitable cooktop extractor, BORA was the 'only right choice' for him. Argument 1: With the BORA cooktop extractor, which suctions cooking and roasting vapours downwards during cooking, a clear view is maintained of the exceptional exposed beam ceiling over the kitchen island. Argument 2: The minimalist BORA design fits in perfectly with the overall impression of the open kitchen and living room area and elegantly blends in with the dark, natural stone worktop. Argument 3: With a combination of two induction cooktops, on which four pots measuring up to 24 cm can be placed at the same time, a wok cooktop and two powerful extractors, in terms of convenience, BORA is one step ahead. Convenience was also a decisive factor which led the customer to opt for BORA Classic 2.0. In Hans Oosterom's showroom in Roosendaal he had the opportunity to try out BORA cooktop systems and see their high performance and quality for himself. Thanks to the large cooking areas with three cooktops, in his new kitchen the customer now has plenty of room to prepare culinary delights. Hans Oosterom has created a kitchen that gives him a true sense of wellbeing.
Kitchen planner: Oosterom Keukens, www.oosterom.nl
BORA system: BORA Classic 2.0, induction cooktops and induction wok with two cooktop extractors
Photos: Oosterom Keukens