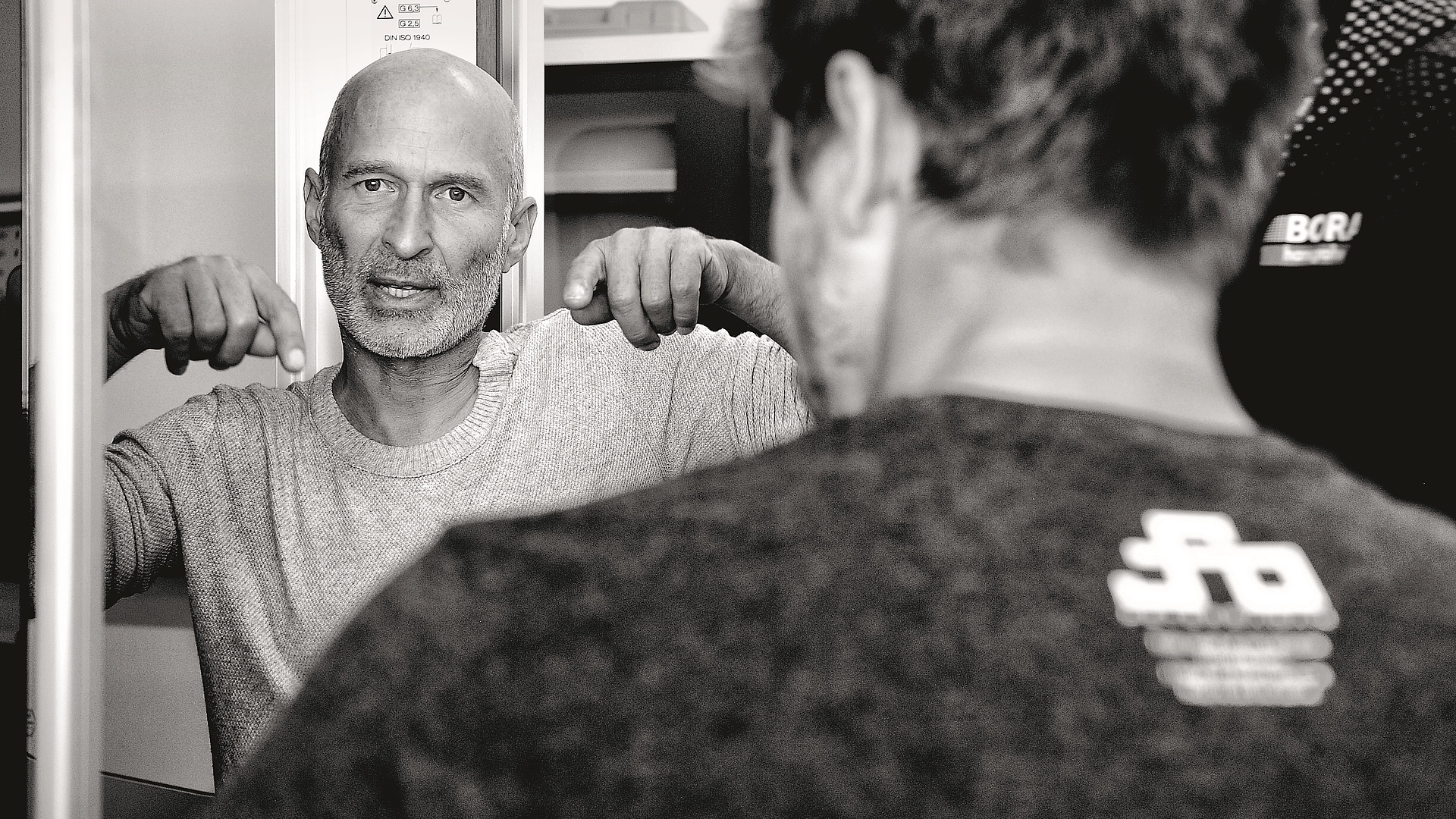 From master carpenter to kitchen revolutionary: BORA founder Willi Bruckbauer tells us what made his business idea so successful despite initial opposition.
When you first established BORA in 2007, no-one could have imagined that the downdraft extractor could become a success story.
Yes, I was very much on my own back then. The banks wouldn't loan me any money as they didn't see there being any market opportunities. And even kitchen manufacturers rejected the concept. But I still believed firmly in my idea.
What made you so optimistic?
As a seventh generation master carpenter specialising in kitchens and a passionate amateur cook, I had plenty of practical experience. I'd always made a huge effort to design kitchens that were a bit different. I found both the design and perfect functionality extremely important. My vision was for people to be able to cook while looking out of a window, for example, without having anything sticking out in front of their head. I felt that the time had come for a downdraft extractor. And customers wanted this solution too.
You are known for having a clear motto in life.
That's right. Be different to all others. And that's precisely what shaped my intentions for the extractor. I wanted to radically redesign a traditional technical solution that has significant disadvantages.
What were your requirements for the BORA systems?
In short: no compromises! I wanted to offer premium quality from the outset. And it remained that way. BORA uses the best materials and offers perfect workmanship, outstanding efficiency with peak performance and extremely low noise levels. I also place the highest demands on aesthetic factors.
But the practical requirements are important to you too…
Of course! I believe that it's extremely important for our systems to be intuitive to use and easy to clean. I also think about making them simple, safe and quick for fitters to install. In this regard, we always focus on complete solutions that incorporate the design of the surrounding kitchen units and the potential exhaust ducting in the building. We benefit from our many years of experience in this regard and the fact that BORA is now a market leader and a renowned specialist and system provider. We focus exclusively on cooktops and cooktop extractor systems as complete solutions. As such, BORA is the only provider on the market to offer a complete system comprising everything from the cooktop to the wall sleeve and recirculation filter. This also includes the correct airflow for exhaust air or recirculation and requires the appropriate expertise. We know every screw in our holistic systems.
What exactly does that mean?
Unfortunately, people are often only aware of what is visible to the eye. In our case, the cooktop and cooktop extractor. But the hidden technology is naturally far more important. For example, we have realised that little things like optimum ducting are key to achieving the ideal airflow. We have injected this knowledge into our Ecotube duct system to ensure outstanding functionality.
And customers benefit from that…
That's right. We are constantly continuing our research work so as to optimise existing products and develop new ones. This is very important to me and we now employ over 50 development engineers. We currently offer 4 product lines (BORA Basic, BORA Pure, BORA Classic and BORA Professional) that are optimally tailored to the respective customer profiles and able to meet all challenges.
You are constantly expanding your complete system. For example, the BORA Ecotube and BORA 3box have been available since 2017. Why are you taking this approach?
We regularly question existing technology as we want to offer our customers ever better products. In this regard, BORA Ecotube loses up to 20 percent less pressure than conventional duct systems, optimising the extractor performance and noise levels and, where necessary, enabling longer, more complicated exhaust channels. Thanks to their outstanding heat insulation properties, excellent weather resistance and low pressure resistance, the BORA 3box wall sleeves are the perfect end piece for the exhaust system.
BORA regularly receives awards for outstanding design.
This is something I'm delighted about as I always wanted to create a brand with character. And I love purist, minimalist design. At BORA, the aesthetic design extends to the finest of details. For example, intelligent operating control lighting that only accentuates functions that are currently relevant ensures that nothing unnecessary disrupts the system's discreet presence. Vertical sliders also enable the systems to be operated with intuitive finger movements, like on a smartphone.
What does BORA's future look like?
We are benefiting from the fact that the extractor hood's heyday is definitely coming to an end. In today's world, the kitchen is a place for people to get together and be sociable. The extremely low noise level of our systems ensures that they can easily chat while cooking. Furthermore, our air cleaning boxes with their integrated filter solutions effectively eliminate unpleasant odours in recirculation mode – and for a long time. They are therefore kind to your health. Even I love being able to cook in clean air.