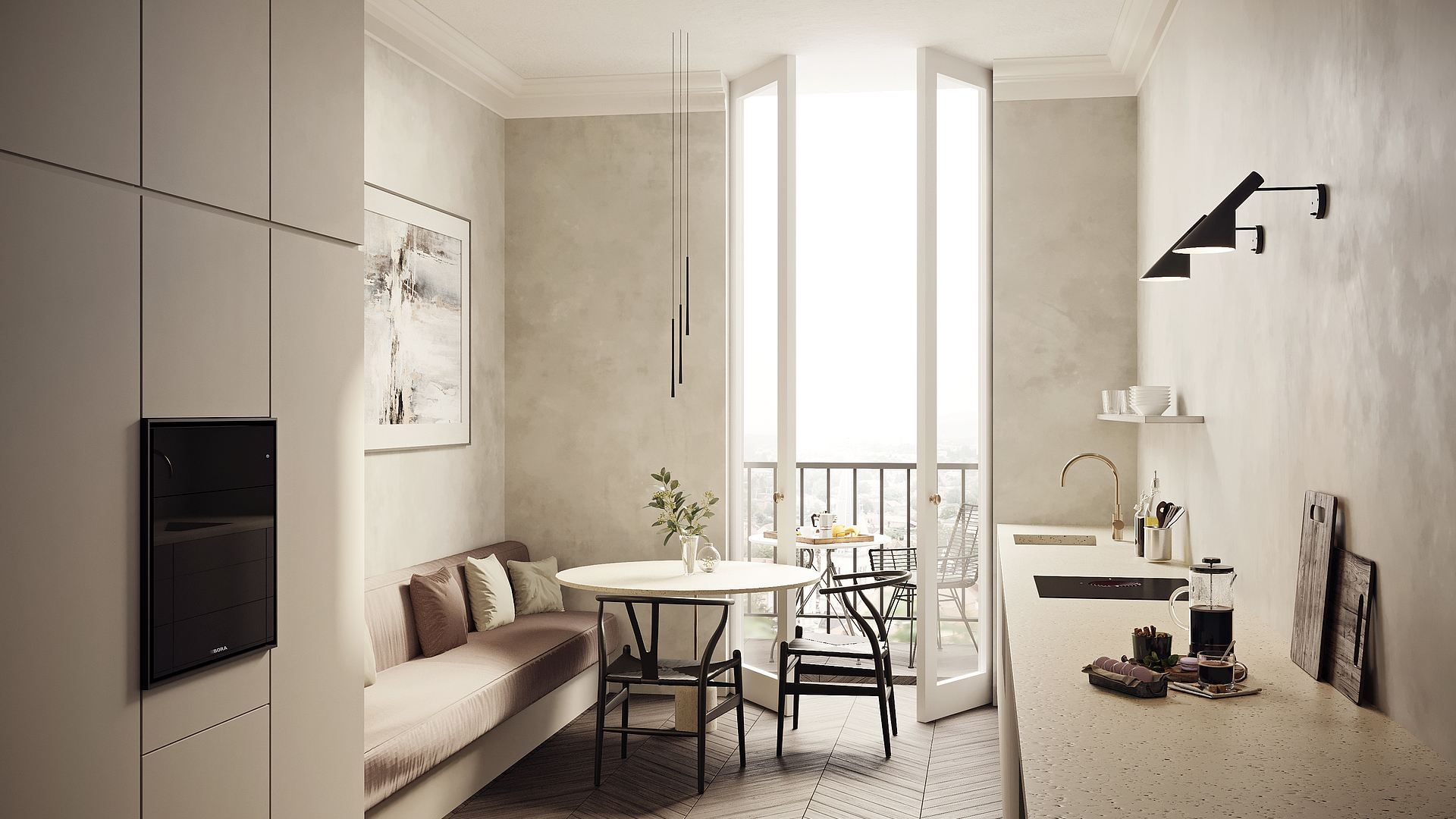 Small but mighty: design tips for pint-sized kitchens
Do you reckon that a small kitchen could be just as stylish and easy to use as a grand culinary masterpiece complete with kitchen island? All you need is a designer who will follow a few basic rules and choose the right appliances. The BORA S Pure, for instance, will add convenience and elegance to any kitchen without wasting precious space.
Many small kitchens continue to feature generic kitchen units with prominent fronts that stretch all the way to the ceiling. Wall units, which make use of every last inch of wall space, do offer maximum storage space, but does that mean they have to look dull? No! There is another way. Having a small home doesn't mean you can't have a modern, airy and open kitchen. You also don't need to sacrifice convenience, like compromising on electrical appliances because you lack the space. We asked some professionals for tips on how you can still have a top-of-the-range kitchen on a small footprint.
Tips for small kitchens
Harmonious design: The more your kitchen is broken up into small units, the more chaotic and cluttered it looks. And it makes the room look smaller. The old adage 'less is more' is true for tiny kitchens. You can make your kitchen more spacious by having handleless doors and drawers, sleek surfaces free from odds and ends, built-in appliances featuring minimalist designs, clearly organised furnishings and a few, well-placed decorative items. Many professional interior designers also recommend using light colours and glossy instead of matt unit fronts, as well as ensuring the space is well lit. This all gives the impression that the room is bigger than it is.
Don't take up worktop space: As a rule of thumb for extra-small kitchens, at least 60 cm of the worktop should be free so that you have enough room to work properly. So, it goes without saying that you shouldn't take up worktop space with kitchen items, such as small appliances like toasters, mixers or egg boilers. In small kitchens, these handy little gadgets belong in the cupboard. Not only will your kitchen look tidier, but sleeker too.
Make use of the room height: There is generally nothing wrong with extending your kitchen upwards if there isn't enough room lengthways. It creates storage space, which is – as we've already mentioned – vital in small kitchens. Skilful kitchen designers will also incorporate variation to make the kitchen look visually interesting. They'll select a mix of overhead and tall units of varying heights, featuring contrasting fronts or even glass inserts. Alternating shelves with overhead units can look very sleek and spacious and avoids using huge, overbearing unit fronts.
Downdraft extractor: Using a cooktop extractor instead of an extractor hood gives kitchen designers free rein to design the kitchen how they like. They can place the cooktop wherever they like and don't have to make sure that there are available sockets for connecting the extractor. A cooktop with integrated downdraft extractor keeps the area above the cooktop clear, providing space for extra storage solutions, such as a high shelf.
Space-saving built-in appliances: From fridges to dishwashers, you can buy a compact version of virtually any appliance nowadays. Cooktops also come in slimmer designs than the standard. These usually feature two cooking zones instead of the conventional four. The BORA S Pure does things differently. Its off-centre cooktop extractor opening makes it possible to have four cooking zones of varying diameters, accommodating all regular pot and pan sizes. Its compact design means it can easily fit into a 60-cm-wide kitchen unit – including its integrated cooktop extractor – while its low installation height with integrated recirculating air filter guarantees maximum storage space in the base unit. The appliance's elegant, minimalist and flush-mounted design, featuring a discreet operating panel, makes the BORA S Pure the perfect fit for small kitchens.
Use drawers instead of cupboards: It's a good idea to fit your kitchen with drawer-only units instead of cupboards with doors. Drawers offer more storage space than conventional cupboards because you can access the items inside more easily. Utensils can be at your fingertips with just a pull of the handle. You don't have to kneel down to fish out something from right at the back of the cupboard.