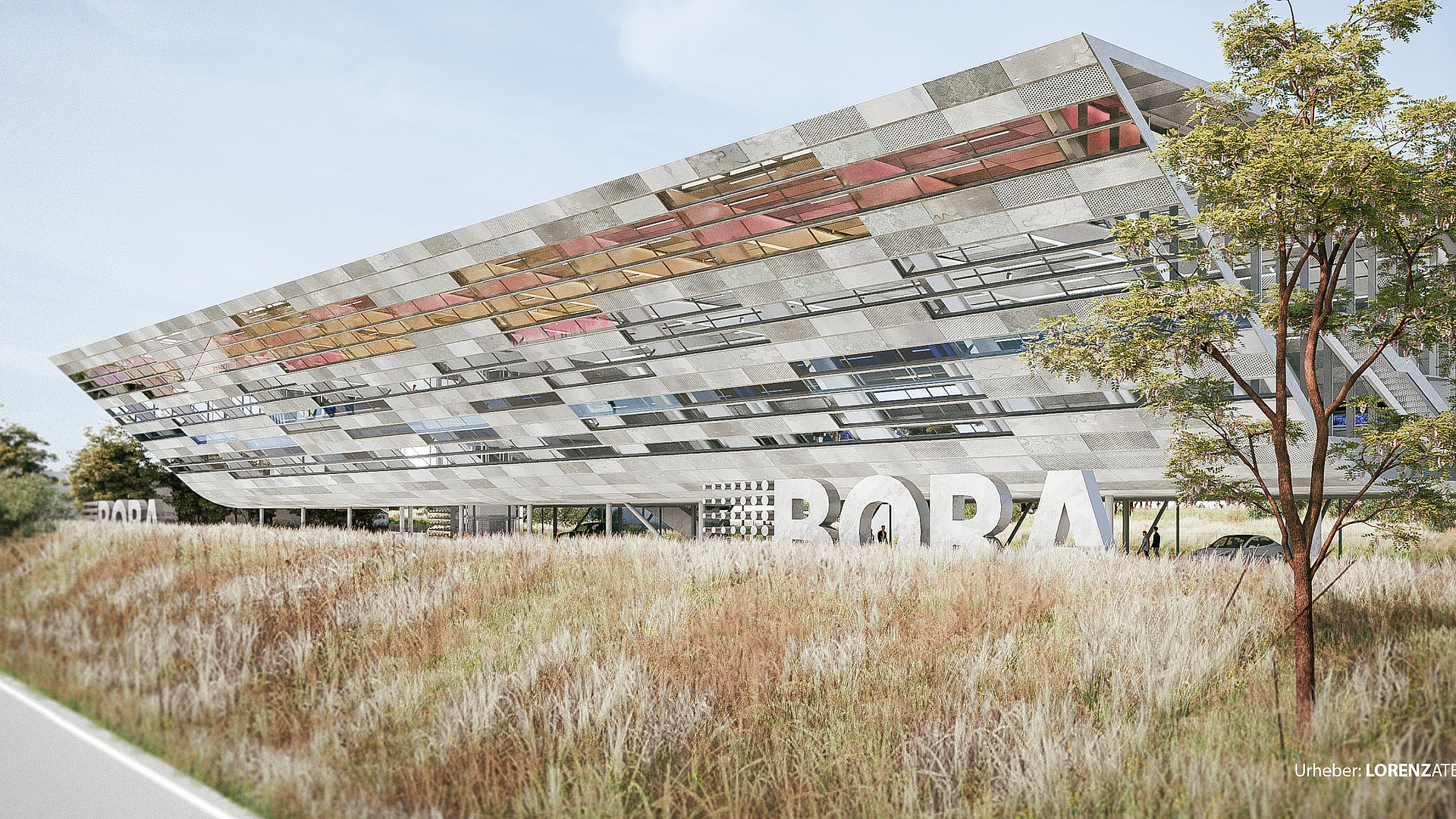 An iconic new addition in Herford
Our new BORA flagship store stands proud in the eastern Westphalian heart of the German kitchen furniture industry. What will you be able to see and experience over its 2,000 m2 besides our products and what is so special about the architecture of BORA's buildings?
Copyright and photo credit:
LORENZATELIERS zt gmbh
BUILT TO WITHSTAND THE STRONGEST WIND
The new building, located on the outskirts right by the exit from main road B 239, has been the talk of the town ever since construction started: "The plans are spectacular," wrote the local newspaper Herforder Zeitung when they found out about our major project. And our new BORA flagship store really is exceptional.
Not only was the building astonishingly erected as fast as the wind, but the modern façade which slopes upwards at the front also gives the impression that it has been shaped by this powerful element. The approx. 100 m long "wing" with its lens-shaped cross section crowns an elegant load-bearing construction that allows for great transparency and makes the building look like it is floating in the air. It symbolises BORA's upswing and forward-thinking personality.
Eye-catching multicoloured glass elements are strategically placed across the façade clad with perforated steel. Recycled materials have been used to create it. Even the ground that the building stands on has been recycled, so to speak. For a long time it housed the former Sporthotel, a hotel with sports facilities, which fell into disuse.
A ONE-STOP SHOP
Not only has BORA provided Herford with something beautiful to look at, but the striking outer shell accommodates a self-supporting, flexible and versatile interior. Alongside a BORA flagship store, the building also houses a number of partner stores and provides large exhibition areas for our BORA product world and commercial tenants who specialise in interior design and construction. The BORA Academy can also be found there.
Creature comforts are provided for as our products can be tested with all the senses. An important part of this is of course being able to try tasty dishes in the BORA restaurant. The main idea behind our building in Herford is to offer a meeting place that cooking enthusiasts and design lovers alike can enjoy.
To save space, the car park is located under the building, meaning that the green areas around it are left undisturbed. They are a place of relaxation for both visitors and employees. A space is also reserved for the BORA glass cube, promising culinary delight with breathtaking views at a height of over 50 m.
A BUILDING THAT MAKES A STATEMENT
Despite the fact that every building was individually designed and planned, the BORA sites have a number of architectural principles in common which have also been observed and implemented in this new building. These include an open-plan, practically floating spatial design, scaled back to geometric shapes like the trapezoid cross section of the "wing".
Other design elements in BORA architecture are the materials used such as concrete, wood, steel and glass and an energy-efficient overall concept. Aiming to be self-sufficient, the company has opted to use renewable energy sources, covering the roof with solar panels and using geothermal energy. BORA Herford has truly picked up the baton as far as the principles of BORA architecture are concerned.