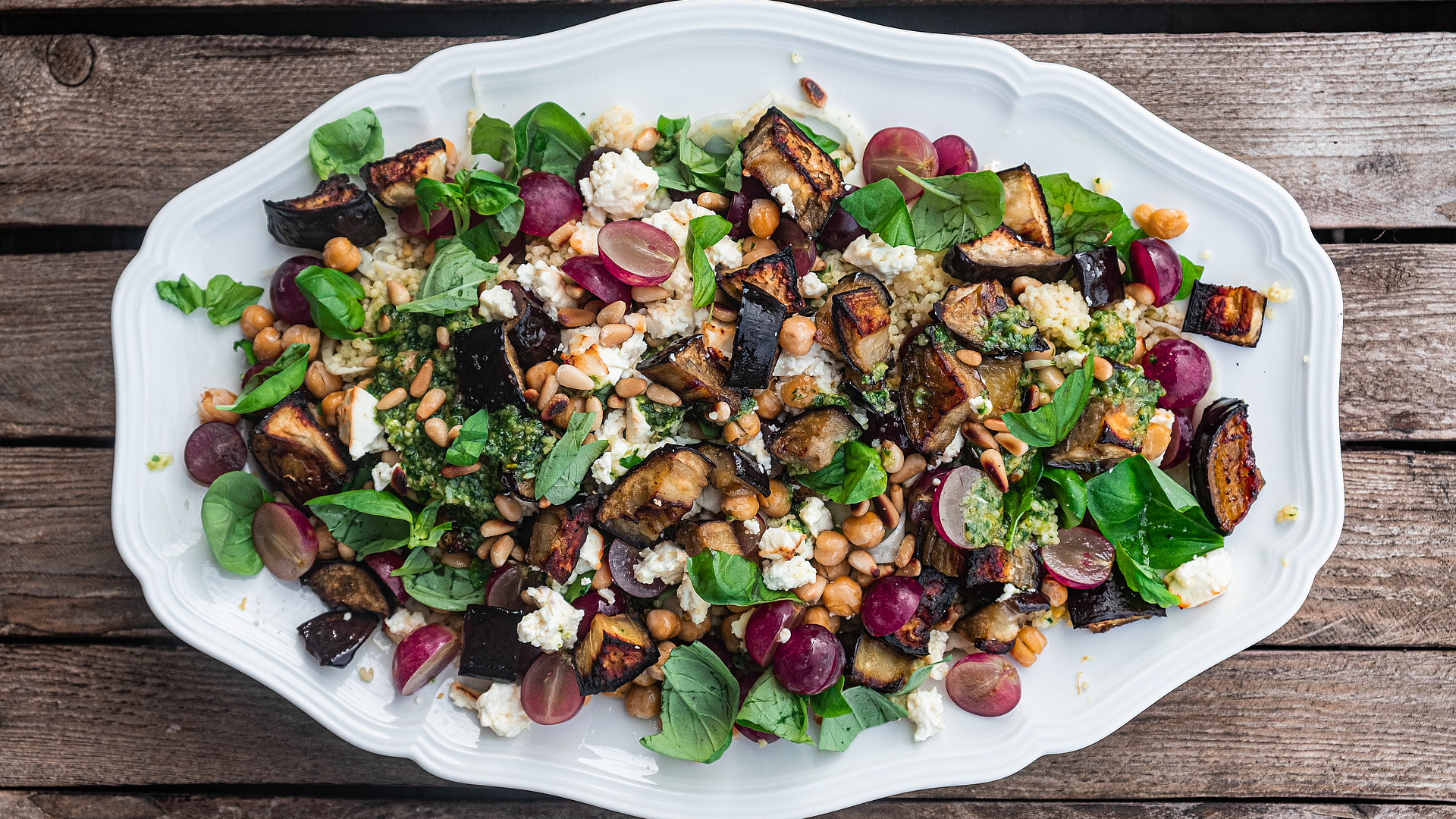 Culinary ideas for cosy evenings by the campfire
Whether a colourful salad, grilled veg with cheese or a lightly seasoned and beautifully cooked fillet of fresh fish, your imagination and the joy experienced by your taste buds need know no limits. Roll on our next evening by the campfire.
Photo credit:
Anya Rüngeler
Millet salad with roasted aubergine, feta and basil vinaigrette
This quick salad is quite the taste sensation. The portion is big enough for 2 – 3 people and the perfect side dish for a relaxed evening roasting sausages on the campfire. Place 150 g millet in lightly salted water, bring to the boil, simmer until done, then strain. Cube an aubergine, fry in olive oil until browned then mix into the millet. Mix a handful each of roasted pine nuts, red grapes (halved) and basil leaves into the millet. Crumble 150 g feta over the top then drizzle on the basil vinaigrette (made by whizzing together the leaves of a small basil plant, 50 ml olive oil, 2 teaspoons of pine nuts, a garlic clove, 3 tablespoons of white wine vinegar, salt and pepper).
Foil-baked fish with vegetables
There are few simpler, healthier or tastier ways to cook fish. What's more, it's easy to take with you when you head for an evening by the campfire. Cube a variety of vegetables (e.g. courgette, aubergine, peppers or fennel) and place on a square piece of aluminium foil (approx. 20 x 20 cm), leaving about a 5 cm border all around the edge. Place the fillet of fish on top, drizzle on a little olive oil and season with herbs (e.g. rosemary or thyme), salt and a good twist of pepper (e.g. red). Fold the edges of the foil up and over to create a small, sealed bag. Cook for about 15 minutes at 160 degrees (fan oven). Serve with sour cream, fresh pesto or yogurt mixed with capers.
Pitta bread with Mediterranean vegetables and halloumi strips
Why buy pitta bread when it's so easy to make yourself? After kneading the dough, it's time to fill the soft yet crispy bread to your heart's desire. To make the pitta bread, dissolve 7 g yeast in 150 ml warm water and knead into a ball with 250 g flour, a pinch of salt and 2 tablespoons of olive oil. Cover the ball of dough and leave to prove for about 60 minutes then roll to about 4 cm thick. Cut into slices about 1.5 cm wide and roll into balls. Leave to prove for another 10 minutes. Roll the balls into smooth ovals and bake on an oiled tray for 10 minutes at 160°C until they start to puff up.