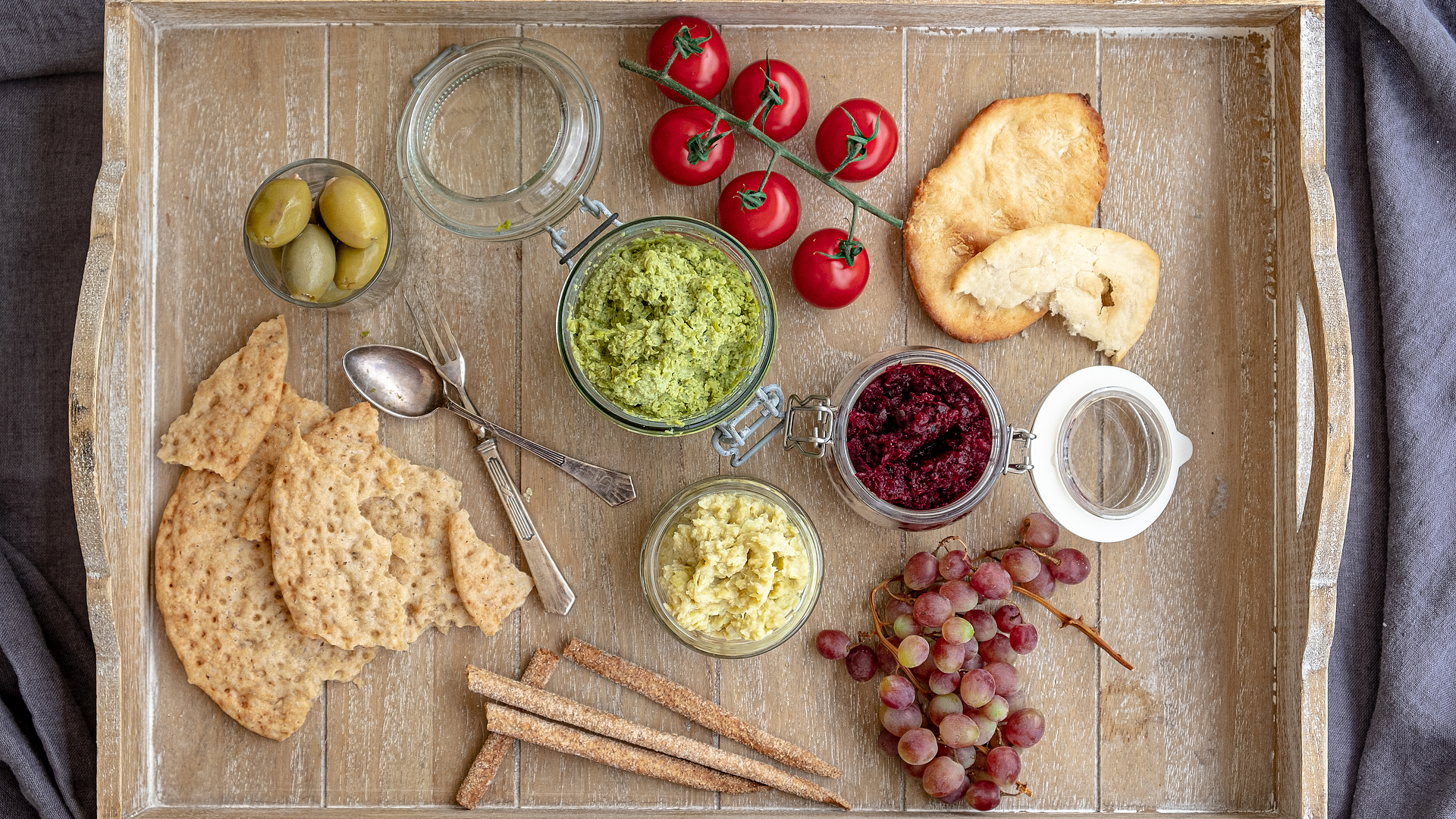 Summer is picnic time. Whether in the mountains or a valley, by a lake or on the beach, a little picnic when on a day trip with family or friends is always a welcome change. When it comes to choosing what to pack, you can give your imagination free rein. All that matters is that the food is tasty and easy to prepare in advance.
Three simple picnic ideas
To make your next picnic a guaranteed success, we've put together a few recipe ideas to pep up your meals on your next excursion. Don't worry, all of the dishes can be perfectly prepared in advance.
Veggie dips for crackers, bread and carrot sticks
The following dips are simply amazing! Not only are they quick and easy to make but they also taste incredible and act as the perfect accompaniment for all sorts of things.
Artichoke dip – strain a can of artichoke hearts and purée with 4 – 5 tablespoons of olive oil, the juice of half a lemon and a little salt and pepper.
You can also use these same ingredients to make a beetroot dip, just be sure to cook some fresh beetroot before puréeing the vegetables. Shop-bought, vacuum-packed beetroot tends to become slightly watery when puréed.
Pea dip – boil 200 g frozen peas for 2 – 3 minutes then blend with 4 – 5 tablespoons of olive oil, the juice of half a lemon, the leaves from 3 mint stems and a little salt and pepper.
Not only do all three recipes taste fantastic as dips, they can also tantalise the taste buds when spread on bread.
Stuffed aubergine
A stuffed aubergine is a true all-rounder. It not only makes a great antipasti, but also goes well in salad, on bread or with Burrata, tomatoes and avocado.
Cut an aubergine into thin slices lengthwise and roast in the oven for 20 minutes at 160°C. Place the slices in a mixture of about 200 ml olive oil, the zest of an organic lemon (ideally removed using an asparagus peeler), a teaspoon of salt, a teaspoon of chilli flakes or finely chopped fresh chillies (optional) and a finely diced garlic clove. If possible, allow the stuffed aubergine to marinade for several hours before eating it. Caution: high risk of addiction!
Rolled pancakes with sweet potato mash and goat's cheese
Cut rolled pancakes into little bite-size morsels and you've got the perfect finger food for a picnic on a hot summer's day. You can fill them with anything you like. Our suggestion: sweet potato and goat's cheese.
To make the pancakes, mix together an egg, 75 g flour (preferably wholegrain), a pinch of salt and 125 ml oat milk. Heat a little vegetable oil in a pan and fry a very thin layer of the batter mixture. You should have enough for about 3 medium-sized pancakes.
To make the mash, boil a sweet potato until soft. Add half a teaspoon of turmeric, half a teaspoon of ground cumin and a pinch of salt then mash until smooth. Spread onto the pancakes. Crumble on 3 – 4 tablespoons of goat's cheese and top with cucumber, basil, carrots or even the stuffed aubergine, for example. Caution: don't overfill the pancakes or they won't roll up properly. After rolling the pancakes, cut them into finger-food-size pieces and place in a storage box ready for your picnic.