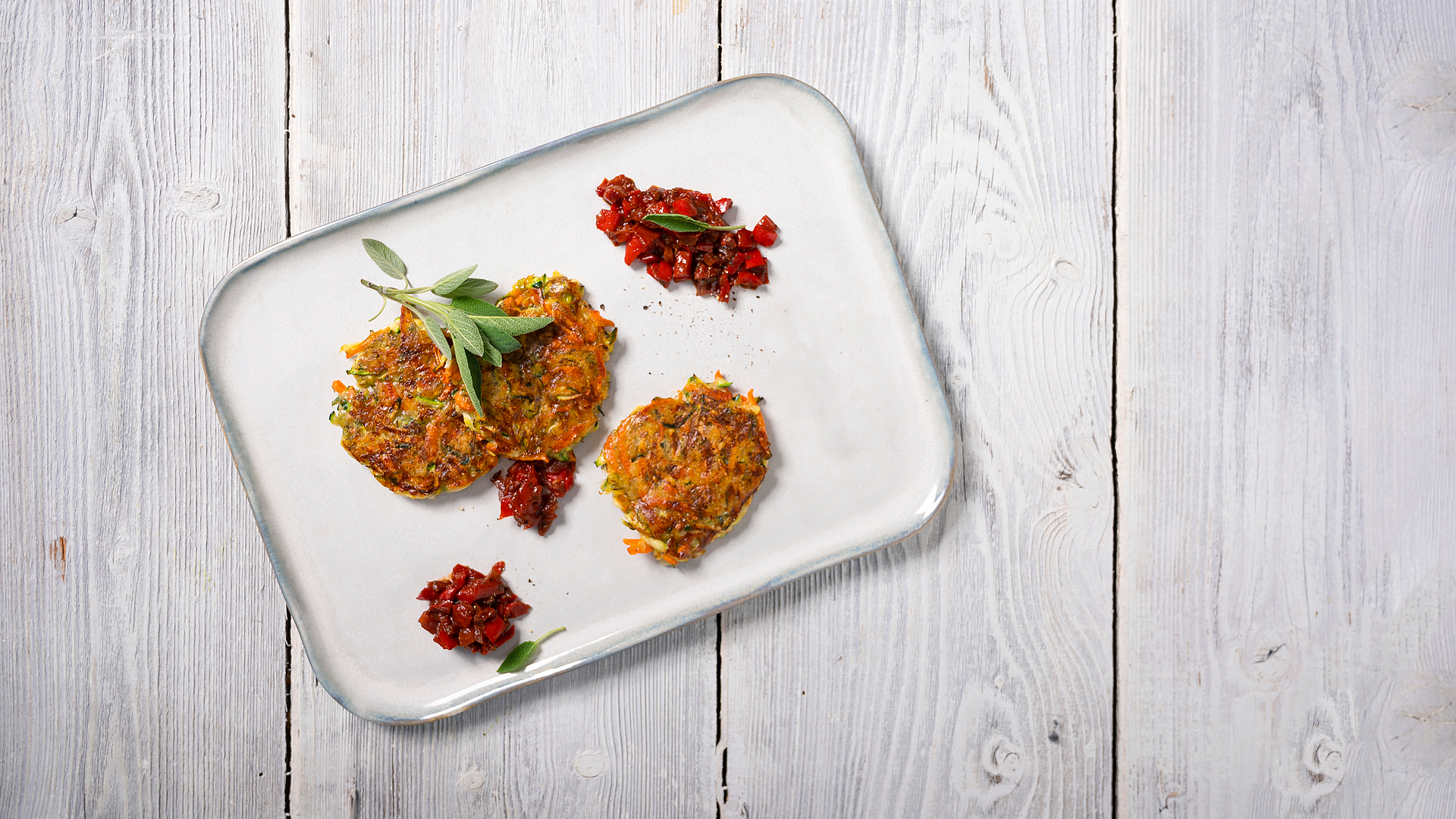 Courgette fritters with red pepper sugo
Preparation
For the fritters
Wash, clean and roughly grate the courgettes. Season with salt and place in a sieve. Allow to steep and drain for 15 minutes. Wash, clean and roughly grate the carrots. Crush or finely grate the garlic and set both aside.
For the sugo
Peel the onion, wash the pepper and tomatoes and dice everything. Finely cut up the sage leaves. Sauté the diced onion in 1 tablespoon of olive oil in a small saucepan until translucent, add the pepper and tomatoes and continue to fry briefly. Add the red wine, vinegar and maple syrup and simmer over a medium heat for 10 minutes. Stir in the remaining spices and sage leaves and simmer the sugo over a low heat for another 10 minutes.
Firmly press out the juices from the courgette in a colander, then place in a bowl with the carrot, garlic, flour, yeast flakes and thyme. Combine to form a dough. Preheat the Tepan stainless steel grill to 180 degrees. Put ½ teaspoon of oil and 1 tablespoon of dough on the cooking surface, flatten the dough slightly and cook on both sides for a total of 5 minutes until crispy.
Finishing touches
After frying, leave the fritters to rest for about 2 minutes then serve with the hot red pepper sugo.
Preparation time: 25 minutes
Cooking time: 35 minutes
Serves 4
For the fritters
2 medium-sized courgettes (about 850 g)
2 tsp natural or sea salt
2 carrots (approx. 200 g)
1 ½ garlic cloves
125 g spelt flour (type 630)
1 ½ tbsp yeast seasoning flakes
2/3 tsp thyme, dried
Olive oil
For the sugo
½ onion (approx. 80 g)
1 red pepper (approx. 200 g)
5 San Marzano tomatoes
2 sage leaves
1 tbsp olive oil
125 ml red wine
1 tbsp white balsamic vinegar
1 tsp maple syrup
1 level tsp paprika, hot
2 ½ tsp paprika, sweet
1 ½ tsp oregano, dried
1 level tsp thyme, dried