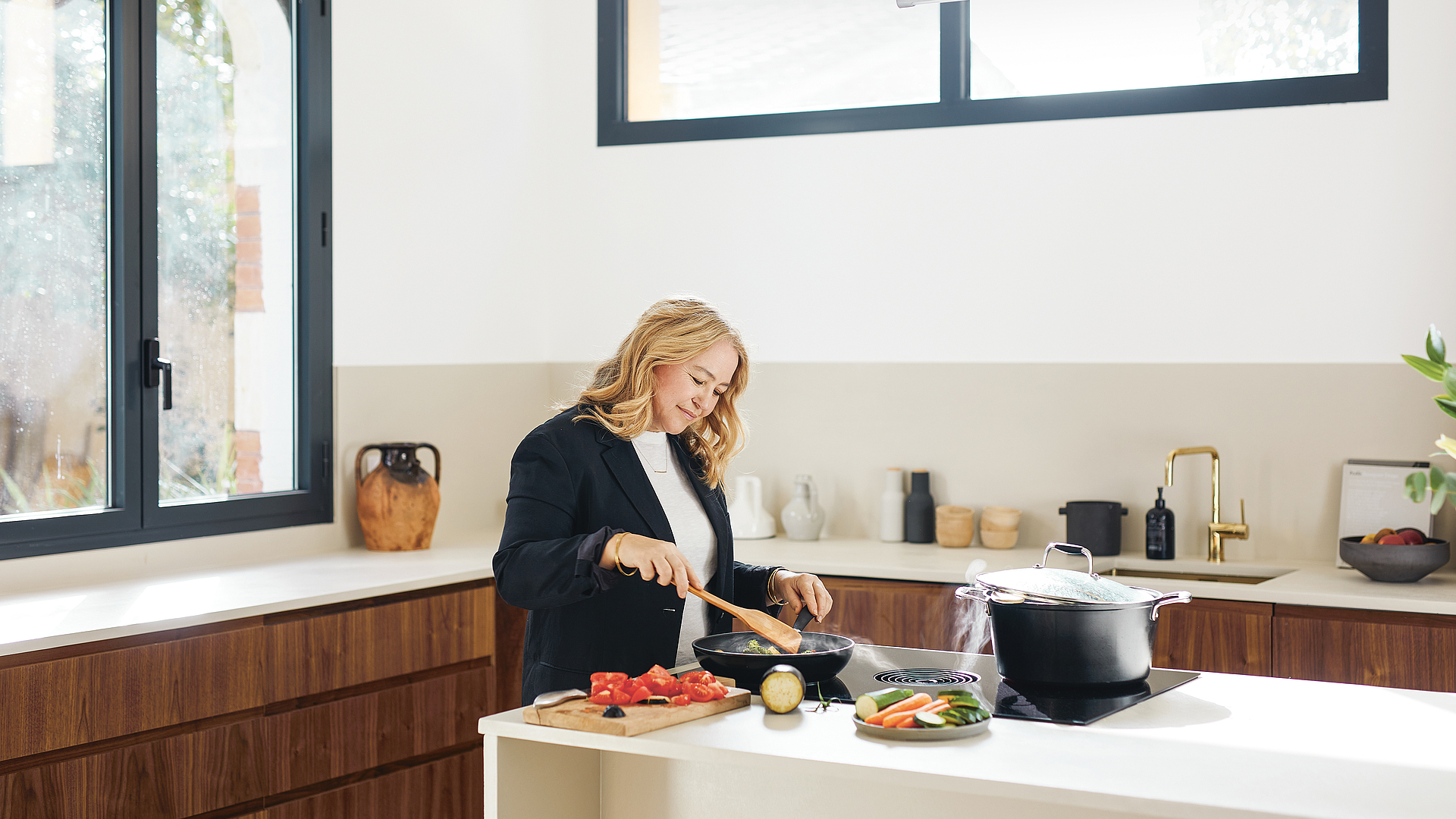 Between SAND and CONCRETE
Photographer and stylist Karine Candice Köng on her minimalist dream home CASA PYLA on France's Atlantic coast.
The sand glistens brightly in the morning sun. Reeds sway in a gentle breeze, the cool glittering Atlantic behind them. After 23 hectic years in London, Karine Candice Köng has ended up back in her French homeland on the Atlantic coast near Bordeaux. Just two minutes from Le Moulleau beach, the photographer and stylist has created a sanctuary that is both a home and a creative workspace: CASA PYLA. It was thanks to Karine's vision that an old villa by the sea became a modern, minimalist dream home. Due to the installation of a BORA Pure, even the kitchen now meets the latest technological requirements and lives up to Karine's sense of design. This is a place that she is happy to share: creative professionals can book CASA PYLA for photo shoots and workshops, and during the summer months Karine rents out her house to holiday guests via Airbnb.
Text: AYLA AMSCHLINGER
Photos: STEPHANIE FÜSSENICH
Out with the old, in with the new
"This is now my fourth project to involve remodelling an entire house. I wanted to create my new home here, something very contemporary and modern, as I'd actually had enough of renovating entire houses". While sipping a cup of tea, Karine opens the laptop in her kitchen and grins. "What I'd really have liked to have done was buy a piece of land and simply put a square cube on it. Voilà, all done! When the estate agent first showed me this property, I didn't like it at all. CASA PYLA is a really old house. It was cluttered with terrible furniture; very dark and unruly. So the exact opposite of what I actually like", commented Karine with a shake of her head. As a photographer, she appreciates daylight and neutral colours, and her clean aesthetic pervades her work, lookbooks and social media channels. The proximity to the beach was ultimately the deciding factor in buying the house. Since doing so, she has left no room untouched. Only the outer walls and the wooden staircase have been allowed to remain.
Neutral colours and natural light meet clean lines and polished concrete
As in her former London home, Karine and her husband planned the various renovation phases on their own. No detail is left to chance in her work: you can follow the CASA-PYLA makeover steps on her blog, BODIE and FOU. "The most important thing for me was having plenty of daylight in the house. That's why we subsequently added windows here in the kitchen, for example". Karine points above her head. "We positioned them relatively high so that the neighbours can't see in and we remain undisturbed. In every house we have lived in so far, we have also tried to use the latest technology or incorporate other materials. This made BORA the perfect fit for our concept." After an all-white kitchen in London, this time Karine opted for soft, tinted colours in the open-plan kitchen-diner as well as for more robust materials. "I learned that after three kitchen renovations! Wood is lovely to look at, but not practical as a work surface. I love acrylic stone like Corian because it has a pleasant feel. But it tends to stain quickly. Now, both the floor and the kitchen worktop are made of polished concrete. We'll see over the next few months how well that works."
Minimalism full of life
Karine's sense of aesthetics combines elegant minimalism with a dash of French 'je ne sais quoi'. She even finds perfectly formed solutions for practical everyday needs. After all, the rooms of CASA PYLA are meant to be a place of refuge and a creative space at the same time. "In contrast to all the minimalism, storage space is incredibly important to me. It makes the house look neat and tidy. You can't get rid of everything, even as a minimalist", Karine admits. Particularly in the kitchen, form and function must blend well together when Karine's husband Steve is at the cooker preparing the evening family meal. "I'm not the greatest cook myself, but my husband is passionate about cooking", says Karine, running her hand over the worktop and pointing to the cooking island. "He particularly likes to sear meat in a really hot pan, which produces a lot of smoke. We have high ceilings here in the kitchen, over three metres high. A huge extractor fan hanging from the ceiling would be really intrusive. I'm incredibly impressed with BORA Pure's integrated extractor system – including in terms of its design."
A place where everyone comes together
Combining the cooking and dining areas while also thinking of the kitchen as a creative space was particularly important to Karine. The whole family gathers around the long dining table several times a day. "We love eating! And talking about food", she enthuses. For many people, this is rather unusual: between July and August, Karine completely sublets her house, and creative people can book into the spacious rooms by the day all year round. The CASA PYLA kitchen is also open for workshops and events. While Karine's husband Steve has set up a home office upstairs, the photographer can usually be found with her laptop at the dining table. "This here is my office! And while I'm working from our table, I'm also constantly going to the kitchen to make myself a cup of tea. I must drink eight cups a day", Karine laughs.
At home between nature and your own four walls
On days when the light floods in, CASA PYLA sparkles like a bright grain of sand while the ocean roars in the background. "Every day here is like being on holiday", says Karine. "Yet I live and work in this house. For me, my home is the place where I can feel comfortable and at the same time be visually inspired. So the best of all worlds." However, after more than a year of renovation work, Karine is yet again swapping the paintbrush for her camera for the time being. Capturing the light and the waves of the Atlantic – the latter preferably with a surfboard under her feet.