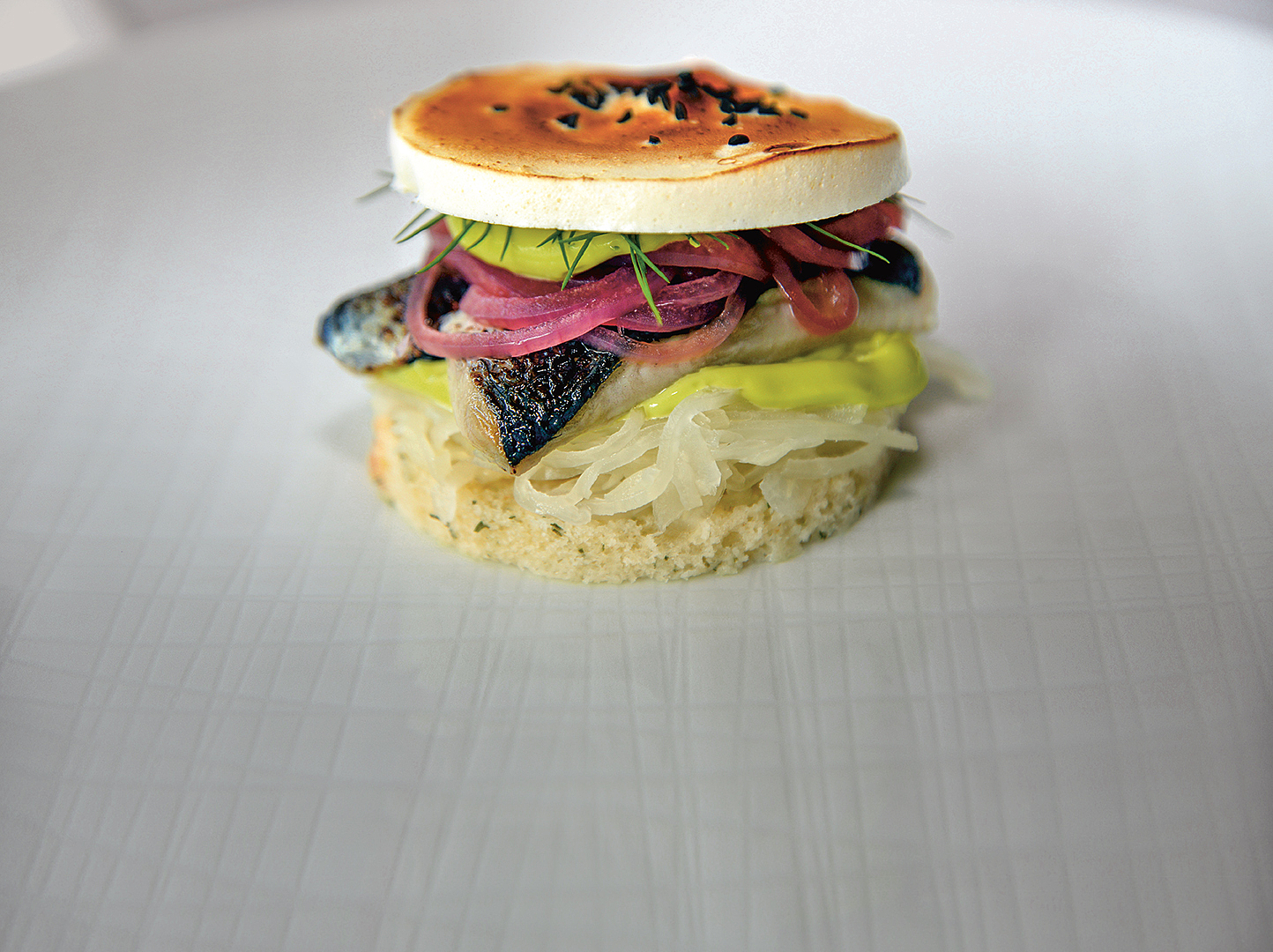 What does a fish butty SOUND like?
Music is a source of inspiration, a guaranteed mood lightener and an important everyday companion – including for top chefs and food experts. Here, they reveal their favourite songs.
MAXIMILIAN LORENZ
Hip-hop preferred!
As a teenager, the Michelin-star chef even liked to make his own hip-hop music. Today, he owns the fine dining restaurant 'maximilian lorenz' by Cologne cathedral. The 30-year-old prepares new and flavoursome German cuisine to the sounds of the hip-hop groups Blumentopf and Freundeskreis. But not exclusively so: Lorenz is also a fan of Italo-pop à la Eros Ramazzotti – especially when making his favourite dish: spaghetti Bolognese
Interviews: AYLA AMSCHLINGER, ANNA KAROLINA STOCK
Photos: Marvin Evkuran, Aryan Mirfendereski, Fabian Dietrich, Eva Runkel, Maximilian Lorenz, Valéry Kloubert, Lukas Jahn, Andreas Kolarik, Foodoholic/Florian Kaminski
Cooking is creative work – done with all the senses for all the senses. Which music goes with it?
It depends whether I'm cooking in private or professionally. During service, the music is switched off as we need the utmost concentration. When doing the prep work – the 'mise en place' – it's a different case though. I've appointed my staff member with the 'best' music taste (i.e. the taste closest to mine) as the kitchen DJ.
So what does your kitchen DJ play?
I love listening to German music and can go mad for some of the old stuff by Max Herre, Blumentopf or Freundeskreis. I'm partial to a bit of Sido or Johannes Oerding too.
What happens when friends come for meals?
I'm a great fan of jazz, soul, chill-out and club music. What matters is a decent beat: your head nods along but the music isn't so powerful that it impairs conversation.
Can music affect food so much that it improves the way a dish tastes?
I've only ever felt that way about Italian music and Italian food. The two things fit like a glove. Of course, only if the sun is shining and you're eating a homemade Vitello tonnato washed down with a fine glass of Sauvignon Blanc from South Tyrol while listening to Eros Ramazzotti or Giovanni Zarrella – it's like a mini break in Italy.
You've completely reinvented the German fish butty. What music does that bring to mind for you?
Udo Lindenberg. From the outside, it looks very special, but when you bite into the fish butty, you know: "That's it. It should never have been any different." You get the same wow effect when Udo Lindenberg starts singing.
When COOKING
▸ Vinylshakerz One Night In Bangkok (techno/electro house)
▸ Snap! The Power (Eurodance) ▸ SDP feat. Weekend Tanz aus der Reihe! (hip-hop)
When EATING
▸ Buena Vista Social Club Chan Chan (son Cubano)
▸ Max Herre A-N-N-A (hip-hop)
▸ Eros Ramazzotti Più Bella Cosa (pop)
ANDREAS SENN
All about deep house
With two Michelin stars and four toques, the top Austrian chef is committed to innovative, light cuisine. In May 2020, the SENNS. Restaurant opened in a former foundry in Salzburg with a new interior and gastronomic concept: as a homage to the past, the final bell that was cast here hangs above the tables. A further highlight is the open kitchen with a BORA system, positioned right in the heart of the restaurant. This enables guests to literally look over the shoulder of the 41-yearold as he works.
Do you and your team listen to music while working?
Of course, all day.
Do you sing along loudly?
No, deep house is usually playing in the background. We've got various playlists. The only exception is when I'm trialling new dishes. Then I need absolute silence.
What music do you recommend for a meal in a restaurant and what music for a leisurely dinner with friends?
The right music is as important for a meal as the right lighting. It has to fit the setting. Deep house as background music is always uncomplicated.
And what's your personal best-of soundtrack?
I like music that's fun and puts you in a good mood, but that isn't too loud.
When COOKING
▸ The White Stripes Seven Nation Army (rock)
▸ Tep No Me And My Guitar (electronic)
▸ Master KG Jerusalema (Afro house)
When EATING
▸ Nora en Pure All I Need (electronic)
▸ Worakls Salzburg (electronic)
▸ Disciples On My Mind (house)
FLORIAN KAMINSKI
Feel-good playlist
The 25-year-old from Berlin is an Instagram influencer, cookbook author and the founder of 'Foodoholic', an online magazine with a healthy eating app. His dishes are characterised by everyday, easy-to-follow recipes, all in line with the motto: 'Eat better, not less!'
Do you associate any of your favourite dishes with a specific song?
Yes, homemade Neapolitan pizza with 'Funiculì Funiculà'. In private, I've even danced around the kitchen to it while waiting for a pizza to cook on a stone.
Do you always listen to music while cooking?
Not always. In situations where there is a lot to do and stress levels are high, I turn the music down to help me concentrate. When things are more relaxed, on the other hand, music is almost always playing in our test and production kitchen.
What exactly?
Usually 'Your mix of the week' or my 'favourites' on Spotify. It can sometimes be amusing as you suddenly find yourself listening to songs like 'Zucker im Kaffee und Zitrone oder Sahne in den Tee' or 'Griechischer Wein'.
Do you like singing along?
I best like music that's relatively consistent, techno or house-like and has a cheerful vibe. However, that also always depends on where exactly I'm cooking at the time. I only start singing once I've reached a certain level of intoxication with good friends. As I rarely drink alcohol though, it doesn't happen very often.
What music do you play during a leisurely dinner with friends?
Ibiza lounge music or jazz. It depends on the type of dinner. For years, I've held a Christmas dinner for my former sports team: we play all sorts late into the night, just not lounge music.
When COOKING
▸ Ben Stereomode Secrecy (house)
▸ Tash Sultana Notion (indie)
▸ Marwa Loud Fallait Pas (pop rap)
When EATING
▸ Overture Black Mandala (dance electronic)
▸ Tube & Berger, Alegant Cure (dance electronic)
▸ Tash Sultana Jungle (indie)
JULIA KOMP
Everything except rock music
Julia Komp, 32, was Germany's youngest female Michelin-star chef. She received her first such star at the age of 27. After numerous awards and a trip around the world lasting several months, Komp now runs the fine dining restaurant 'Lokschuppen' and the more casual 'Anker 7' in Cologne-Mülheim. While her new creations are Asian/oriental inspired, her music taste in the kitchen covers (almost) all genres: from Western hits to Latin pop to hip-hop.
Cooking is creative work that involves all the senses. Do you always listen to music when doing it?
Yes, I'll have either the radio or a playlist on. Otherwise, something is missing. It's what I got used to at home. Every morning, the first thing my mum did was switch on the radio. It affects the way you feel. Good music instantly improves your mood, especially if you associate a song with a positive experience.
What's your favourite kind of music to cook to?
We listen to all sorts in our kitchen – from German love songs to salsa and carnival music to French rap. The only thing we don't listen to is rock. We rejected this genre with a democratic vote of one to ten.
Do you select specific albums?
We generally just listen to the local radio station 1LIVE or 1LIVE DIGGI. DIGGI plays songs that don't necessarily come on the radio. On Saturdays, I hate to say we switch to the worshipful WDR2 for the Bundesliga. I take a lunch break at that point.
Do you prefer background music or do you sometimes sing along loudly too?
We sing along loudly. For example, to the playlist we listen to while cleaning up on Sunday evenings. This includes hits by *NSYNC and Backstreet Boys – good old 90s music.
Does cuisine from specific countries demand certain music when you're making it?
I wouldn't go as far as to say 'demand', but they can sometimes go well together. The Lokschuppen's after-work playlist certainly includes 'Desert Rose' by Sting, which has a strong oriental influence.
When COOKING
▸ Aya Nakamura Jolie Nana (R&B)
▸ Topic ft. A7S Breaking Me (electronic)
▸ Revolverheld Mit dir chilln (indie)
When EATING
▸ Ali Gatie What If I Told You That I Love You (pop)
▸ Dennis Lloyd Nevermind (Alright) (pop)
▸ Robin Schulz, Wes Alane (electronic)
FABIAN DIETRICH
Sundays? Classical!
Learning about foreign cultures, having adventures, collecting flavours. Fabian Dietrich is a man with many passions. He's made one of them his profession: cooking. On his food blog 'About Fuel', Dietrich writes about polenta with cardamom plums, strawberry ravioli with mint cream – and why he was saved by BORA Pure.
Are you someone who listens to music while cooking?
Definitely. My kitchen's never really silent: if there's no music on, a podcast will be playing. Or I'll have friends here and we'll be chatting.
What's on your personal cooking soundtrack?
It depends on my mood. If I need to cook something quickly, I'll listen to power songs that push me. But when I'm leisurely cooking a Bolognese on a Sunday, I like relaxing classical music. It's best to find music that reflects the pace of your cooking. Party tunes just aren't suitable when you're stirring a risotto.
Does music influence you when you're cooking?
I don't spontaneously add more seasoning to dishes just because a certain song comes on. Cooking isn't a rigid process for me – and the same applies to music.
How do you compose your dishes?
I've got a taste library in my head where I store everything I've ever eaten. What does an onion taste like after being pickled in vinegar? And what about in lemon juice? When I cook or develop recipes, I juggle with different flavour combinations.
That sounds a bit like creating a playlist: you add songs and, in the ideal situation, a harmonious result ensues.
It's with good reason that people talk about a symphony of flavours! Or taste undertones. I basically 'borrow' them from my taste library and combine various basic ingredients, complexities and conditions. You have to find the perfect harmony. Sometimes, changing just one ingredient can change the tone of an entire dish.
A bit like a remix?
Exactly. It seems like everything has been done before. Classic recipes are great, but I want to cook dishes that inspire me and give me something new instead of always playing the same old song.
When COOKING
▸ Harry Styles Cherry (pop)
▸ Drake Passionfruit (hip-hop)
▸ Frank Ocean Strawberry Swing (R&B)
When EATING
▸ Sam Cooke Fool's Paradise (soul)
▸ Majid Jordan Her (pop)
▸ The XX Angels (indie)