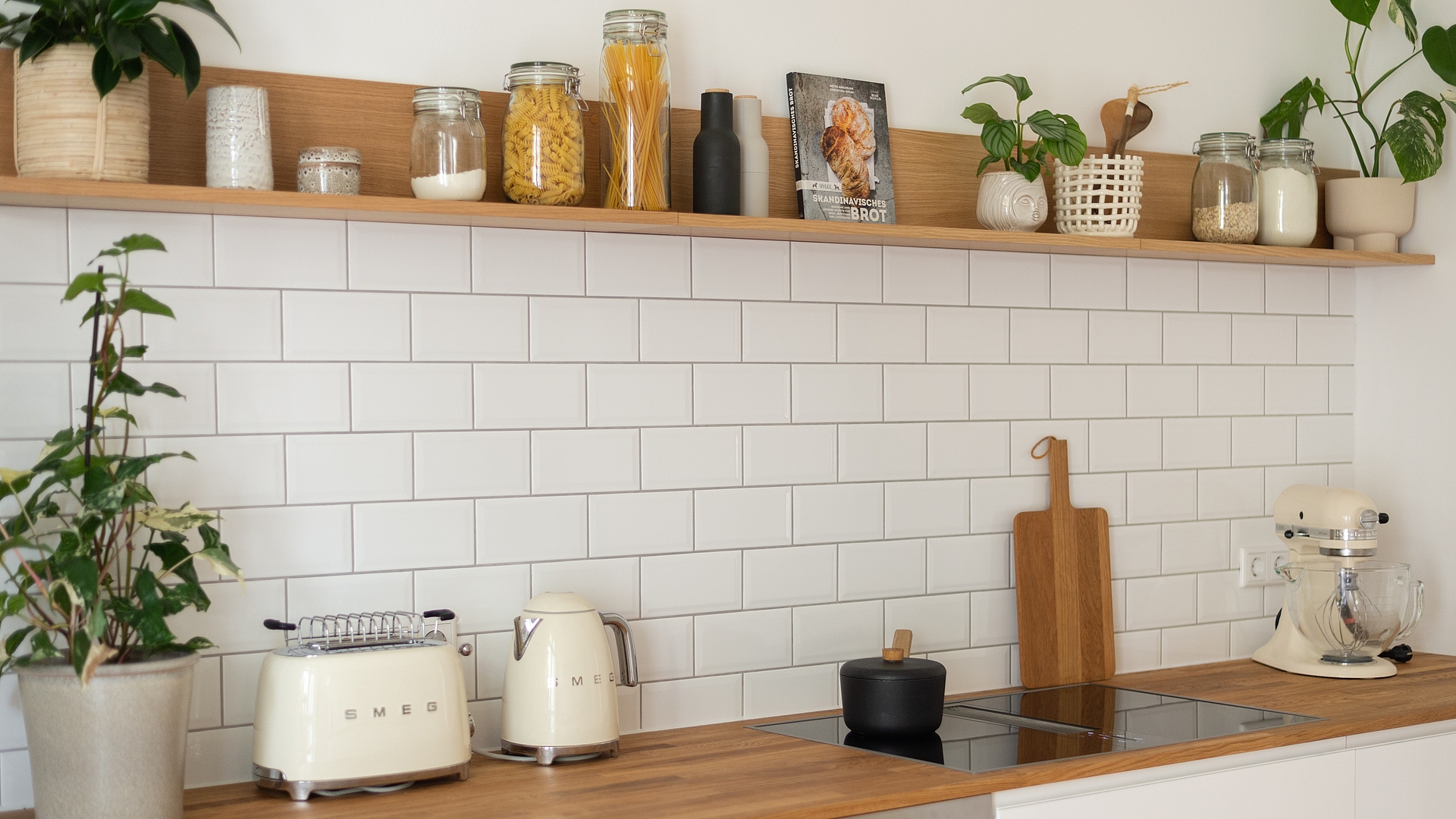 The kitchen is often the heart of our homes. It's where we cook, laugh, read and come up with new ideas – not only at the cooktop. A cosy kitchen makes you want to linger and unwind. When sipping a hot cup of tea, enjoying a tasty risotto or just a piece of cake, almost without even noticing, we take a break from life for a moment. It's therefore all the more important to choose the right décor that entices us to linger in the kitchen time and again. Read on to find out which kitchen décor ideas are currently on trend and how to conjure up an enchanting ambiance in a flash.
Photo credit:
Jennifer Paro
Luxury meets cosiness
The modern kitchen has long become the status symbol among Germans. Nowadays, even amateur chefs pay attention to every detail and dig ever deeper into their pockets to make their customised cooking area even more attractive. This is where luxury meets cosiness. Fancy kitchen appliances and professional equipment find their way into (almost) every kitchen.
Thanks to BORA, there's space in every home for multifunctional cooktops that can be used for frying or grilling just like the pros. Regardless of the space available, modern cooktops without oversized extractor hoods make cooking more fun and provide a clear view. With more space and no bothersome odours, cooking becomes a real treat. And there's still enough room left for creative decoration ideas.
If you want a stylish life and interior, you mustn't stop short of your own kitchen. And if you don't wish to forgo functionality and luxury in your own culinary lab, you could easily combine an expansive cooktop, an oven built into the wall and many other elements with the lifestyle trend of your choice. You decide how you want your kitchen to be – whether sleek and elegant, combined with natural wood or surrounded with lots of decorative items, as per the very popular boho style.
Don't shy away from adding a personal touch and turning your kitchen into a cosy living area.
Focus on nature – using plants in the kitchen
Nowadays, plants are explicitly sought in kitchens. We're not just talking about fresh herbs, but the odd pot plant also provides lush greenery in modern kitchens. Whether you decide to turn your kitchen into an urban jungle or you just jazz it up with a few pot plants is totally up to you.
At any rate, plants also add a touch of naturalness and charm in the kitchen. If you use them cleverly, they can transform even the simplest kitchen into a creative and attractive culinary laboratory. By putting a couple of plants on your shelves, next to your favourite cookbooks, or in a previously unused corner, you can create a fresh look and some eye-catching features.
If you'd like to give free rein to your green fingers in your kitchen, you could cunningly combine some exotic house plants with some fresh kitchen herbs. Not only does this create a totally natural green decorative feature, but you can also make the most of fresh plants, such as peppermint, oregano, chilli, dill, etc. in your meals.
Hands-on decorations – handy kitchen accessories
You don't have to be a chef to feel really good in your kitchen. Even those of you who simply wish to enjoy a freshly brewed cup of coffee or a glass or red wine should make your kitchen feel homely. But to make this room extra special, you need the right decorative items. You can create a unique ambiance by adding some handy kitchen accessories, such as decorative trays, rustic hanging baskets with fresh fruit, a blackboard, wooden racks filled with jars for all the essential tasty treats in any kitchen, pictures on the wall, and much more besides.
The trick is to have hands-on decorations, so use your kitchen equipment. Grab a selection of utensils and containers from your cupboards and showcase them. That way, not only will you have your most important items to hand, you'll also bring your kitchen to life.