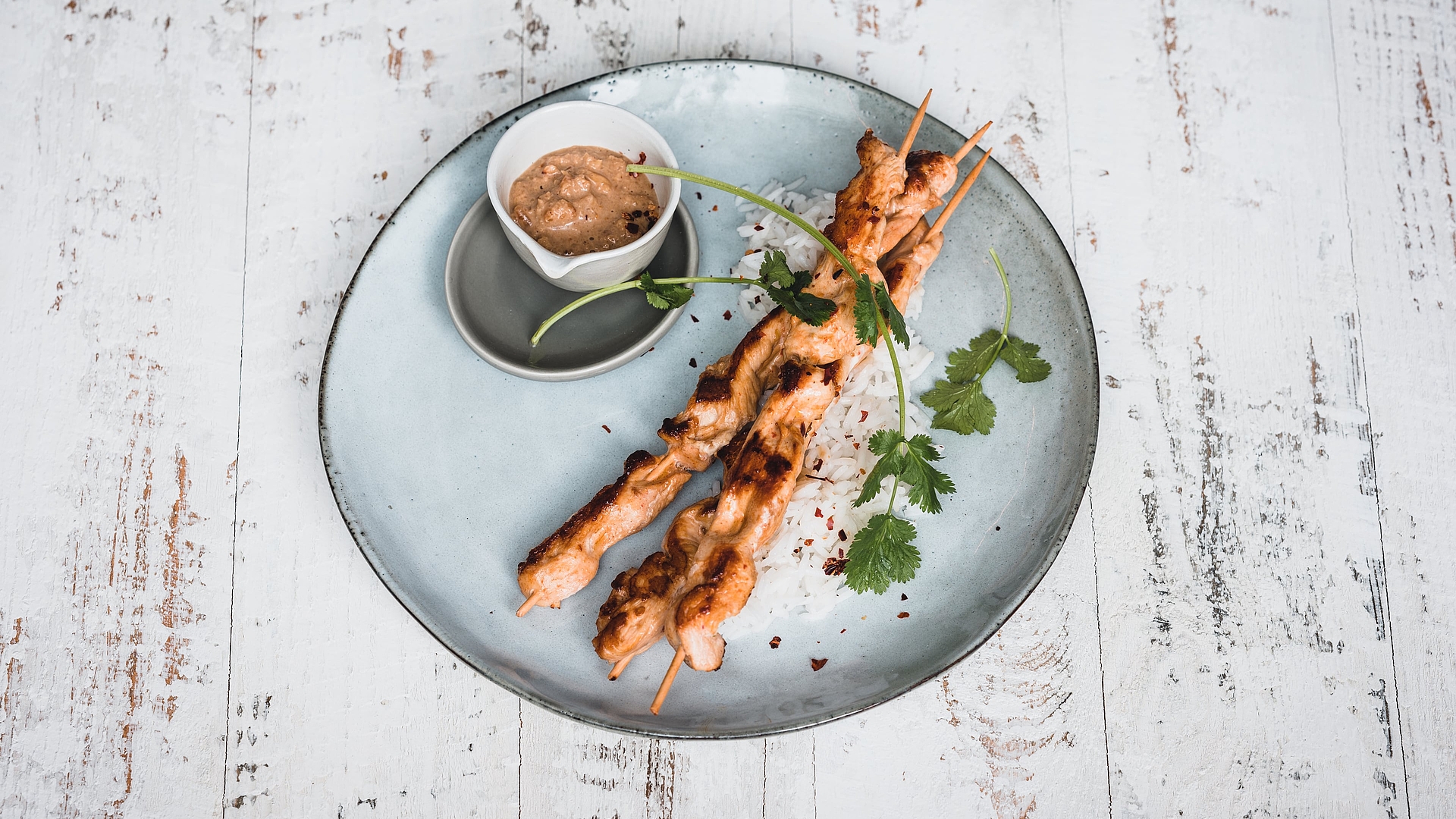 Hollandse Kip Saté (corn-fed chicken satay)
Preparation
Cut the chicken into 2 cm thick slices and place on 8 wooden skewers. Peel and chop garlic and ginger. Mix the ginger and half of the garlic together with rice vinegar, sesame oil, coriander, ground cumin, 1 tbsp soy sauce and
½ tbsp sambal oelek in a bowl and leave the meat to soak for at least 2 hours. To make the peanut sauce, toast the peanuts in a pan over a high heat. Add the rest of the garlic, sugar, 1 tbsp soy sauce, soya milk, ½ tbsp sambal
oelek, ginger and coriander powder and simmer for 30 minutes, stirring frequently. Blend to a fine purée with a hand blender and season with salt and pepper to taste. Pour a little olive oil in a frying pan and cook the meat in it for
3 to 4 minutes on each side. Arrange the skewers on plates, pour the peanut sauce on top and garnish with fresh coriander. Jasmine rice makes the perfect side.
Serves two
300 g corn-fed chicken breast
3 garlic cloves
25 g fresh ginger
1 tbsp white rice vinegar
½ tbsp toasted sesame oil
½ tsp ground coriander
½ tsp ground cumin
2 tbsp soy sauce
1 tbsp sambal oelek
125 g fresh peanuts
½ tbsp brown sugar
125 ml soya milk
½ tsp ground ginger
½ tsp coriander powder
8 wooden skewers
fresh coriander and chilli flakes to garnish