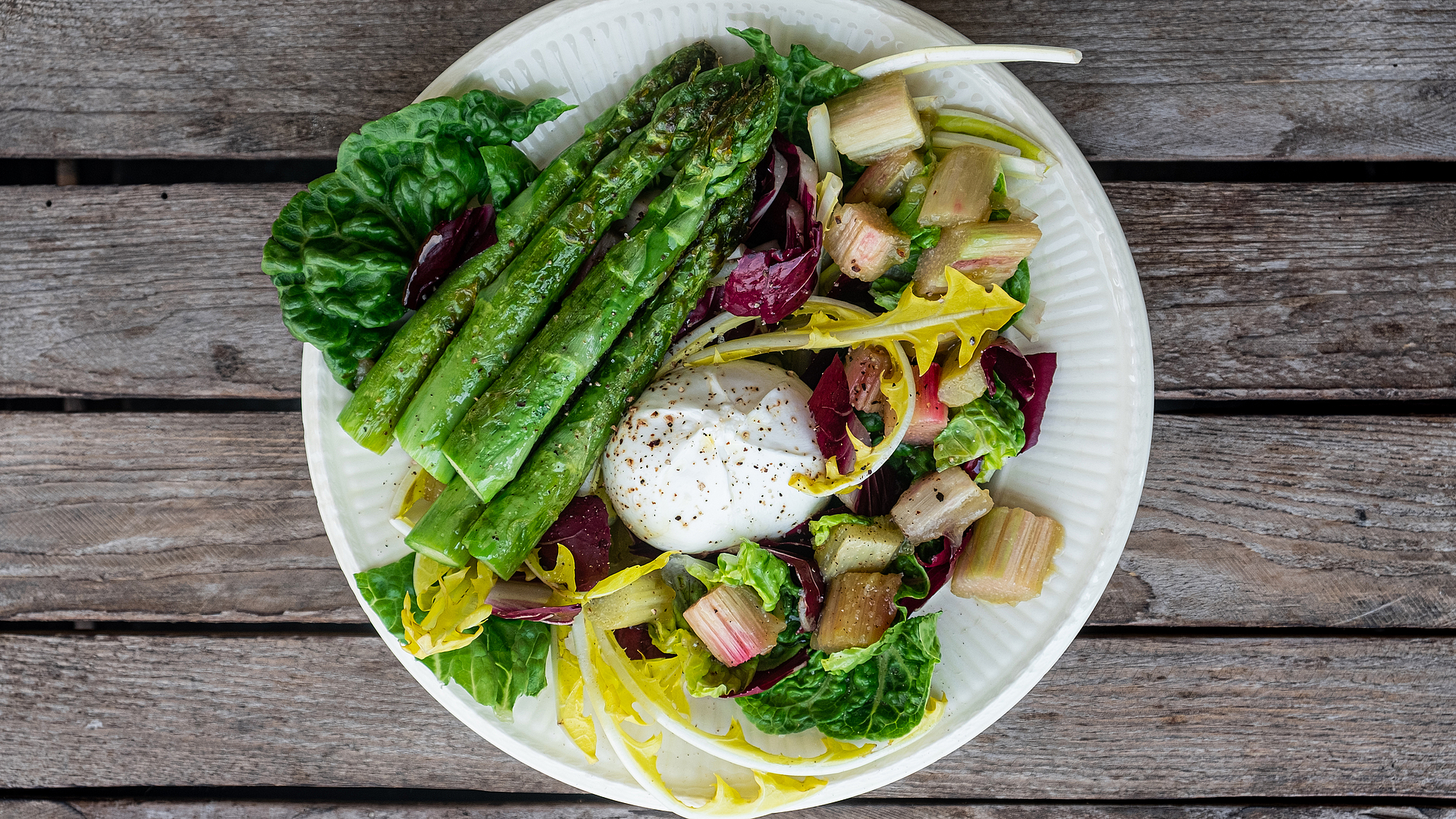 Simple, local, healthy and full of colour
such as a seasonal spring salad filled with reds and greens
Oh, you beautiful spring! What great fortune that everything starts anew each year when you bless us with colours and fresh flavours. After monotonous months of potatoes, cabbage and apples, the range of edibles on offer explodes into a veritable cornucopia of fruit and vegetables.
Despite the fact that these days we can get our hands on whatever food we like no matter the time of year, a growing number of people are making grocery shopping choices based on what's local and in season. All the more reason to fill your plate with colour at the start of spring when there is a greater range of vibrant fruit and vegetables. After all, the more vibrant your dishes, the more diverse and healthier they are. And it's all thanks to the dazzling range of colours created by secondary plant metabolites such as carotenoid, flavonoid and phenolic acids. Studies show that several of these substances are beneficial to our health, such as preventing cancer and cardiovascular diseases.* This assertion has been supported by well-known genetic epidemiologist Tim Spector, who discovered that eating a plant-based diet with as much variety as possible strengthens our gut health and by extension our overall wellbeing. Incorporating 20 to 30 varieties of plant in our weekly diet is ideal, including herbs, spices and nuts, for instance. And it's totally achievable.
So what we're looking for are quick dishes that both taste great and are healthy. A dish that always fits this bill is a rainbow salad containing a huge variety of ingredients, drizzled with a simple but good-quality oil for a dressing, such as premium olive oil or walnut oil. The oil doesn't just add flavour, it also acts as a flavour and vitamin carrier, meaning it plays an important role in the meal's taste and healthiness.
A colourful salad and a healthy slice of wholemeal bread are a tasty combination. The energy we get from these foods – glucose – is slowly and steadily released into the bloodstream. For hours after eating, we have more energy and, even more importantly, we don't experience a slump. In contrast, when we eat meals dominated by refined flours and sugars (e.g. white bread, pasta, pizza and pastry), the energy absorbed is released all at once, and it's not long before we need a top-up.
So there are plenty of reasons to get stuck right into your salad and take a big bite of your wholemeal slice. To give you a bit of inspiration, below is a recipe for a nice little early summer salad that creates a taste sensation from a wide variety of flavours – a real celebration of early summer ingredients.
Recipe:
Peel 2–3 rhubarb stalks, chop into cubes and sauté in a little olive oil over a medium heat with 2–3 tbsp maple syrup and a pinch of salt for 5–10 minutes (they should be soft but shouldn't fall apart).
Prepare 5–6 asparagus spears per person and fry in some olive oil over a medium heat. At this stage you could also flavour the asparagus with a good-quality balsamic vinegar – its sweet and sour taste beautifully underpins the earthy flavour of the asparagus.
Toss together a mixed salad (radicchio works well here) and lay out in a bowl for a bed of salad.
Place a ball of creamy burrata in each bowl and garnish with the asparagus and rhubarb.
Season the salad with just good-quality olive oil, salt and pepper. If you like, you can sprinkle over chilli flakes too. The taste of the individual ingredients carries the whole dish so you don't need a strong-tasting dressing.
Enjoy!
*https://www.dge.de/wissenschaft/weitere-publikationen/fachinformationen/sekundaere-pflanzenstoffe-und-ihre-wirkung/