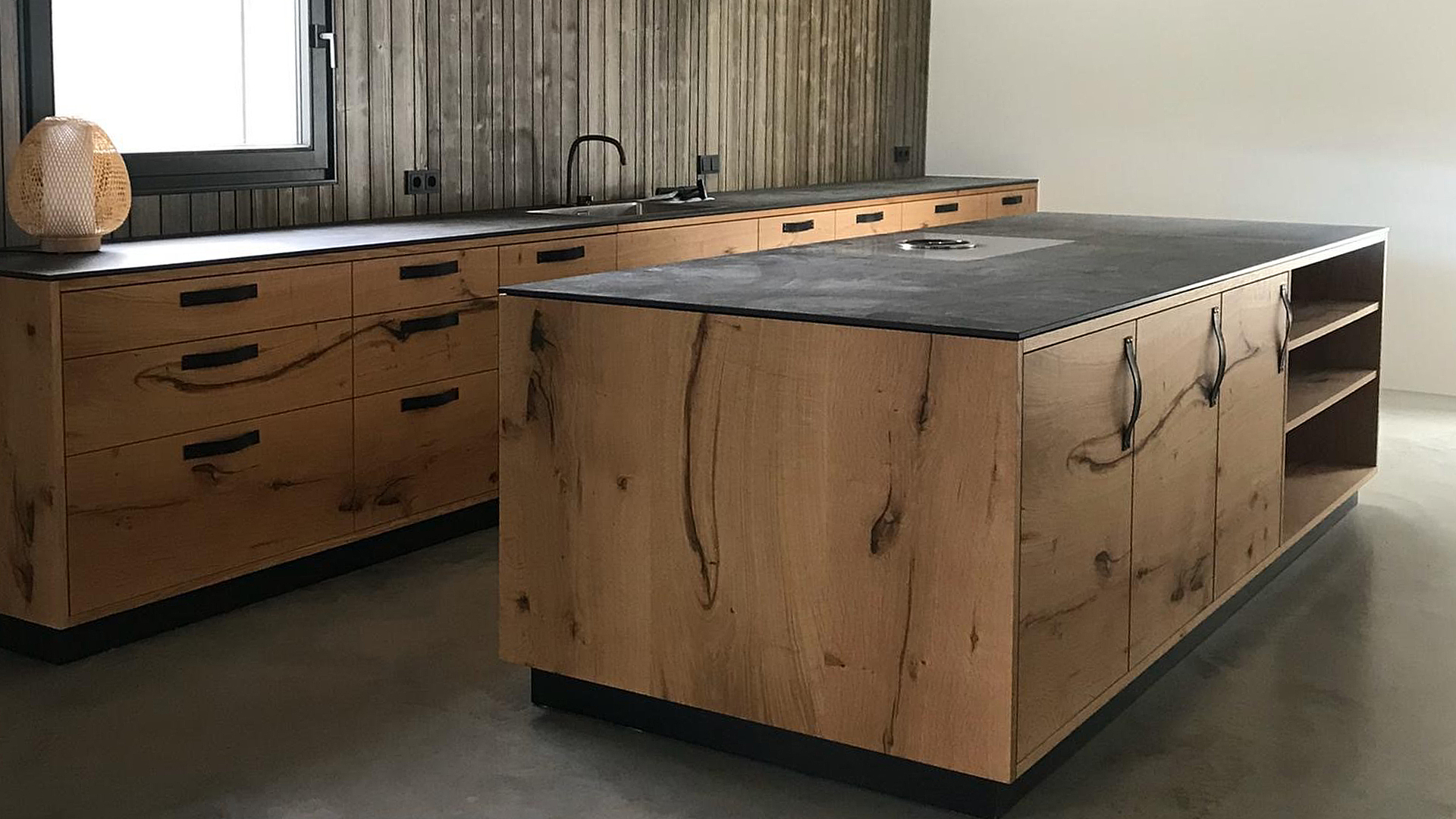 Trendy "craft" kitchens with lots of wooden features
Day in day out, we're constantly swiping at our smartphones, staring at screens and staying constantly connected through every channel. It's understandable, then, that many people in our digital, high-tech world are craving nature, a sense of grounding and a slower pace of life. And especially if they can have all that at home. The fact that natural wood kitchens are all the rage at the moment could be symptomatic of this trend, and unique, hand-crafted furniture is particularly popular. Here we'll show you three examples of these "craft" kitchen that use a great deal of wood.
All-in-one cooking unit made from an old carpenter's workbench
"Every piece is one of a kind, and we've been careful not to erase their aged features," says Johannes Weigelt, explaining what he personally likes about the workbench kitchen unit. The family-run kitchen specialist has sold the unusual kitchen units for the last ten years or so. Johannes's father and company owner, Falko Weigelt, came up with the upcycling idea. When his kitchen showroom was being renovated, Falko was looking for something special to contrast with his studio's new state-of-the-art design. While planning with friend and restorer Tom Letz, Falko came up with the idea of refurbishing a 110-year-old workbench from a former local carpenter's workshop and placing that in the studio. They initially used the new workbench as a sideboard, but, as Falko Weigelt explains, "We developed the design more over time. We extended the legs to raise the workbench to an ergonomic working height". Fitting electric appliances turned it into a proper kitchen unit, and it was so well received that more and more customers wanted one to take home with them.
Unique piece with that certain something
Since the very first one, the Weigelts have now created and sold 12 workbench kitchen units for people who "want something special", as Johannes Weigelt puts it. Young and old alike love this unique kitchen furniture, most likely because it combines an extraordinary visual design with functionality. All workbenches are fitted with a BORA cooktop with integrated cooktop extractor that draws cooking vapours downwards. Its clean design allows it to blend into the worktop seamlessly, and it saves space as the cooktop and extractor come as one. The worktop is made from marble slabs that have been fitted to the workbench, and an oven and wine rack round off the quirky kitchen unit. Wood on the workbenches is refurbished but not too much, ensuring that it still shows its age. Father and son agree: "The fact that the wooden surfaces still have worn-down pegs or visible wear and tear marks just adds to the appeal of the whole thing".
A true wooden masterpiece
In his carpenter's workshop in Chiemgau, Stefan Barhainski designs and creates unique kitchens that are genuinely crafted by hand and feature cutting-edge technology. With his creativity and enthusiasm for working with wood, his clients – owners of a completely renovated farmhouse in Marquartstein, Bavaria – saw him as the right man to bring their kitchen ideas to life. Philipp Möller architects renovated the farm buildings, converting the former barn floor into a loft-style kitchen space. It was important to the architects that the original distinctive character of the individual structures was brought out by the renovation. Simplicity was therefore a deliberate design choice, making the rooms give off a sense of secluded tranquillity and allowing the historic nature of the farmhouse to come to the fore.
Combining wood and stone
The clean lines and natural materials used for the kitchen furniture fit in perfectly with this style. Philipp Möller architects also came up with the interior design while the Barhainski workshop created the kitchen. The unit fronts are made from oak veneered panels that deliberately make the wood grain the main feature, and black, natural stone worktops perch atop the base units. As a special request from the owners, a BORA Basic cooktop with cooktop extractor was flush-mounted in the centre of the island unit, practically making the appliance look invisible, as though it is melting into the black worktop. It's only on second glance that another interesting detail catches your eye: the handles. They are leather straps that, as Stefan Barhainski puts it, "don't just look brilliant, they also feel great".
Kitchen love story with a happy ever after
When the couple first visited the Roland Liegl showroom in Obing, they instantly fell in love with a BORA system with cooktop extractor and were particularly taken with the Tepan grill. It did not take them long to decide that they wanted a new kitchen where they could happily cook and entertain plenty of guests. With that in mind, the interior designers got down to work with manufacturer Roland Liegl to take the couple's existing 1990s-era kitchen with dining area and make it a light and airy space for cooking and entertaining. Walls were taken down, a hallway to the living room was created and the kitchen architecture was completely remodelled.
Cooking island at the heart of the kitchen
At the centre of the newly created kitchen is a large island with premium walnut fronts, a black granite worktop and the BORA Professional 2.0 cooktop system with Tepan stainless steel grill and cooktop extractor to draw cooking vapours downwards. On the other side of the cooktop, the planners created a dining counter, and the custom-made, angular metal frame that holds the granite slab gives guests ample leg room for when they sit on the bar stools. The dark-coloured walnut wood on the monolithic island unit contrasts perfectly with white kitchen fronts. The wood style is echoed in a small shelf unit and in the frame surrounding the black appliance unit. Irmi Liegl, who is the Head of Sales at the family-run company, points out another nice detail: "The three light flutes over the cooking area are handmade from real silver. They oxidise over time from the fat in cooking vapours and fingerprints, creating one-of-a-kind lights," she explains. That means that frequent contact with the silver flutes is encouraged. However, because BORA's cooktop extractor is so powerful, only a tiny amount of fat from cooking vapours could end up on them.
Info
Kitchen studio: Küchen Weigelt in Pirna, www.mehr-als-kueche.de
BORA Basic glass ceramic cooktop with integrated cooktop extractor – recirculation, air inlet nozzle all black
Photos: Johannes Weigelt
Info
Architect: Büro Philipp Möller in Munich, www.bueropm.com
Kitchen planner: holzkunststück – Schreinerei Stefan Barhainski, www.holzkunststueck.de
BORA Basic surface induction cooktop with integrated cooktop extractor – recirculation
Photos: Benjamin Anthony Monn
Info
Kitchen planner: Roland Liegl – küche.bad.innenarchitektur.
BORA Professional 2.0 surface induction cooktop with Tepan stainless steel grill and cooktop extractor – recirculation
Photos: Irmi Liegl