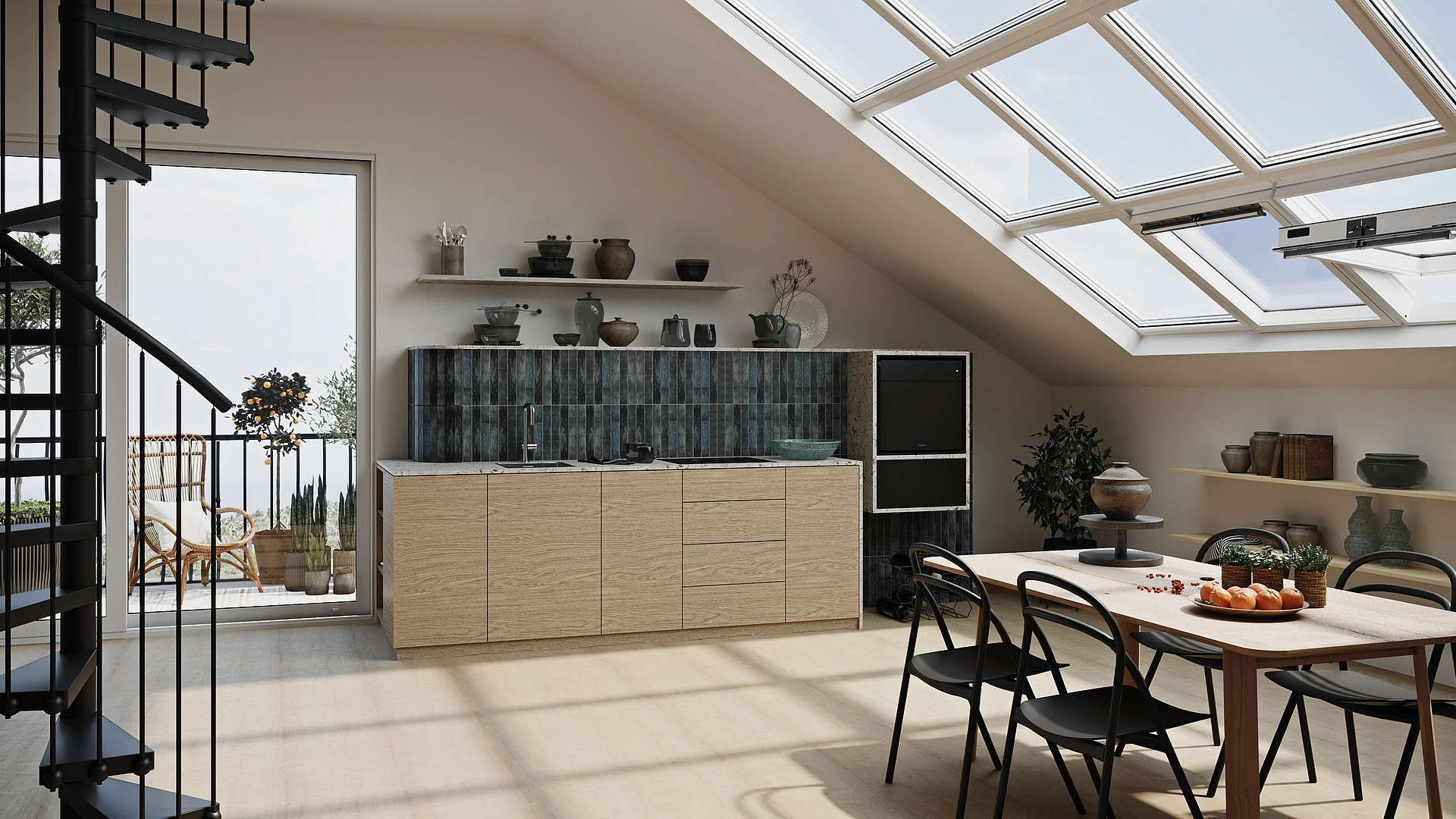 Light and airy workshop kitchen
A passion for design and cooking: Whoever designed this kitchen has great artistic taste – that's obvious at first glance. Although there was only space for a small kitchen in the duplex apartment, art lecturer Ella managed to realise her dream of a light and airy culinary sanctuary with a workshop feel.
Who's cooking in this kitchen?
Wherever you look here, your eye falls on clay sculptures and vases. Ella's passion is for ceramic art and there's no mistaking that in the Art History lecturer's apartment. The 45 year old has been creating handmade ceramics in her spare time for the last twelve years. She uses her duplex apartment, where she lives alone, as her workshop. In summer she likes to move her work to the roof terrace. She loves socialising and often invites friends over at the weekend and enjoys cooking something a little more lavish for them. During the week she prefers to take things a little easier in the kitchen, choosing easy to prepare meals from fresh ingredients that she buys at the weekly market. That way she has more time for her hobby!
Professional small kitchen surrounded by art
Art and cooking – Ella's two biggest passions. Her duplex apartment, on the fourth and fifth floors of a renovated building, is the perfect place for her to get on with her artistic work. The space is flooded with natural light and has the feel of a loft apartment – the ideal environment for working on her ceramic pieces. A spiral staircase leads to the bedroom with en suite bathroom on the upper floor. Downstairs, the completely open-plan floor functions as cooking, eating, living and working space rolled into one, with its own unique and individual appeal thanks to the wall tiles, made by Ella herself. Her potter's wheel and everything else she needs for her arts and crafts are cleverly stored in a large alcove. So when it came to the kitchen, Ella wanted a space where she could indulge her passion for cooking and that meets her expectations in terms of design and functionality.
Ella didn't want to compromise on the open-plan feel of the apartment in any way – in fact, she wanted to accentuate it. Through detailed discussions with her kitchen architect, Ella came up with a subtle and modern combination of kitchen units and appliances that integrate harmoniously with each other and apartment as a whole. With shelves instead of cupboards and a freestanding kitchen island, the kitchen blends seamlessly with the rest of the apartment. Thanks to space-saving high-tech appliances, every element of a professional kitchen could be accommodated in a very small space.
The kitchen architect particularly focussed on providing an efficient extractor fan, so that cooking odours would not spread through the whole apartment and into the bedroom. Ella was immediately won over by his suggestion: a high-quality BORA cooktop extractor fan that also leaves space for a kitchen island, since it doesn't require an extractor hood. In addition to the fantastic BORA design, Ella loves that the downdraft extractor permits an unobstructed view across the apartment. She finally decided on the BORA S Pure because the low installation height of the cooktop extractor system also leaves her with plenty of space in the kitchen floor unit. After all, in a small kitchen every centimetre counts.
When deciding on a steam oven, Ella wanted an appliance that provides effective extraction of cooking odours and steam. That's why she also decided on a BORA oven. The BORA X BO allows her to prepare her favourite recipe – oven-baked trout with lemon roast vegetables – without the smell of fish lingering in her living space for days afterwards. And Ella was positively delighted with how brilliantly simple the X BO is to use, allowing her to prepare healthy and delicious meals with minimum effort. That way she has more time for her hobby!