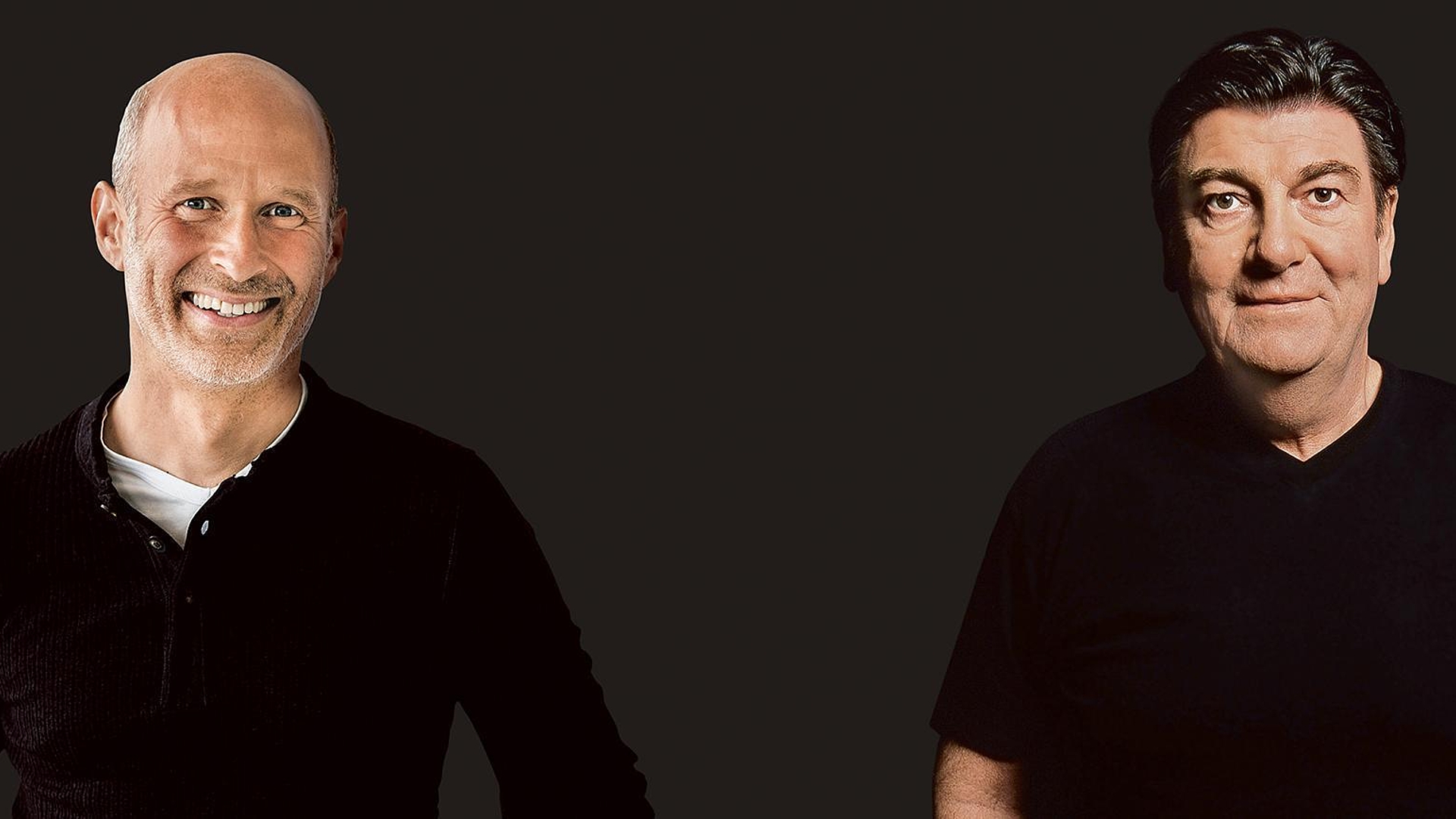 GOOD DESIGN ALWAYS TAKES COURAGE
An interview with Willi Bruckbauer and Prof. Dr. Peter Zec
Professor Zec, you are President of the Design Zentrum NRW (North Rhine-Westphalia Design Centre) and an organiser of the Red Dot Award, one of the most prestigious international design awards. How many products applied for the Red Dot Award: Product Design in 2017?

Peter Zec: This year, we received entries from more than 5,500 new products. That's a record high for us. anufacturers and designers from 54 nations decided to enter. These include traditionally design-strong countries such as Germany, the USA and Taiwan, but we are also increasingly receiving entries from newcomer countries such as Estonia and Lebanon. We are furthermore recording growing numbers of entries from China.

Is it primarily large, global industrial companies that endeavour to win awards for their products?

Peter Zec: Participating in competitions like the Red Dot Design Award is an absolute must for global brands and big names in the design world. This is because a Red Dot Award is an external evaluation of their work. A further important benefit is that of market distinction, as consumers see the Red Dot label as a seal of quality. It may initially seem that larger companies and global players are better positioned than medium-sized businesses to enter the competition regularly and with multiple products as they have more resources. However, quantity is no guarantee of an award. Company structure and size play no part in this. What counts for the judges is the excellence of the design performance. Even in the case of small and medium-sized enterprises, good design has long since established itself as the key to a successful
company policy.

Willi Bruckbauer: This is also true at BORA. And has been since day one. We are not only committed to being at the top of our game with regard to quality, marketing and pricing policy; design is a central part of our company, but also a matter of the heart. We want to make the world of kitchens a more attractive place, and naturally have to look good to do this.

Peter Zec: And you have now proven this too. The new BORA Professional has been named among the winners of the 'Best of the Best 2017' category.

Willi Bruckbauer: Yes, and this is something we are extremely proud of! I can say with all modesty that we are in the fortunate position of being able to receive one or another award. But to receive the Red Dot Award for a brand new product that had only been on the market for a few of months says something about the strong level of innovation behind this development. We feel extremely honoured to have been accepted into the top echelons of the design world.

What is it that makes companies with style-defining products successful?

Peter Zec: Successful design is not predictable. Design is all about using opportunities in a targeted manner: you have to be able to identify the chances and potential promised by the design. To do this, you need creative minds who are sensitive to both technical and cultural developments and come up with crucial ideas. Style-shaping companies that have recognised the economic potential of design then give these ideas room to develop.

Willi Bruckbauer: Although design is something that is firmly embedded in our company's DNA, for us, it is not about being known as 'style defining'. At the same time, interchangeability in design is naturally a complete no-go for us; this would in no way meet our aspirations. It is our ambition to want to create something special and always remain one step ahead. This can sometimes be a balancing act: to be and remain successful, you have to act quickly in the market, drive innovations and set trends. However, you also have to give things time to mature and need to be sensitive. After all, we work on the basis that our products are thoroughly and prudently tested developments that will pass the scrutiny of the target group. In this regard, the market is a good yet also tough gauge of our endeavours. How is a product received? Nowadays, consumers are extremely knowledgeable and discerning. We take this very seriously. And this applies to both end customers and our important distribution partners, who question what we do in an honest and critical manner and give us constant feedback. This has an extremely constructive effect for us.

Is there any such thing as a guarantee of success or timeless basic principles that characterise good and successful design?

Peter Zec: First and foremost, design has to work. If it doesn't work, it can't be used. This is the basic property that has to be met by a well-designed product. Designers also have to ensure that a product impresses people when used. Its shape and appearance also need to appeal to consumers. Good design goes hand in hand with the aim of constantly improving people's quality of life. Design is about permanent change and development. No designer would question the purpose of a chair, but they would look at new seating habits or aspects relating to materials and design language.

Willi Bruckbauer: I completely agree. Another important factor is that good design has to have the courage to radically question and change the long-standing norm. If BORA hadn't done this, it would
never have been successful. In terms of my development, my primary focus was naturally on its function: I wanted to develop an extractor that was more effective than conventional ones. Of course, the design, the 'dress' quasi, had to be alluring, if that's an adjective you can use for a technical
product. My primary aim was to further enhance the kitchen as a kind of oasis and make our homes a better place. This same aim still drives my corporate mindset today. After all, the wheel keeps turning and you have to stay abreast of the times. And this includes in relation to the design of products.
There is always a kind of zeitgeist.

Peter Zec: Zeitgeist is a great way to put it. I believe it's possible to identify several product design trends. During materials research and product design, people are trying to imitate organic and natural
processes. Furthermore, a growing number of designers focus on robotics-related questions. Automatic devices with artificial intelligence already play a major role in everyday life.

And what do you regard as the key trends in the kitchen sector right now?
Peter Zec: Many people regard the kitchen as the centre of their home and a kind of status symbol. Open-plan kitchens not only provide places for people to cook, but also to live. As such, kitchens have to meet customised requirements to a tee. When furnishing kitchens, as much attention is
paid to high-quality materials as to energy efficiency and new solutions such as downdraft extractors integrated into the cooktop. 'Smart' kitchen appliances such as refrigerators and ovens are also
increasingly establishing themselves.

Willi Bruckbauer: If I may interject here... The Bavarian television company 'BR Fernsehen' recently came to visit us in Raubling and filmed a programme about the 'Kitchen as an altar'. It was about
exceptionally high-quality kitchens, which, as you'd expect, were far more expensive than your conventional kitchen. We have clearly noticed that there are huge numbers of these now. It may therefore be true that the kitchen has overtaken the car as a status symbol. However, the TV programme, which showed BORA products installed in the kitchens, took things even further.
Namely: the kitchen is a place that can emanate an almost reverent, sacral feel as a result of its character and its extraordinary design and furnishings. That's the theory anyway. And in reality, our planners see this approach reflected in customers' wishes. They want products that can be
incorporated into their kitchen in a subtle, refined and unobtrusive manner, but with a touch of uniqueness. And BORA seems to have made a name for itself on the market in this regard. However, this is only our intention to a superficial extent. Aside from all the beauty, elegance and extravagance,
the kitchen can and must always remain a place for the family, somewhere to socialise and part of real life. A hearth at which everyone can warm themselves.
Peter Zec: I'd like to add something else too: the perfect combination of aesthetics, technology and practical use plays a major role in kitchen design. 'Made in Germany' therefore has a special appeal because it is associated with excellent product quality, which is particularly sought-after in the
kitchen sector as kitchen furnishings and appliances are usually things that you buy to last.

Let's take a brief look further down the line. What basic innovations can we expect to find in the kitchens of the future?

Peter Zec: It's impossible to give a general answer that is valid across all product categories. However, I believe that kitchens will be increasingly characterised by automated appliances with sophisticated voice and analysis functions. Digital assistants will be increasingly integrated
into products. Even today, ovens have built-in sensor technology and many kitchen appliances can be controlled using apps on mobile end devices such as tablets or smartphones. Robotics and computer
and information technologies will in all events play important roles, especially as there will be exciting symbioses with other products. Simply think about how many individual devices the smartphone already combines today. Focus will also have to be placed on social and environmental matters.
Despite all the technical possibilities the future will offer, it is extremely important for designers to retain their focus on people. This particularly applies when appliances are ever more frequently
characterised by highly complex internal processes yet external minimalism and simplicity. A balanced mix of modern technology and emotional needs is a particularly important design element –
including in the kitchen sector.

Willi Bruckbauer: I completely agree. The kitchen market is developing at an incredible pace. Who knows what currently unimaginable things will be regarded as the norm in ten years' time? The best example of this can be provided by looking to the past. We said that we wanted to revolutionise kitchens. Vapours should be extracted downwards, not float up into the nostrils. Such a simple principle, yet no-one initially wanted to join us in our pursuit of it. Today, however, our extractors have become the norm; it has taken less than a decade for the principle to take off. As you can see, it's the seemingly simple, the easy to explain that ultimately impresses. Our products naturally incorporate sophisticated technology and we work hard to develop innovations, but we don't plan to create extractors that you can simultaneously pair with your telephone, garage door, television, window blinds, burglar alarm and possibly even your electric lawnmower. To put it simply, what I'm trying to say is that regardless of all the possibilities, when working on our future developments, our primary focus will still be on people. And in addition to all the theoretical possibilities, people like our products to be impressively effective and simple to use. After all, the kitchen isn't a research laboratory for tech-savvy chefs who use high-tech gadgets rather than vegetables, but a place of enjoyment, pleasure and sensuality. Despite all the sophisticated technology, which is actually already found in BORA products, all of our new developments are therefore based on the notion: keep it simple and intuitive.

That leads me to a question: do kitchens and cooking play much of a role in your private life?

Peter Zec: As a passionate amateur chef and co-owner of a Michelin-star restaurant in Berlin, I love to cook high-quality dishes in my own time. I had a clean and compelling stainless steel professional kitchen with a customised design built for me in Italy, which would fulfil the needs of any Michelin-star chef. In terms of food, I love the variety offered by Asian cuisine, which uses lots of fresh ingredients. I'm also a great fan of Mediterranean dishes. I enjoy classics like antipasti or tortellini as much as I do a perfectly cooked steak. I also appreciate the great importance of spending time with others while eating and the sociable side of meals.

Do you think about good design when serving food?

Peter Zec: In a word: yes! As with a product, allure plays a great role in the enjoyment of food: meals have to look appetising.

Willi Bruckbauer: For me, the way things look is very important. There's no doubt about it. But what comes first for me is the process of actually going shopping. I pay careful attention to buying good food of high quality. I come for Rosenheim and check that products have been sourced regionally wherever possible. As a Bavarian, I naturally also like to sit in a beer garden with a beer and pretzels. However, I find it far more important to cook at home, especially with my family. I love teaching
our youngest children the value of a good diet. I should probably mention that I do this in the company too. We've established a voluntary staff cooking event with a simple rule: I'll gladly foot the bill providing whatever is served is healthy. I'm not some kind of missionary but when you're passionate about cooking and your work in the kitchen sector, this is important. I also believe that
good food keeps you healthy. To return to a term we used earlier, this isn't then a zeitgeist, but simply about keeping things tasty and reasonable. This isn't a combination that can be taken for granted.

Mr. Bruckbauer, Professor Zec: from design to technology to cooking – thank you for the interview.
INFOS
An interview with BORA founder Willi Bruckbauer und Prof. Dr. Peter Zec, President of the
Design Zentrum NRW (North Rhine-Westphalia Design Centre) and an organiser of the Red Dot Award, about award-winning design and life in the most important room in the home: the kitchen.