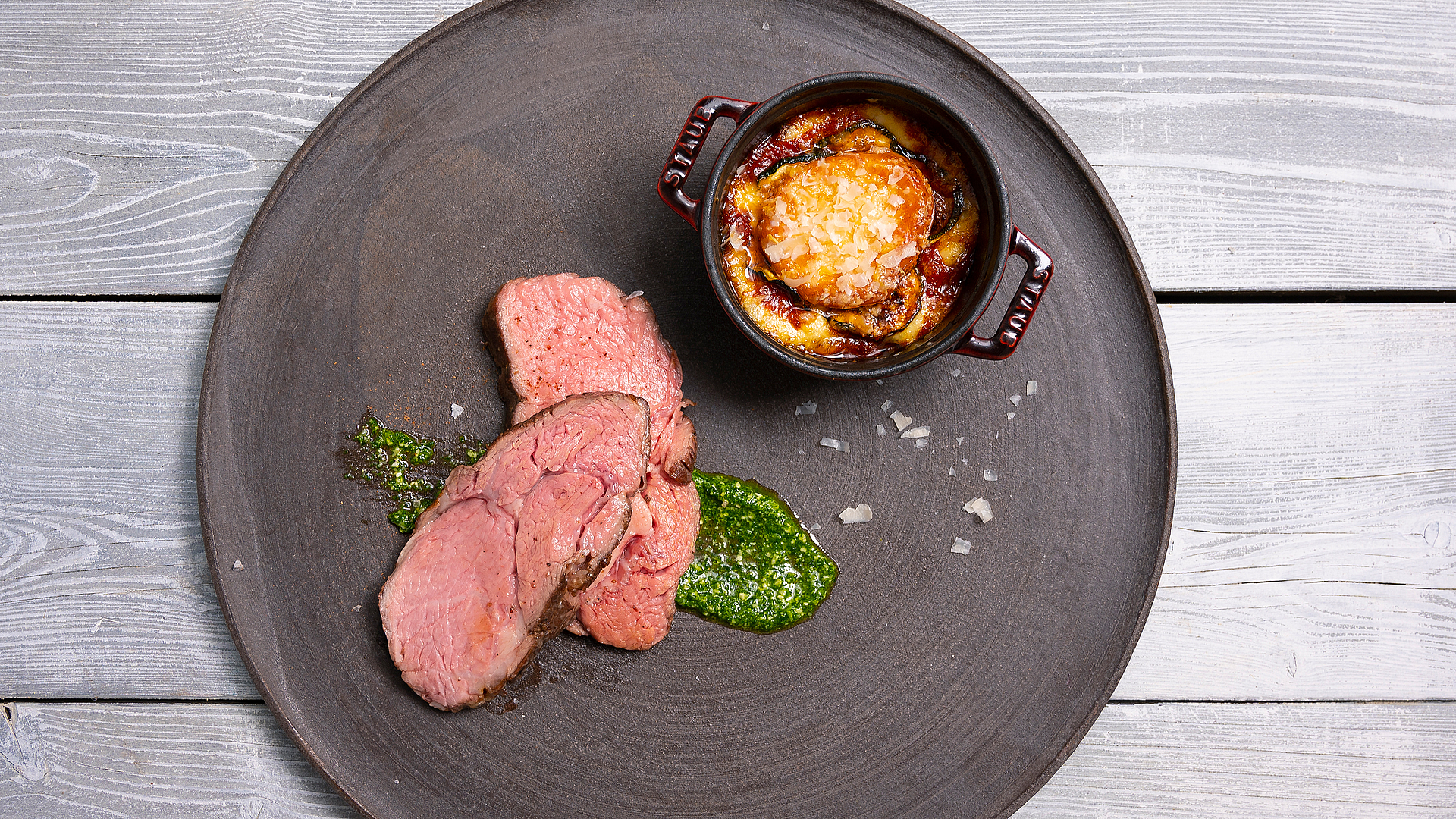 Veal saddle and pesto with courgette and scamorza lasagne
Preparation
Take the veal saddle out of the refrigerator and, if the butcher has not already done so, remove the sinews and fat. Place on kitchen roll on a plate and leave for about 30 minutes to come to room temperature.
For the pesto
Preheat the back half of the Tepan stainless steel grill to 200 degrees. Toast the pine nuts without oil until golden brown then transfer to a plate to cool. Wash the basil, shake dry and use a stand or hand blender to puree with the pine nuts, rocket, Parmesan and pepper. Gradually add the olive oil until the pesto takes on a creamy, semi-­liquid consistency.
For the meat
Heat both halves of the Tepan stainless steel grill to 230 degrees. Preheat the oven to 100 degrees. Rub pyramid salt flakes all over the veal saddle and drizzle a thin layer of groundnut oil onto the Tepan grill. Quickly sear the veal saddle on all sides until golden brown together with the garlic bulb cut crosswise and the rosemary. Place on an oven tray, drizzle a little olive oil over the top and cook in the oven until a core temperature of 59 degrees (use a meat thermometer) is reached.
For the lasagne
Wash the courgettes, dab dry and cut lengthwise into approx. 5 mm thick slices. Toast on the Tepan at 200 degrees without oil until they are lightly browned. Place the slices on a tray and drizzle with a little olive oil and balsamic vinegar.
Preheat the oven to 200 degrees. Peel and finely dice the shallot. Sauté in a pan with olive oil until translucent then caramelise with the cane sugar. Add the tomatoes and simmer over a low heat to create sugo. Season with salt and pepper.
Slice the scamorza and place in layers in an oven dish with the courgette and tomato sugo. The top layer should comprise scamorza and a little grated Parmesan. Gratinate the lasagne in the oven at 200 degrees until golden brown.
Finishing touches
Once the veal saddle is medium, remove from the oven and leave to rest for about 5 minutes covered with aluminium foil or similar. Once rested, spread with pesto and cut into slices. Serve with the courgette and scamorza lasagne and season with pepper.
Preparation time: 20 minutes
Cooking time: 60 minutes
Serves 4
For the pesto
1 bunch of basil
50 g pine nuts
100 g rocket
100 g freshly grated Parmesan
Ground pepper
150 ml extra virgin olive oil
For the meat
800 g veal saddle
Pyramid salt flakes
Groundnut oil
1 garlic bulb
1 sprig of rosemary
1 tbsp extra virgin olive oil
For the lasagne
2 courgettes
2 tbsp extra virgin olive oil
1–2 tsp balsamic vinegar
1 shallot
2 tsp brown cane sugar
500 g peeled plum tomatoes
Natural or sea salt
Ground pepper
250 g scamorza
100 g freshly grated Parmesan