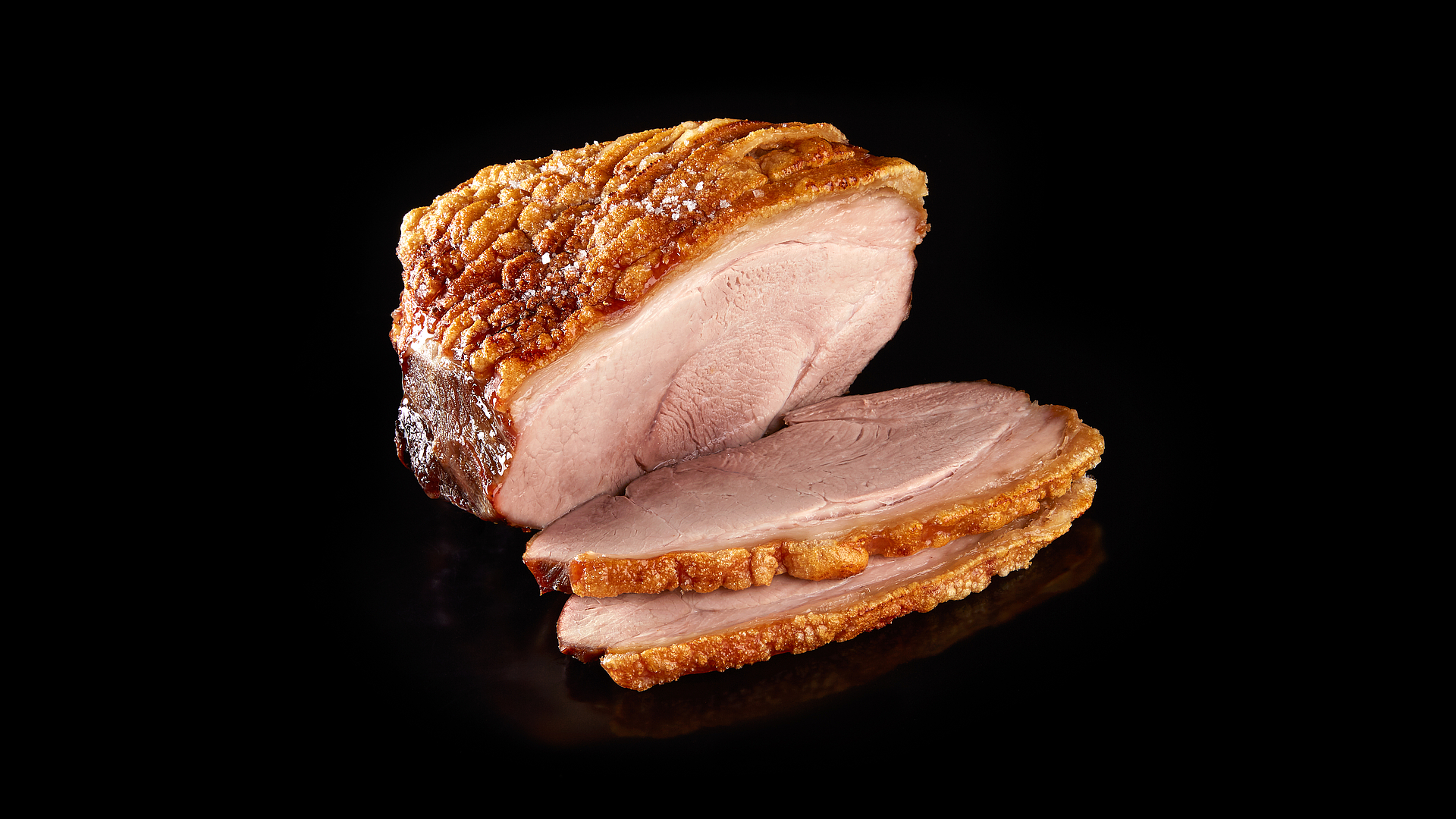 Roast pork with crackling
Automatic programme "Roast pork with crackling"
Preparation
Prepare the ingredients
Peel the carrots, celeriac and onions. Trim and thoroughly wash the leek. Cut all of the vegetables into 2 cm cubes. Dab the shoulder of pork dry with kitchen roll, and score diamonds into the skin side with a sharp knife, being careful not to cut into the meat.
Season the meat
Peel and finely dice the garlic. Make a herb paste out of the salt, caraway, garlic and mustard and coat the meat side with the mixture. Generously season the skin with salt.
Prepare the ingredients
Put the vegetables on the deep universal tray and pour the stock and beer on top. Put the pork shoulder on the oven rack and insert the food thermometer into the meat.
Roast the meat
Put the rack above the deep universal tray in the X BO and roast for around 90 minutes (150°C/20% humidity, automatic programme "Roast pork with crackling"), until the core temperature reaches 78°C. Then change the settings to 230°C/0% humidity and set the "Crust" slider to 15 minutes to create crispy crackling. If you prefer your crackling less crispy, select a shorter time on the slider.
Pro tip
To get really crispy pork crackling, salt the rind well. Scoring the rind with a very sharp knife makes the roast pork easier to slice up after cooking.
Preparation: 15 min.
Baking/cooking time: 1 hr 45 min.
Serves 4
150 g carrots
150 g celeriac
150 g onions
150 g leek
1.8 kg pork shoulder
1 garlic clove
15 g salt
15 g caraway
25 g medium-hot mustard
1.5 l vegetable stock
500 ml beer