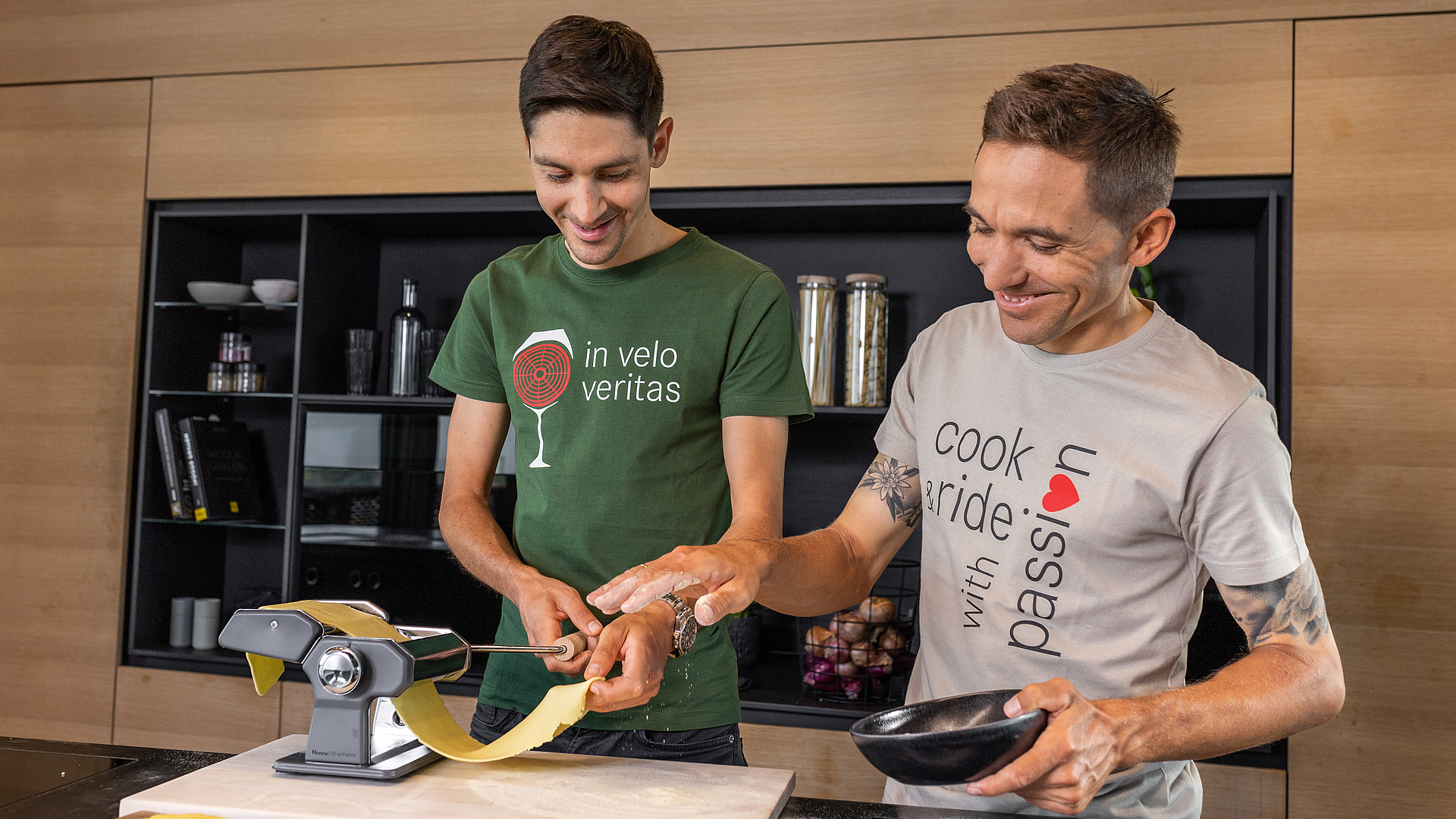 Pasta party – noodles to boost fitness
March 2023
A good espresso, some magnificent hairpin bends, shaved legs and, of course, a plate of pasta – these are the ingredients for a perfect cycling day. Pasta is always a faithful companion for every cyclist, whether before an important race or after a relaxing local loop or a strenuous training session. But why are pasta dishes so popular among athletes, and particularly cyclists?

Photo credit:
BORA / Helge Roeske
BORA / Silvia Seebacher
The triumph of pasta
Opinions differ worldwide as to the origins of pasta. Although the cycling-mad Italians constantly claim that they invented it, the latest evidence shows that this popular dough product actually comes from China. It is generally assumed that noodles and pasta were invented separately in several places. At any rate, the success enjoyed by pasta is undisputed.
In Germany, for example, around 10 kg of pasta is consumed per capita each year, and the amount is twice as high in Italy. Whether you prefer it the classic way with pesto, in a salad or bake or pan-fried, the reasons why pasta is so popular are plain to see: it's quick and easy to prepare and extremely versatile.
With over 600 different varieties, there's something to suit every taste. That's also what makes pasta so popular among our BORA – hansgrohe guys: together with BORA, their passion for exquisite pasta dishes led to their very own collection of pasta recipes.
Click here to see the recipes for your nextpasta party.
Fuel for the muscles
As well as being versatile and tasty, pasta also plays a key role for endurance athletes as it supplies energy to the body. This is also extremely important for professional cyclists. Pasta is made up of 70% carbohydrates and is particularly low in fat.
Pasta also contains short-chain carbohydrates which the body can process quickly. As such, it basically has a fatigue retardant effect, which is essential for physical and mental motivation in sport. These carbohydrates are stored in the muscles in the form of glycogen and broken down during exercise.
Athletes who wish to make a fast and effective recovery after sport while adapting their body to the training stimulus need to replenish their glycogen stores immediately. This applies in particular if, for example, they intend to put their body under a similar amount of strain the next day – as is the case for cycling tours.
Pasta for breakfast
If our body doesn't absorb enough carbohydrates, we can't keep up our performance and our recovery is slower. Riders therefore need to refill their carbohydrate and protein stores immediately after a race. On the other hand, these stores should also be filled before the race even begins so that riders can keep up their performance for as long as possible.
Among athletes, "carb-loading" or pre-race "pasta parties" are common practice. This involves loading up on pasta dishes to fill glycogen storage levels – a nutritional strategy that athletes often begin a few days before a race or competition. To make sure their bodies have enough energy to get them through a three-week grand tour, riders from the BORA – hansgrohe team sometimes even eat pasta for breakfast.
Pasta makes us healthy and happy
In addition to carbohydrates, pasta also contains many micro-nutrients and fibres, which are also important for our body if we put it under a great amount of strain. If you want an even healthier option, you're best to eat wholewheat pasta, as it contains more fibre, plant protein, vitamins B1 and B6 and magnesium than the average durum wheat or soft wheat pasta.
If you want to consume fewer carbohydrates or if you don't tolerate normal pasta, there are many pasta varieties made of cereal alternatives such as rice, maize, potatoes, millet or pulses.
Click here for more information about pasta made from different cereal alternatives.
At any rate, it's always best to cook pasta until it's "al dente". The carbohydrates in overcooked pasta break down into sugar faster, making our blood sugar level rise faster.
And last but not least, here's some more good news about pasta: did you know that pasta stimulates the production of "serotonin" (the happiness hormone) in our brain? Therefore, it not only supplies us with enough energy for our next cycle tour, it also puts a smile on our lips before the race even begins. Happy and full of energy – what more could an athlete want?