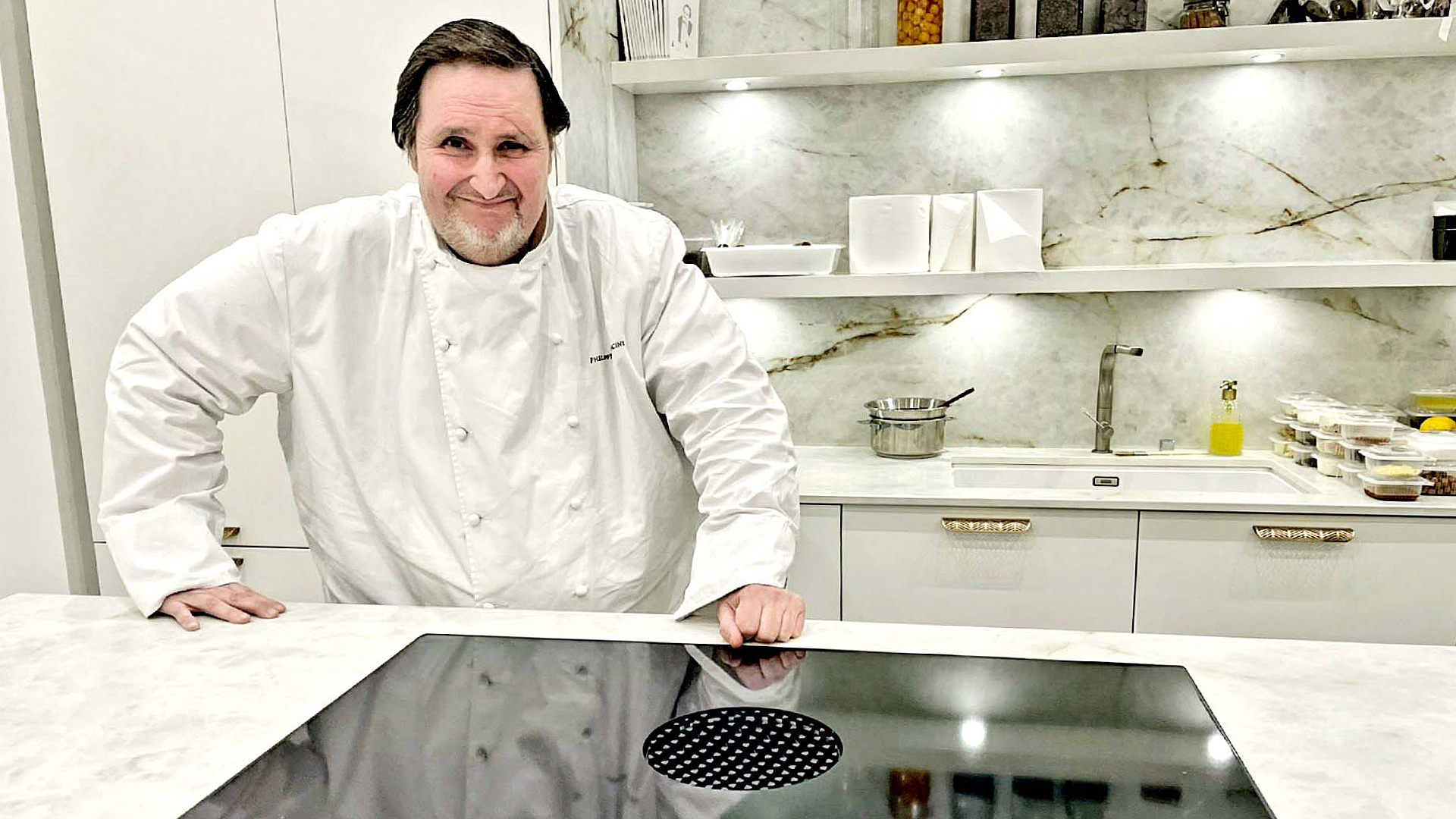 Philippe Conticini - Pure perfection from patisserie to viennoiserie
Philippe Conticini, a famous chef who is considered by his peers as being one of the figureheads of contemporary patisserie, offers his creations via the 'Maison Philippe Conticini' in Paris, London and Tokyo.
From pastries to viennoiseries, not forgetting bakery wares, the chef's aim is simple: to generate emotion through top-quality artisanal products.
Photo credit:
Philippe Conticini
After receiving several awards and working in Michelin-starred restaurants including La Table d'Anvers and Petrossian, he co-founded and became head pastry chef of the Pâtisserie des Rêves. He places great emphasis on conveying emotions through his creations and on popularising the work on taste.
He has also written numerous books, including several classic, gluten-free and lactose-free recipe books, but also a book about his private life entitled 'Cochon de lait'.
In 2021, Philippe Conticini decided to open an artist's workshop together with Jeffrey Cagnes, at 27 Place Dauphine, on the île de la Cité in the heart of Paris. This true temple of French patisserie offers a timeless setting which pays tribute to the art that these two men love so much and provides an intimate backdrop for their master classes. And thus the 'Atelier Du Geste à l'Émotion' (an allusion to their joint culinary collection) was born.
The chef Philippe Conticini chose BORA because he likes working with brands that offer top-quality products. He kits himself out with the crème de la crème of appliances so that he has the best equipment for his master classes.
"I was lucky to come across BORA at a professional event, and I was soon won over by the quality of the products and the level of excellence of the teams that I subsequently met. I am guided by the search for emotions through my creations. Being accompanied by a brand that seeks 'pure perfection' helps me in my daily quest. BORA is as crucial for kitchens as a paintbrush for a painter."
Paris-Brest
Praline paste
Ingredients:
150 g whole hazelnuts
150 g whole almonds
200 g caster sugar
50 g water
Put the water and sugar into a saucepan and bring to the boil. Once the temperature has reached 116°C, add the whole hazelnuts and almonds. Cover all of the nuts in the sugar syrup then leave the mixture to cook for 20 minutes, stirring constantly with a wooden spoon to prevent the nuts from burning. A few minutes after the nuts have been added, the sugar will turn white, but by the end it will be completely caramelised. Once the cooking time is up, the nuts will be really shiny and a lovely tawny brown colour. Pour the caramelised almonds and hazelnuts onto a Teflon baking sheet, then spread them out so that they cool faster. Once they have cooled down, blend 2/3 of the nuts in a mixer (in three goes so that the mixture doesn't overheat) until the praline paste becomes really creamy. The remaining 1/3 of the nuts will be used later on for decoration.
Craquelin
Ingredients:
64 g strong white flour
64 g brown sugar
52 g butter
Mix together all of the ingredients using a paddle attachment to form a smooth dough. Roll out the craquelin between two acetate sheets (to a thickness of 2 mm), then cut out one disc with a diameter of 20 cm followed by another disc on the inside with a diameter of 11.5 cm. Put the discs into the freezer.
Choux pastry
Ingredients:
63 g water
63 g semi-skimmed milk
55 g butter
3 g caster sugar
1 g fleur de sel
71 g pastry flour
125 g egg
Put the water, milk, butter, caster sugar and fleur de sel into a saucepan and bring to the boil. Remove from the heat and add the pre-sieved flour. Mix well then dry off the dough over a high heat for 1 minute, stirring constantly. Transfer the dough into a mixer bowl. Beat at medium speed using the paddle attachment, until no more steam escapes from the dough. The aim is to remove as much moisture as possible so that you can add as many eggs as possible to make the pastry rise well. Beat the whole eggs, as if making an omelette, then gradually drizzle them onto the dough. Using a 14-mm nozzle, pipe one ring with an diameter of 18 cm, then another ring on the inside followed by third ring between the two others. Add a disc of frozen craquelin then bake in the oven at 170°C for 25 to 30 minutes, then at 150°C for 15 minutes.
Praline cream
Ingredients:
408 g semi-skimmed milk
72 g single cream
95 g egg yolk
42 g caster sugar
65 g cornflour
34 g gelatine mass
170 g butter
255 g praline paste
Heat the milk and the cream. Mix together the egg yolk, sugar and cornflour. Pour 1/3 of the milk and cream onto this mixture, then return to the heat. Make a crème pâtissière. Add the gelatine and the cold butter. Mix together, then add the praline paste. Whisk your cream in a cold bowl for 1 minute. Refrigerate for one hour then repeat this step.
Assembly
Slice the Paris-Brest in half horizontally. Using a piping bag, pipe some praline paste onto the base. Add a few caramelised hazelnuts and almonds. Using a star-tip nozzle, pipe arches of the praline cream around the choux base. Decorate with caramelised hazelnuts and almonds. Place the top ring of the Paris-Brest on top.