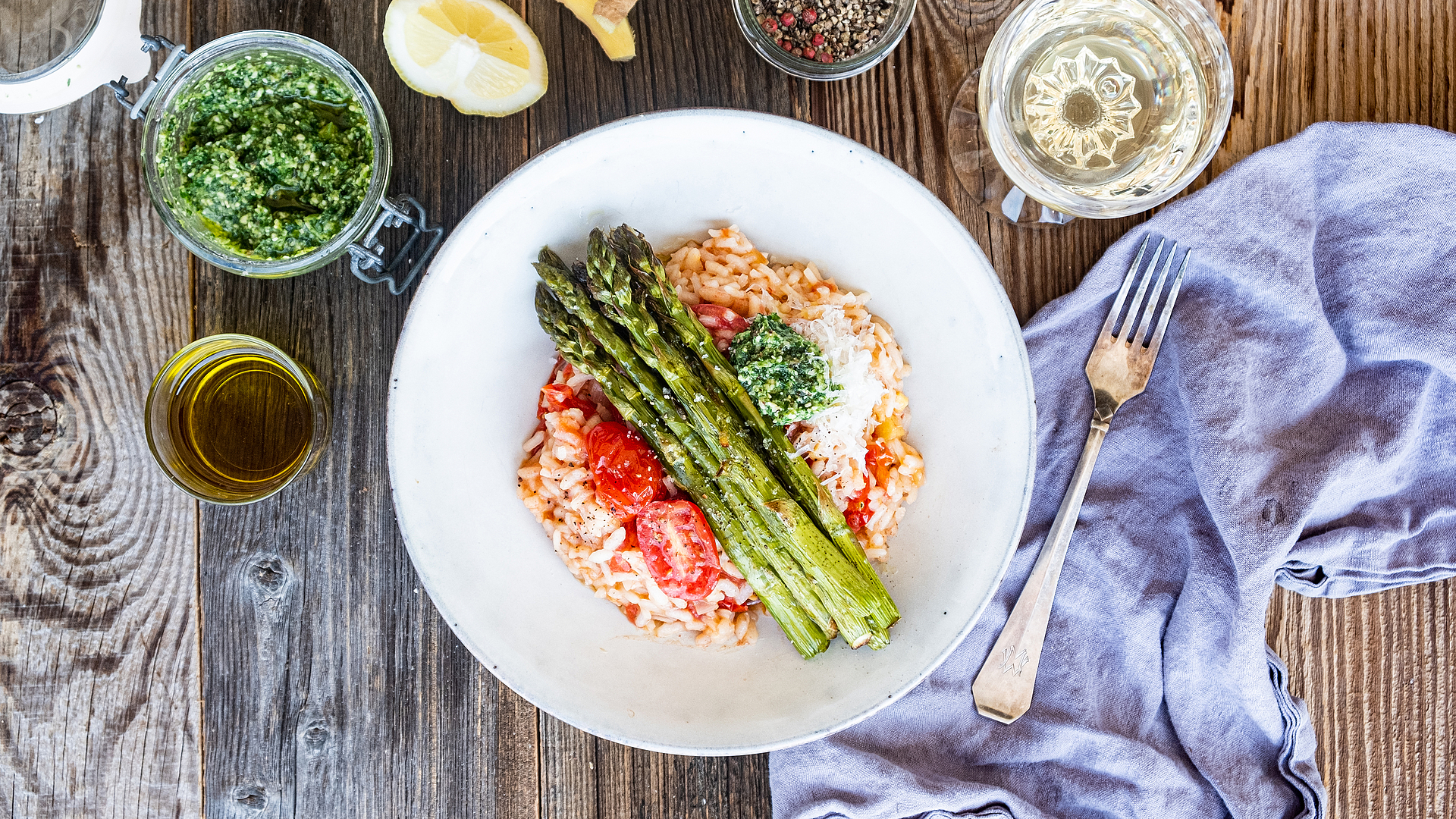 Go Mediterranean for a healthy and happy life
Strolling around the old market halls in Florence is a little adventure in itself: visiting a little standing coffee bar for a second breakfast with a cappuccino and a cornetto. Gathering inspiration from the vibrant vegetable stalls, each one surpassing the next with its veritable rainbow of colours. Buying a bag of Mediterranean prawns from one of the many captivating fish stalls. This beautiful place is a feast for all the senses, it magically sparks imagination and creativity. The experience makes you want to indulge in all its delights.
Plenty of fresh fruit and vegetables, herbs and spices. Potatoes, rice, nuts, fresh fish and good quality oils, such as olive oil. At the heart of them all is the Mediterranean diet, which is more than just that – it's a way of life, and above all a healthy one. In addition to its emphasis on lots of fresh and colourful food, only very occasionally accompanied by red meat and animal fats, this diet is a lifestyle mindful of what constitutes delicious, high-quality ingredients. This all provides the perfect foundation for good eating and a high quality of life.
Some of the diet's benefits are obvious. Its main ingredients are fresh foods rich in vitamins and nutrients. It's well balanced and promotes good digestion. And people take greater pleasure in eating the food, really taking the time to savour it and consciously enjoy the experience. This shows that it's not so much a diet in the strict sense of the word, rather it's an approach to life that revolves around enjoying fine culinary delights and treating mealtimes as daily feasts. The Mediterranean diet is also said to be good for your cardiovascular system, considerably reducing the risk of stroke and heart attack. It is also meant to have a noticeable impact on reducing the risk of dementia. At the same time we need to bear in mind that the diet is more of a guide for a healthy lifestyle that provides some structure, but it doesn't prescribe strict rules to follow, instead giving you some flexibility.
So go forth and enjoy culinary delights! Whether it's at a market stall in Florence or at your kitchen table at home. To inspire you to give this style of cuisine a go and bring a touch of the Mediterranean to your home, below is a recipe for tomato risotto with hints of ginger and lemon and a side of oven-roasted green asparagus. Buon appetito!
Ingredients:
Serves two
approx. 200 g risotto rice – it's usually worth getting Arborio rice
400 ml vegetable stock and additional boiling water, if required
one onion
100 ml white wine
2 cm fresh ginger, diced
zest of one lemon and half its juice
approx. 4 tbsp olive oil
approx. 2 tbsp butter
approx. 100 g finely grated parmesan
2 handfuls cherry tomatoes, halved
one bunch green asparagus
Method:
Finely chop the onion and sauté in olive oil until transparent, then add the rice and the ginger.
Fry the rice briefly and deglaze the pan with the white wine.
Stir in the stock 100 ml at a time, adding the next amount once the liquid has reduced. Once all the stock has been added, add some boiling water otherwise the risotto may be too salty at the end.
While the risotto cooks, cut the tomatoes in half. After 10 minutes or so, add the tomatoes, lemon zest and juice to the risotto and stir.
Drizzle the asparagus with some olive oil and sprinkle over a little salt before roasting in the oven at 180°C for 20 minutes. If you like it more al dente, check the firmness after 10 to 15 minutes.
Stirring frequently, cook the risotto for around 20 minutes until the rice is al dente.
Finally, stir in the butter and then add just enough parmesan to make the risotto creamy and flavourful.
Plate up the risotto and serve with the asparagus on the side. If you have some green pesto, a dollop in the risotto works beautifully.