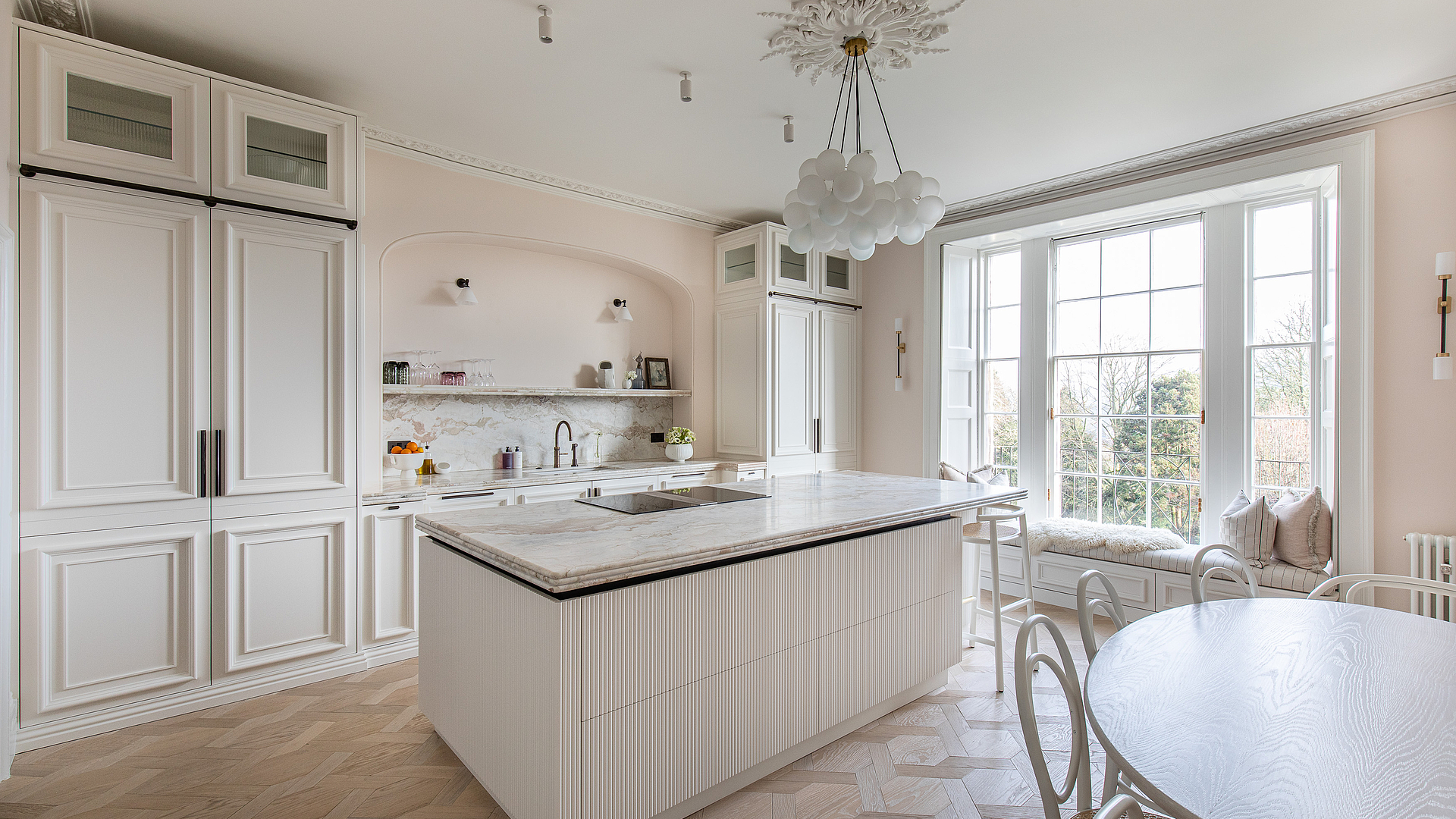 December 2021
British interior design and renovation expert Laura Butler-Madden has used intuition and a keen eye for detail to craft a timeless and elegant kitchen that blends in beautifully with its historical surroundings. The ensemble skilfully incorporates the traditional architecture of the Georgian town house and seamlessly combines it with contemporary features and appliances, such as the BORA Professional cooktop with extractor system.
Laura Butler-Madden is an interior designer and renovator. Along with her husband Patrick, she has made it her business to save period properties from falling into disrepair by renovating and furnishing them in her unique style. Laura showcases her interior design ideas and plans to a growing audience on her Instagram, where she has now assembled an impressive portfolio of fascinating renovation projects. Her latest project, which she has just completed, is a Georgian town house in Bath dating from the 18th century. Laura and Patrick have transformed it from an ugly duckling into a radiant swan.
Kitchen design: Laura Butler-Madden, www.laurabutlermadden.com
Photos: Patrick Butler-Madden
BORA Professional induction cooktop with integrated cooktop extractor
A kitchen as light and airy as a cloud
Laura describes her style as rather mixed and says that her designs exude calm and serenity. She loves scouring auctions, antique markets and second-hand shops for unusual pieces to make a room one of a kind. Her goal of creating something unique and bespoke comes through in the kitchen that she has crafted in the Bath town house. The light-coloured units paired with elegant marble worktops give the room an air of calm and make the kitchen light and airy.
Harmony down to the last detail
The style of kitchen's two tall cabinets and alcove, under which lies a sink in a large worktop, evoke a bygone era. The clever choice of unit fronts is what creates this effect. Their traditional profiles and glass windows perfectly echo the house's architecture. They mirror the bars and side panelling on the large Georgian window, which Laura has turned into a cosy seating area using cushions and pillows. This window seat looks like it would be the perfect place for a quick tea break any time. The round alcove in the wall also blends in beautifully with the whole look and features practical storage space thanks to the marble shelf inside it.
Island at the heart of the kitchen
The kitchen's showstopper is undoubtedly the large island in the centre, where a BORA Professional cooktop with extractor system is seamlessly and elegantly embedded in its marble worktop. The island unit has been cut into at the corners on the window side, allowing two bar stools to be pushed under. This means the island can be used as a breakfast bar or a place to work – even when it's being used for cooking thanks to the extra quiet and efficient extractor system from BORA. It's another detail that highlights just how much this kitchen has been made for living and shows that Laura has once again succeeded in combining modern living standards with a historic spirit in one timeless design.