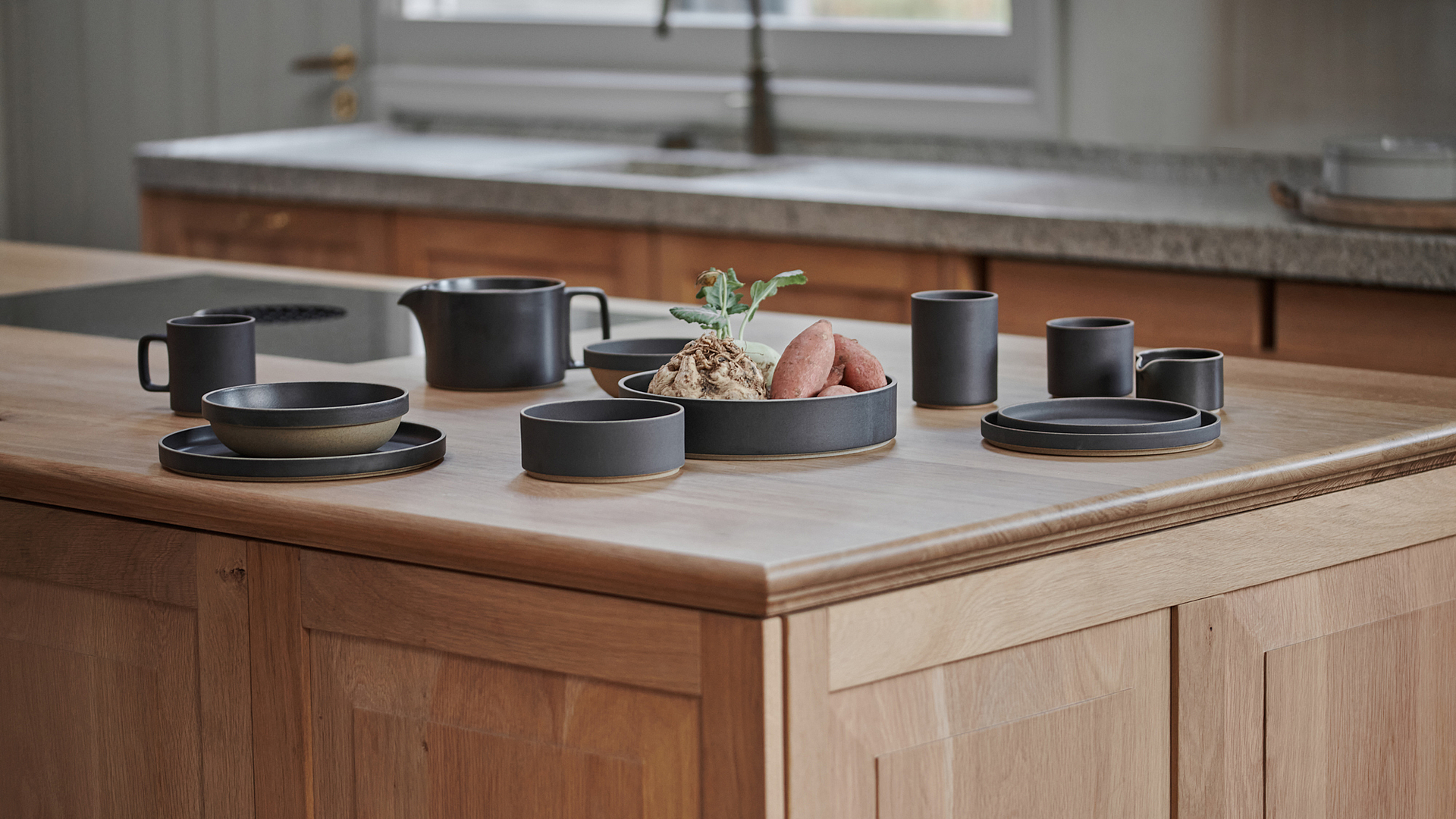 Achieve a natural look with genuine wood worktops
Plastic-coated worktops and concrete work surfaces were popular in modern kitchens for a long time. Nowadays, homely materials like wood are back in fashion, as they create a very special ambience. You should consider this for genuine wood worktops in the kitchen.
copyright: entertheloft (design studio)
Fotocredits: Jennifer Paro, behout
Why we love wood
Genuine wood worktops aren't just for old rustic buildings and farmhouses. They can also be used to effortlessly enhance a modern kitchen. Wood is a homely material and creates a pleasant 'room feel'. Having this kind of worktop is like having a piece of nature in your own kitchen.
But be warned – wood is not fully scratch- and cut-proof, and it's also sensitive to heat. So it's best to use a suitable mat for kitchen-related activities. It's possible to impregnate the wood with oil and wax; while more costly than with stainless steel or concrete work surfaces, it's worth the effort.
Genuine wood worktops are natural, sustainable, antistatic and breathable, and if you look after it properly you'll get to enjoy this environmentally friendly material for years to come. Wood suits any kitchen style while also being unique thanks to its various colours and textures.
Woods that suit the kitchen
You can find solid wood worktops made of a continuous piece of wood on the market, but these can be quite expensive. A more economical alternative is solid wood worktops made of several individual pieces, which gives them a unique look.
Hard and fine-pore wood types like beech, sycamore, ash, cherry, walnut and oak are particularly good woods for making kitchen worktops out of. However, you should avoid soft deciduous and coniferous woods such as spruce and alder, as even the smallest of kitchen adventures leave traces behind. If you're a fan of the exotic, we recommend a worktop made of bamboo or (if you've got a big budget to play with) mahogany, iroko, teak, wenge and Zebrano.
You can brighten or darken your selected wood by treating it with the right oil. Ecological certifications and environmental seals such as the Blue Angel, PEFC and FSC indicate that your worktop comes from a sustainable supply or forestry and was processed accordingly.
But how do you look after wood?
It's easy to give your kitchen a natural and authentic look, regardless of whether you live in the countryside or right in the city centre. But to preserve the unique charm of your work surface, you need to regularly give it some tender loving care.
First of all, you need to dust your worktop thoroughly before treating it (about once a week) with special wood oil.
The quickest way to remove any water-soluble dirt is with a damp cloth. Make sure to dry out any damp parts afterwards.
If a stain won't go away, you can rub it off with a light abrasive brush, always brushing in the direction of the fibres.
It's also recommended you use heat-resistant mats for pots, toasters, etc. to avoid damaging the wood of the worktop.
Do not use washing up liquid and scouring agents on genuine wood worktops.
If there's a washing machine right below your genuine wood worktop, only open it once it's cooled down. Otherwise it may cause the worktop to swell.
To summarise, there are many good reasons to get a genuine wood worktop. If you bear these tips in mind, your little piece of nature is sure to bring you joy for years to come.