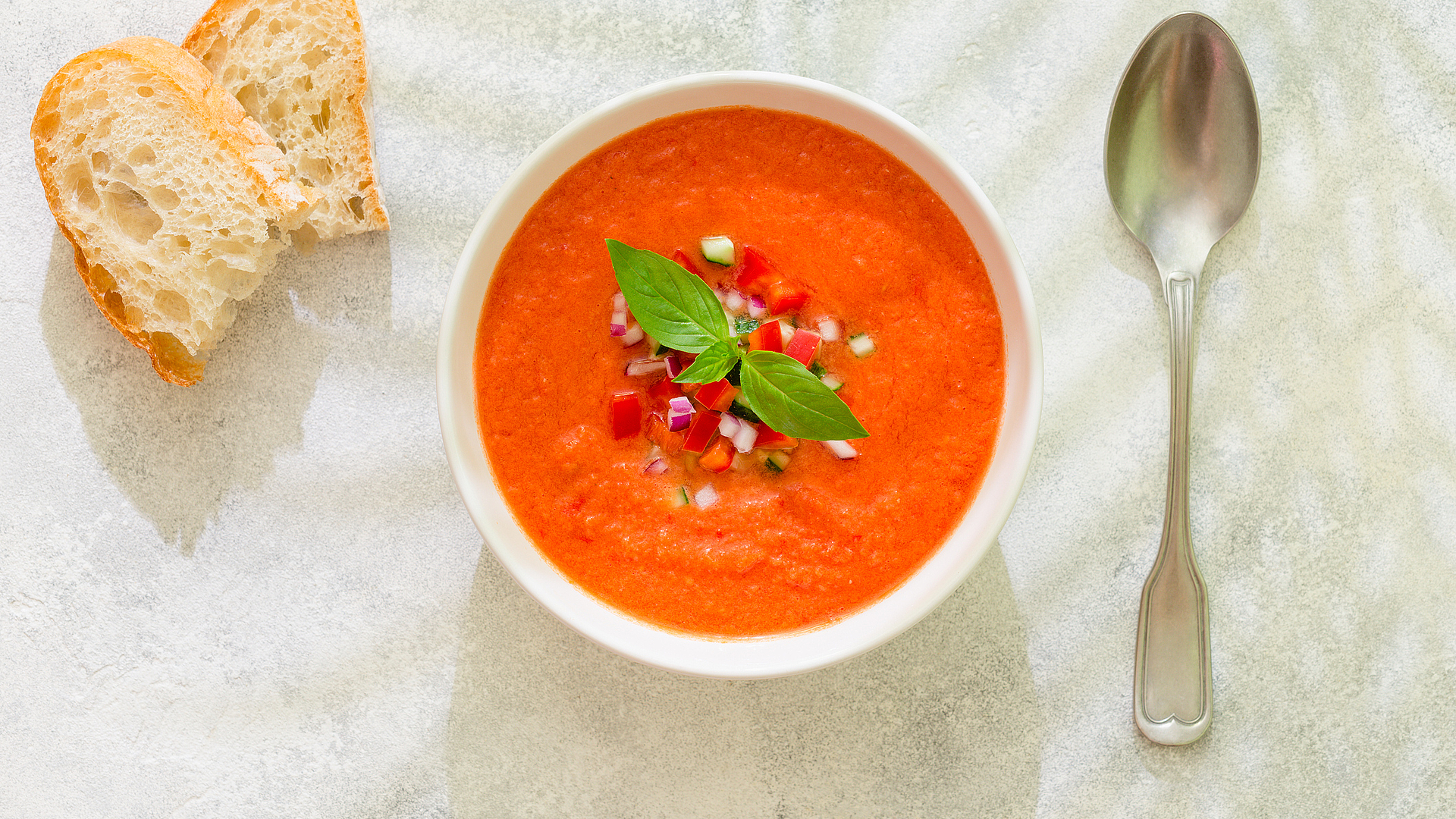 Cold soup: perfect food for hot days
When temperatures rise, many people want to eat refreshing, summery foods such as fruit, ice cream or salads, but cold soup can also help us to cool down. Where does this special kind of soup come from, why is it so healthy and what other varieties are there in addition to gazpacho?
More than just gazpacho – the diversity of cold soup
In autumn and winter most people like their food to be warm and hearty, but in spring and summer they prefer it light and cool. When we hear the word soup, images of steaming pots and pans tend to spring to mind, but this dish is also perfect for hot days.
The classic cold soup is Andalusian gazpacho, which was originally known as 'peasant food' because its ingredients are so cheap and simple to prepare. This world-famous soup is made of raw, blended vegetables, such as tomatoes and peppers, and soaked white bread. Other chilled soups include 'salmorejo', a gazpacho variant from southern Spain, 'saltibarsciai', a beetroot soup from Lithuania, and 'chrianteli', a cherry soup from Georgia.
'Okroshka', a traditional Russian soup made of sour cream, egg, radish, potato, sausage and cucumber, is also served cold. This national dish is seasoned with mustard, chives, dill and vinegar. If you follow a vegetarian diet, you can of course prepare it with a sausage substitute.
Why cold soup is s(o)uper
As well as tasting delicious, cold soup is very refreshing, easily digestible and low in calories. It is also quick and easy to prepare – you can either cook it and leave it to cool down or blend the raw vegetables. Soup is healthiest when it's uncooked because it contains many nutrients (thanks to the vegetables in particular) which are usually lost when the ingredients are cooked.
When you eat cold soup, your body gets a supply of vitamins, minerals and liquid at the same time. It is therefore ideal after sport, especially when enriched with broth so that it can replace the salt that your body sweated out. You can easily keep cold soup in the fridge (including overnight) or freeze it so that it's always to hand if you're feeling hungry or you can't be bothered to cook.
Our soup tips: food to help us cool down
Here are some tips from our cold soup kitchen before the hot weather kicks in. Cucumber is a great basic ingredient for cold soup because its high water content makes it ideal for refreshing dishes. Our suggestion: cold, creamy cucumber and avocado soup.
Other creative combo ideas:
Apricot and tomato soup with burrata

Courgette and yoghurt soup with salmon

Cauliflower soup with pine nuts
Aubergine and feta soup with basil

Tomato gazpacho with mint and lemon

Buttermilk soup with various vegetables
There are endless cold soup variants that you could make. Be brave and creative, combine fruit and vegetables, cook the soup first then leave it to cool down, serve it as an iced soup variant or blend or purée it with diced ingredients. And (cold) soup doesn't have to be savoury. You can also conjure up some wonderful, chilled desserts with blended berries, watermelon, kefir or maple syrup.