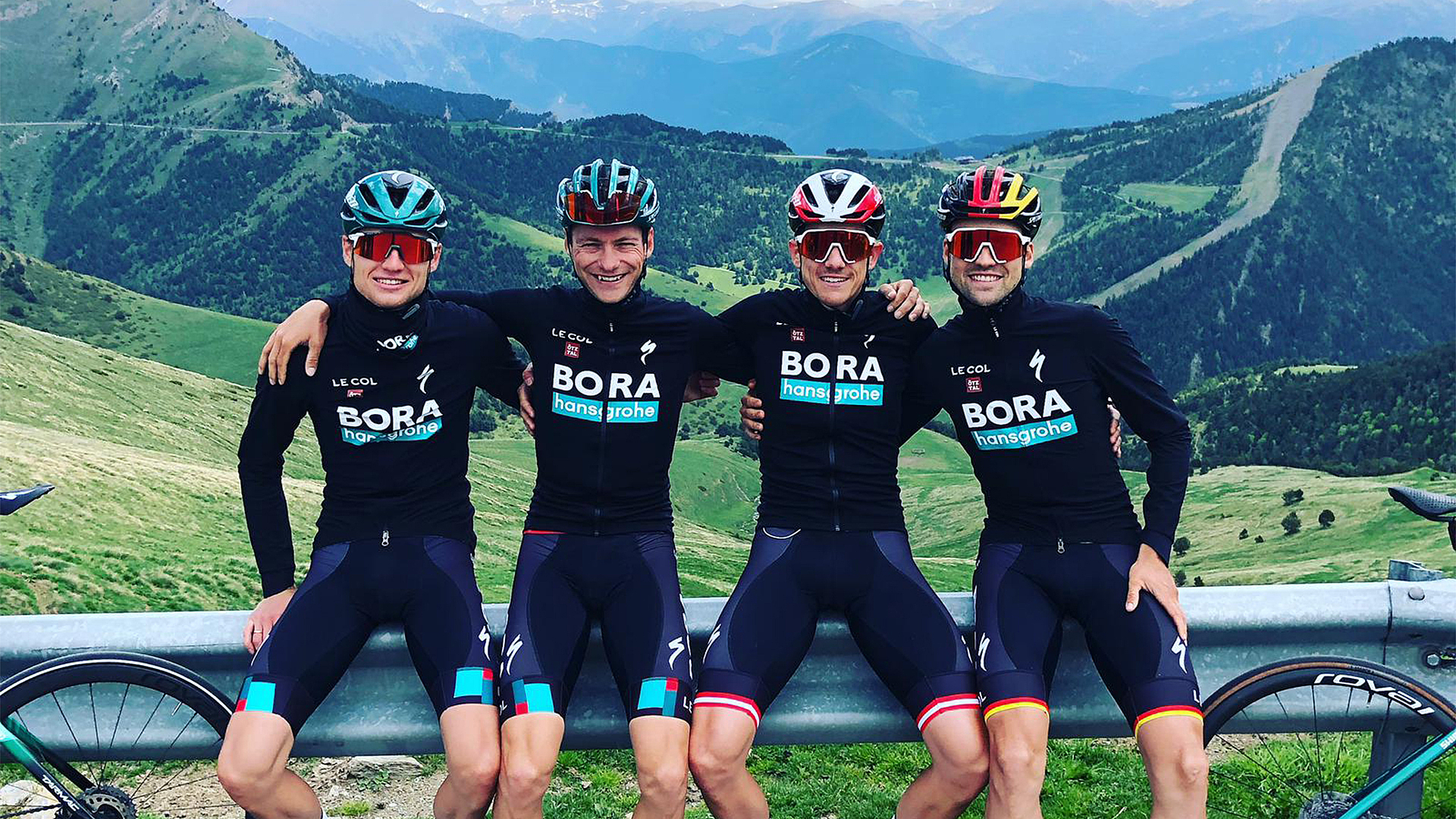 Altitude training – why endurance athletes take it to the top
June 2022
We're at that point in the season again. The second Grand Tour is just around the corner – the Tour de France, the peak of the race calendar. And the BORA – hansgrohe guys are fired up. Before such an important tour, professional cyclists like to go to altitude camps where they not only train for long climbs, but also prepare their bodies for the stresses and strains to come. We've taken a closer look at why athletes travel to high altitudes, what this does to their bodies and what the Band of Brothers thinks about altitude training.
Photo credit:
BORA – hansgrohe
BORA – hansgrohe / Sprintcycling
How the body responds
First, let's take a look at the physiological effects of altitude training. Oxygen levels drop significantly at 2,000 m altitude and higher, placing stress on the body, which produces more red blood cells to transport oxygen in the bloodstream. This increased capacity compensates for the reduced oxygen levels in the air. The ideal altitude for training is around 2,200–2,400 m, and athletes need to stay at this level for two to three weeks to get the most out of it. When they return to normal altitude, their blood continues to have increased numbers of red blood cells for a few weeks, leading to greater stamina. This effect kicks in after one or two days, giving them an initial peak followed by a few days of feeling slightly more fatigued. A second peak occurs after around two or three weeks. If a Grand Tour lasts three weeks, then the athlete can harness these two peaks to put in top performance. Amateur cyclists, however, need to make sure that they are in tip-top shape before embarking on altitude training and reduce the intensity of their activities, otherwise they can quickly experience adverse effects.
Success in small groups
BORA – hansgrohe uses altitude training extensively. As Dan Lorang, Head of Performance, explains: "We incorporate altitude training methodically, and we have to consider whether it is a worthwhile training exercise for each individual rider. Training plans also need to be suitably adapted." This means that the team usually trains at altitude in blocks of two – two days of intense training followed by a recovery day. By comparison, other training plans follow a three-day block system. Each rider has up to four altitude camps a year. The extra hard work involved in altitude training boosts blood oxygen levels, and the seclusion of the mountains makes it the perfect environment for the cyclists to focus fully on their training. Or as Dan puts it, "Eat, train, sleep. There's nothing else. This strengthens the team bond." Forming tiny teams of athletes (of the same rider type, if possible), trainers, physios, even cooks and mechanics, ensures that people have maximum support with minimum distraction. Plus, it enhances athletic performance compared to training with the whole team in the same place. Sometimes riders even go it alone in the mountains, but not without close consultation with their trainers.
Tales of snow, horses and hiking tours
The riders' stay in the mountains always makes for good anecdotes. Emanuel Buchmann especially likes training up in the peaks in summer, but experience has taught him to always have a bike trainer on hand so that he is well prepared if it snows, which is still a possibility at high altitudes in summer. Jai Hindley has also been caught out by snow before. If this happens, you can use bike trainers or be transported to lower altitudes to continue training. The main draws for the 2022 Giro champion are the scenery and the stripped-back 'monk-like lifestyle' that he has up there from time to time. Tyrolean native Patrick Gamper was born and raised in the mountains so he loves it there. He especially enjoys the peace and quiet when altitude training despite having to complete several climbs every day, which aren't really his strong suit. But even key domestiques who perform best on flat and hilly terrain can benefit from altitude training. He and his brothers, who are also professional cyclists, once stayed amidst alpine pastures in a place so secluded that for the first few days, horses grazing nearby gobbled up the brothers' morning bread delivery from the local baker. Not everything went to plan for Giovanni Aleotti either; he had to start his altitude training with a rest day as his bike only turned up at the hotel on his second day. Perfect preparation is key, or at least in theory, and the same goes when it comes to choosing the route. Otherwise you can soon find yourself switching from cycling to hiking, taking on rugged terrain by foot, with support vehicles unable to pass. But as we all know, it's these experiences that create amazing and truly unforgettable stories.
When sprinters go high altitude, too
The BORA – hansgrohe team goes to the Ötztal, its official training region, for many of its altitude camps. The guys love the area's top training conditions and the benefits of altitude training, even if they have to go through some gruelling rides to achieve them. Jordi Meeus is a sprinter, which means he is not physically built for long climbs. He is now well aware of the trials that await him in the mountains, but what keeps him going is imagining how it will feel to have the performance boost when he is back at normal altitude. Fellow sprinter Matt Walls has only completed altitude training once, but he was in esteemed company. While he was still an U23 rider, Matt trained with Michael Matthews (second in the 2015 world championships, with stage wins at all three Grand Tours). This gave Matt's career a major boost, giving him more motivation and inspiration. Altitude training is absolutely essential for Lennard Kämna, Cesare Benedetti and Patrick Konrad before a Grand Tour, not least because it offers them a chance to relax beyond the demands of training. And where can you enjoy the peace and quiet better than with a view of breath-taking mountain peaks?