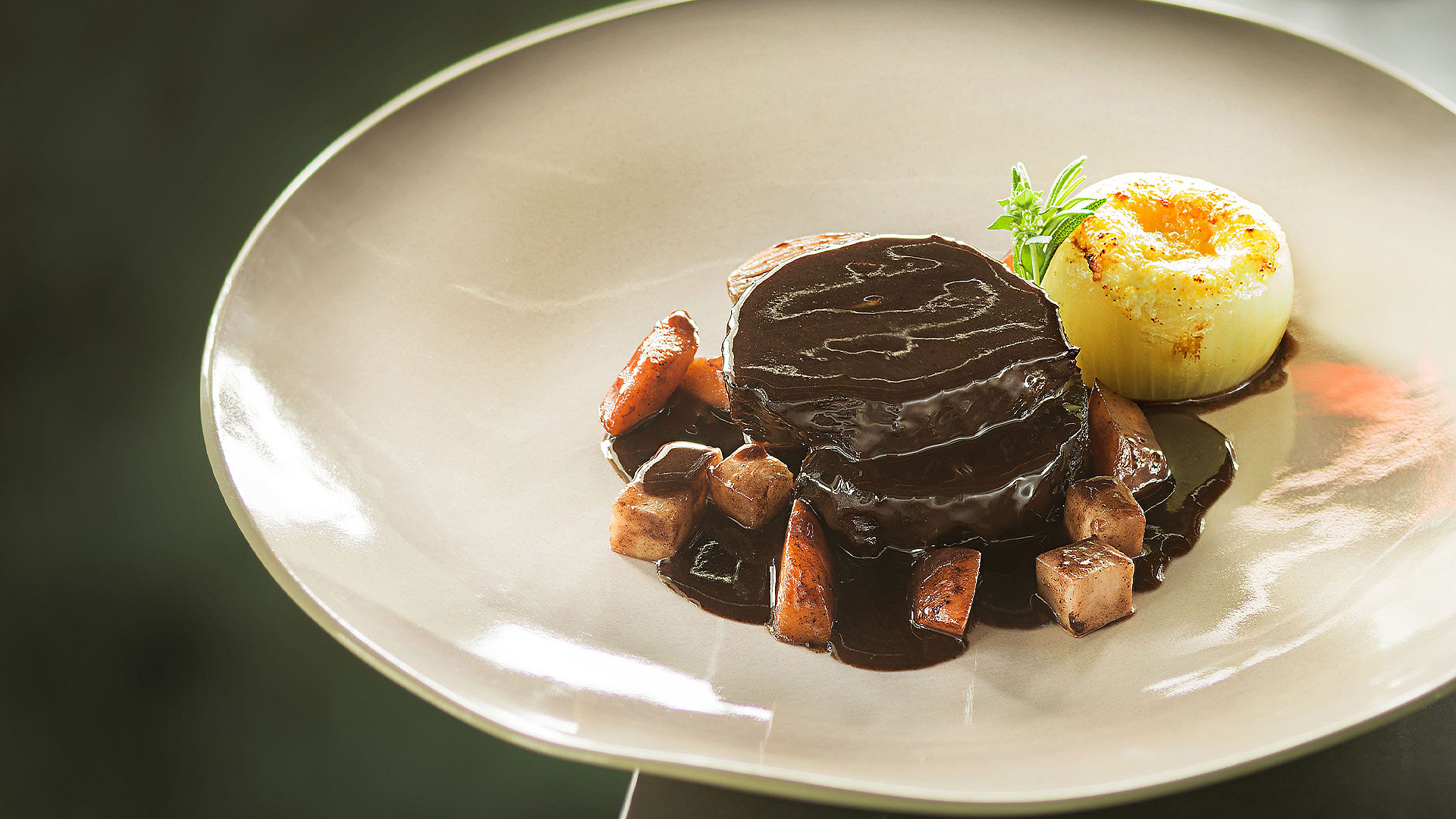 Beef cheek with stuffed onions
Automatic programme 'beef cheek' (Step 3)
Preparation
BEEF CHEEKS
1. Peel the onions. Trim and wash the celery, peel the carrots and cut both vegeta-bles into large pieces. Trim and wash the leek, then wash the parsley and thyme. Tie the herbs to the leek to form a vegetable bouquet.
2. Dab the beef cheeks dry with kitchen roll, then season all over with salt and pep-per and dust with flour. Heat the olive oil in a roaster. Sear the meat all over in the oil over a medium heat, then add the butter and leave it to melt.
3. Add the onions, celery and carrots to the meat, and simmer over a low heat. Brief-ly sauté the tomato purée. Pour in the Madeira and red wine, then add the vegetable bouquet. Steam the meat in the X BO (120°C/80% humidity) for 2½ to 3 hours until the core temperature reaches 88°C.
4. Then remove the beef cheeks from the sauce. Strain the sauce through a sieve. If desired, set the vegetables aside and serve them later.
STUFFED ONIONS
5. Peel the onions, then slice off the tops and scoop out the insides with a melon baller. Wash the rosemary and thyme, shake it dry, pluck the needles/leaves and finely chop them.
6. Heat up the oil in a pan. Cut the insides of the onions into thin slices and sauté in the hot oil over a low heat until golden yellow. Season with around 8 g salt and some pepper, then add the polenta together with the milk and top up with 300 g water. Stir in the herbs and bring to the boil. Remove the pot from the stove.
7. Stuff the onions with the polenta mixture. Around 45 to 60 minutes before the end of the cooking time, add the onions to the beef cheeks in the sauce and cook until soft. Keep the remaining polenta warm as a side dish until ready to serve.
FINISHING TOUCHES
8. Serve the beef cheeks with the stuffed onions and the remaining polenta.
This and other inspiring recipes can be found in the cookbook for the BORA X BO.
Preparation time: 45 min.
Cooking time: 3 hrs
Serves 4
For the beef cheeks
250 g pearl onions
100 g celery
3 carrots
½ leek
1 bunch of parsley
1 sprig of thyme
4 beef cheeks
Natural or sea salt
Ground white pepper
10 g spelt flour (type 630)
3 tbsp olive oil
20 g butter
1 tbsp tomato purée
250 g Madeira
500 g red wine (e.g. Syrah)
For the stuffed onions
4 medium-sized onions
Rosemary (as desired)
Thyme (as desired)
30 g olive oil
Natural or sea salt
Ground pepper
70 g polenta
300 g milk (or oat drink)