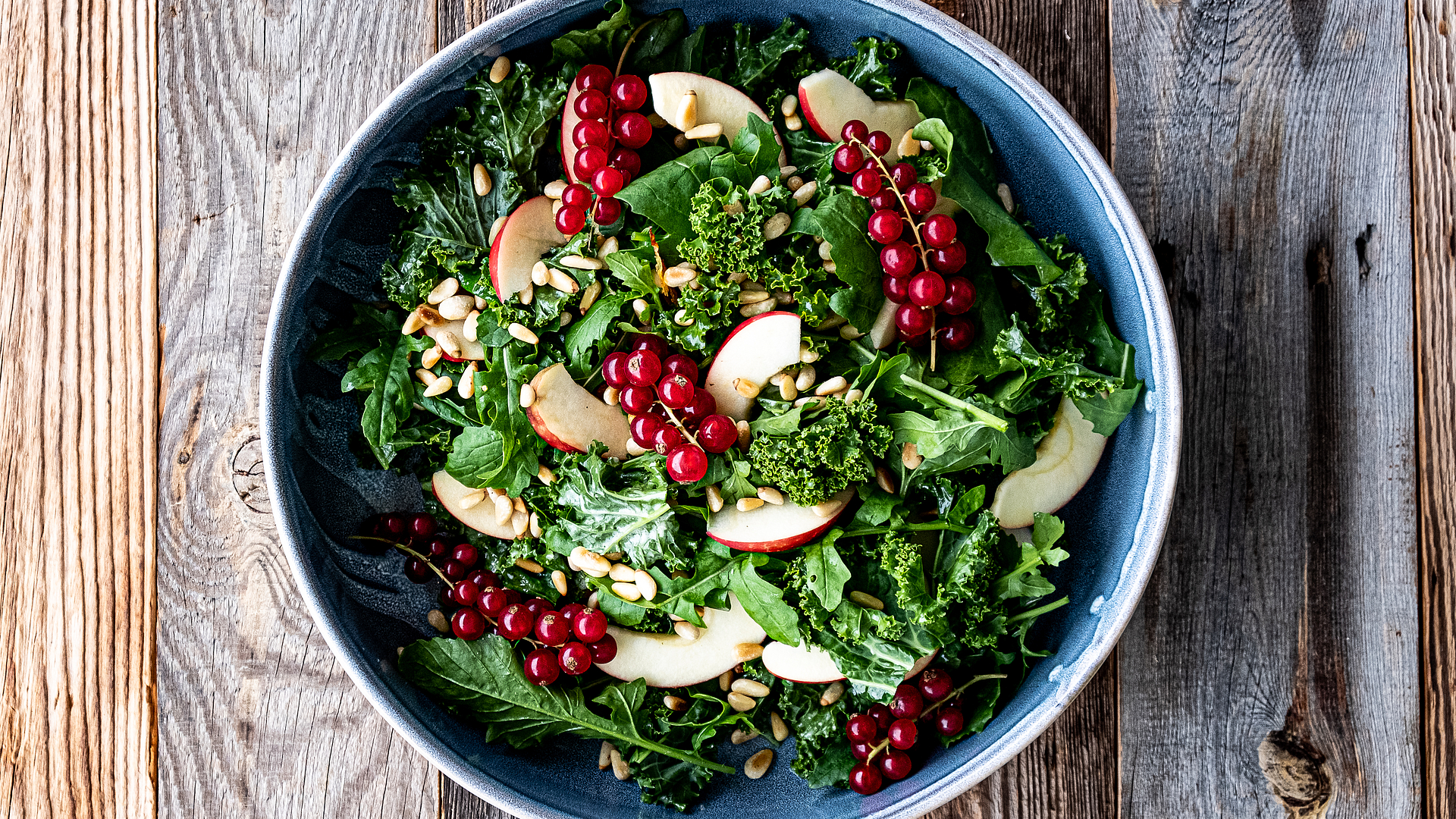 Curly kale – the locally grown superfood
November 2021
Superfoods are frequently touted in the media as the magical solution for a healthier diet. The term is given to foods that are meant to have a special health benefit, but while most of them are rich in vitamins and minerals, in some cases the health claim is not backed up by science. Well-known superfoods include goji berries, acai berries, pomegranate seeds and chia seeds. One thing they all have in common is that they come from far away countries, often making them more expensive and making it hard to find out about any contamination during farming.
However, our recommended vitamin and mineral intake can be adequately covered by local produce if you eat a balanced and varied diet. Our local forests and fields provide us with vitamin and mineral-rich produce, including blueberries, blackcurrants and curly kale.
In Germany, curly kale has a bit of a bad reputation for being a chronically overcooked vegetable that is only served with Kassler (smoked pork) and potatoes, but when freshly cooked, it's a very versatile vegetable packed with calcium, vitamin A and plant proteins. It's perfect for warm salads when lightly cooked. You can also make tasty vegetable crisps with kale cooked in the oven with some oil, and autumn salads are taken to another level by adding massaged kale.
Photo credit:
Anya Rüngeler
A slightly more unusual combination is braised kale with shiitake mushrooms and white wine miso sauce. It's a quick dish to make and is full of flavour. To make it, you fry the mushrooms in some olive oil, while in a different pan, you cook the kale leaves (with stems removed) in some oil with diced brown or white onion. You should only lightly cook the kale – it shouldn't fall apart. Then deglaze the pan with some white wine. The last step is to add in oat cream and a tablespoon of light miso paste and mix with the kale. Finally, season with salt and pepper and serve with the mushrooms. If you can't find miso paste at your local supermarket, you can easily order some online.
This green superfood also works deliciously as a snack where the leaves are removed from their stems, cut into wide strips, tossed with olive oil and salt, and then spread out on an oven tray. The leaves are then cooked in the oven at 160°C for around 20 minutes – they shouldn't be too dark but should be crispy when you take them out. Put the crisps in a bowl and use them as a snack, such as on film night.
Curly kale leaves look great mixed in a colourful, autumnal salad – vibrant, delicious and packed with vitamins. Add in a handful of peppery rocket, juicy apple slices, some currants and a few tablespoons of toasted pine nuts, and you have a perfect salad. Before you add the kale to the salad, you need to carefully massage the leaves with your hands, using a little olive oil. This makes the kale easier to chew and digest, and it mixes in better with the other ingredients. A light vinaigrette with a drizzle of maple syrup works perfectly with the salad, adding a sweet touch.
Of course, there's nothing stopping from you cooking the kale in the usual way and serving it with traditional dishes, but you should bear in mind that its vitamin C content will be reduced or completely lost if you cook it for too long at too high a temperature.