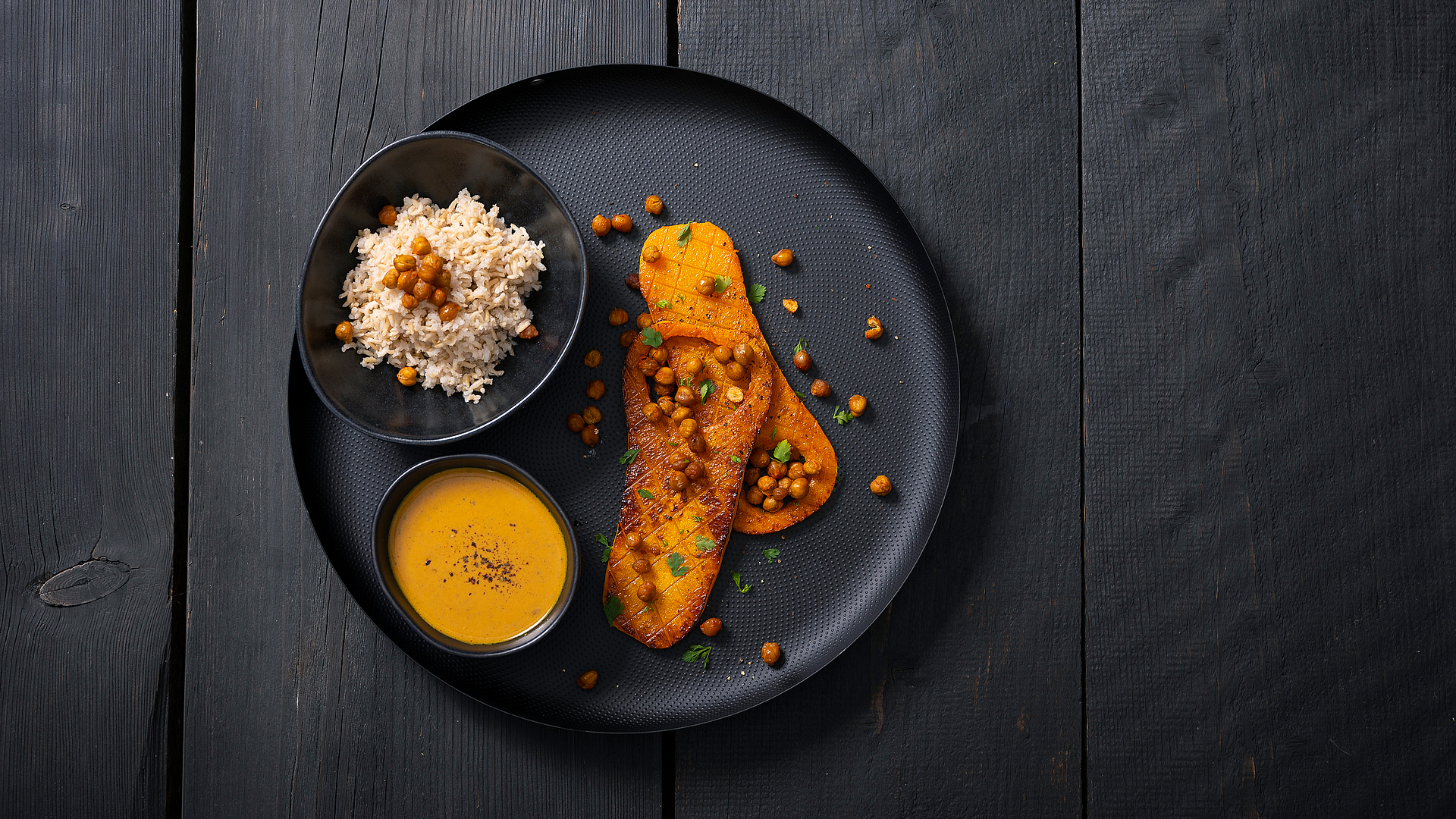 Butternut squash with garam masala sauce and roasted chickpeas
Preparation
For the chickpeas
Preheat the oven to 180 degrees (fan). Drain the chickpeas well, season with salt, drizzle with the oil and place on a baking tray. Bake in the oven for 25–30 minutes until slightly crispy. Remove from the oven, sprinkle with paprika and mix through.
For the sauce
Peel the onion and garlic. Finely dice the onion and crush the garlic, place in a small pan and sauté in 2 teaspoons of oil together with the ginger and turmeric. Once a crust starts to form on the base, add the garam masala and continue to cook for a few seconds. Immediately deglaze with the coconut milk and pineapple juice and use a flat wooden spoon to loosen the crust from the base. Now add the tomato puree and soy sauce and gently simmer for 10 minutes. Season the sauce with salt and pepper to taste.
For the butternut squash
Meanwhile wash and peel the butternut squash. Cut four 2.5 cm thick slices lengthwise from the butternut squash and score a ½ cm grid pattern into them on both sides. Preheat the Tepan stainless steel grill to 190 degrees, add 1 teaspoon of olive oil for each butternut squash slice and fry on both sides for 7 minutes.
Finishing touches
Wash the coriander, shake dry and chop up both the leaves and stems. Serve the butternut squash with the sauce and chickpeas and sprinkle with fresh coriander. Brown rice makes the perfect side.
Preparation time: 20 minutes
Cooking time: 45 minutes
Serves 4
For the chickpeas
2 jars or tins of chickpeas (approx. 440 g drained weight)
2 tsp natural or sea salt
2 tsp coconut oil
1 tsp smoked paprika
For the sauce
1 onion
1 garlic clove
2 tbsp freshly grated ginger
2 tbsp freshly grated turmeric
2 tsp olive oil
3 tsp garam masala
400 ml coconut milk
200 ml pineapple juice
4 tbsp tomato puree
4 tbsp Tamari soy sauce
Natural or sea salt
Ground pepper
For the butternut squash
2 small butternut squashes (2 kg)
4 tsp olive oil
1 bunch of coriander