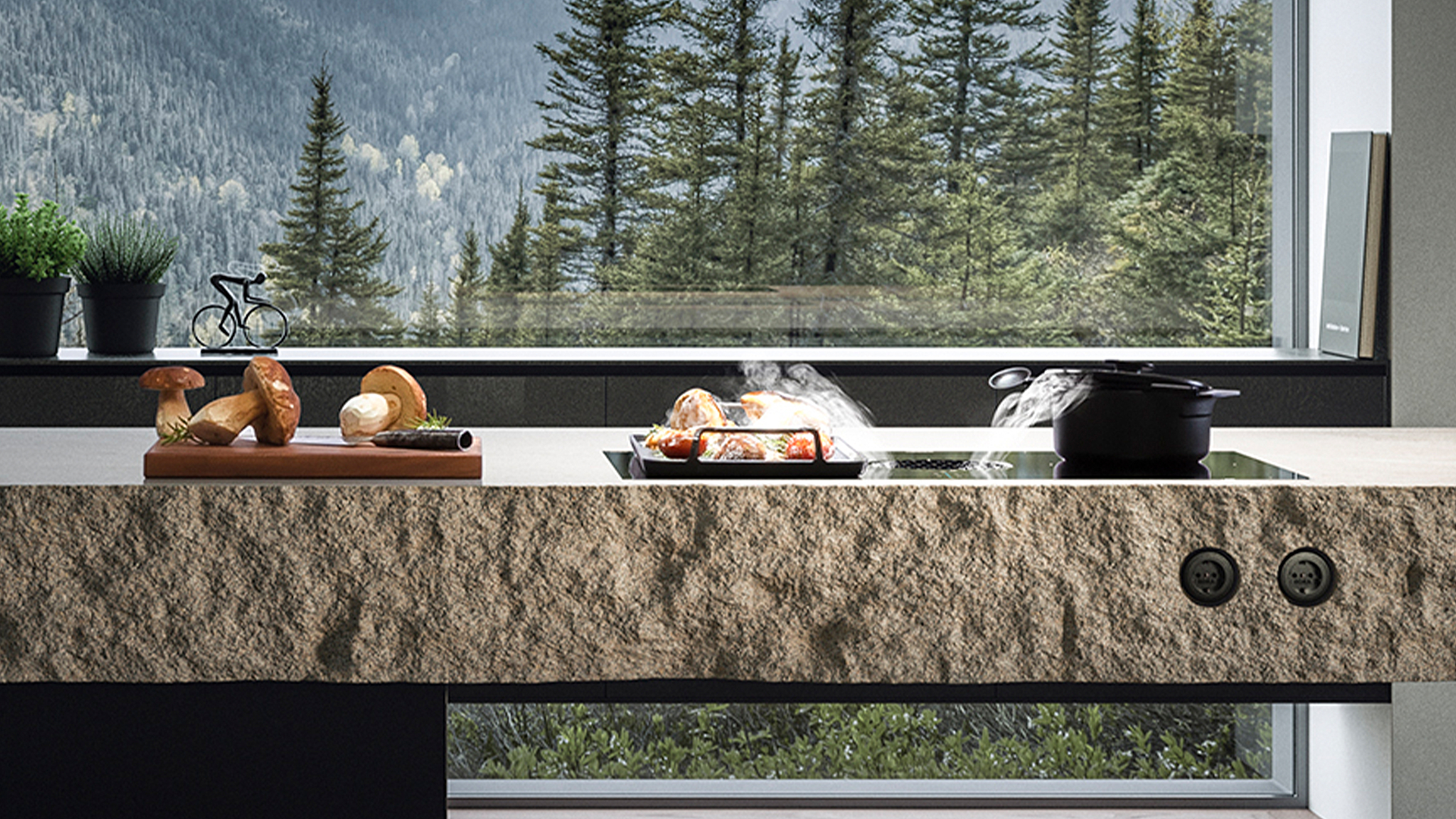 Braised venison on autumn vegetables with potato cakes
Automatic programme "Venison haunch, braised"
Preparation
Prepare the vegetables
Wash the beets and boil them separately in plenty of water for around 40 minutes, then strain and peel them. Wash the sage and rosemary, shake them dry then remove the leaves/needles and chop coarsely. Wash the vegetables, peel if necessary and chop coarsely together with the beets. Cut the garlic bulb horizontally down the middle.
Sear the meat
Dab the venison dry with kitchen roll and tie it up with kitchen twine. Season the meat generously with salt and pepper, put it in the roaster and sear it in the X BO (200°C/-100% humidity, automatic programme "Venison haunch, braised") for 10 minutes. Add the vegetables to the meat, sprinkle the herbs and spices on top and mix everything together. Cook in the X BO (180°C/80% humidity) for another 10 minutes.
Cook the venison
Mix together the red wine, stock and tomato purée, pour the mixture over the meat and steam in the X BO (98°C/100% humidity) for 10 minutes. Insert the food thermometer into the meat, change the settings to 120°C/80% humidity and cook for around 1.5 -2 hours until the core temperature reaches 70°C.
Prepare the potato dough
Wash the potatoes and boil them in water for around 25 minutes until soft. Wash the parsley, shake it dry and chop it finely with the chestnuts. Strain the potatoes, rinse them in cold water, peel them and pass them through a potato press while still warm. Add the parsley, chestnuts, egg yolks and starch, then season with salt, pepper and freshly grated nutmeg. Knead the mixture into a smooth dough, add a little more starch if need be. Shape into potato cakes Carefully shape the potato dough into a roll with a diameter of approx. 6 cm, then cut 1.5 cm slices from the roll. Set aside for later use. Reduce the stock Remove the roaster from the X BO, strain the stock and juices through a sieve catching the liquid in a pan. Reduce the liquid by a third over a medium heat then season with salt and pepper. If desired, bind with some starch dissolved in a little red wine. Leave the X BO to cool to around 70°C, then keep the meat warm in the oven until ready to serve.
Fry the accompaniments
Heat up some oil in a pan and fry the potato cakes on each side for around 2-3 minutes until crispy. In the meantime, trim the mushrooms, rub them with a cloth if necessary, chop them into big pieces then lightly press the garlic cloves. Melt the butter in a pan, add the oil and garlic and fry the mushrooms over a high heat. Reduce the temperature and leave the mushrooms to steep, then season with salt and pepper.
Arrange the plates
Cut the venison into slices, arrange the meat on plates with the roasted vegetables, potato cakes & mushrooms and serve.
Preparation 1 hr
Baking/cooking time approx. 2 hours
For 4 to 6 people
Roasted vegetables
6 tonda di chioggia (candy cane beet)
6 medium beetroot
2 sprigs of sage
2 sprigs of rosemary
2 red onions
1 celeriac
1 bunch of carrots with greens
4 medium-sized parsley roots
300 g Hokkaido pumpkin (or crookneck squash)
1 garlic bulb
2 bay leaves
6 juniper berries
6 dried allspice berries
2 cloves
Additional items: Roaster (approx. 32 x 25 cm)
Venison haunch
1 venison haunch, 1 kg (deboned)
Salt
Ground pepper
500 ml red wine (e.g. Burgundy or Merlot)
750 ml game stock (or veal stock)
1 tbsp tomato purée
1 tbsp potato starch
Kitchen twine
Potato cakes
1 kg floury potatoes
½ bunch of parsley
80 g chestnuts (pre-roasted)
3 egg yolks (size M)
2 tsp potato starch
Salt
Ground pepper
Nutmeg
Olive oil
Mushrooms
400 g wild mushrooms (e.g. porcini or chanterelles)
3 tbsp butter
1 tbsp olive oil
2 garlic cloves
Salt
Ground pepper