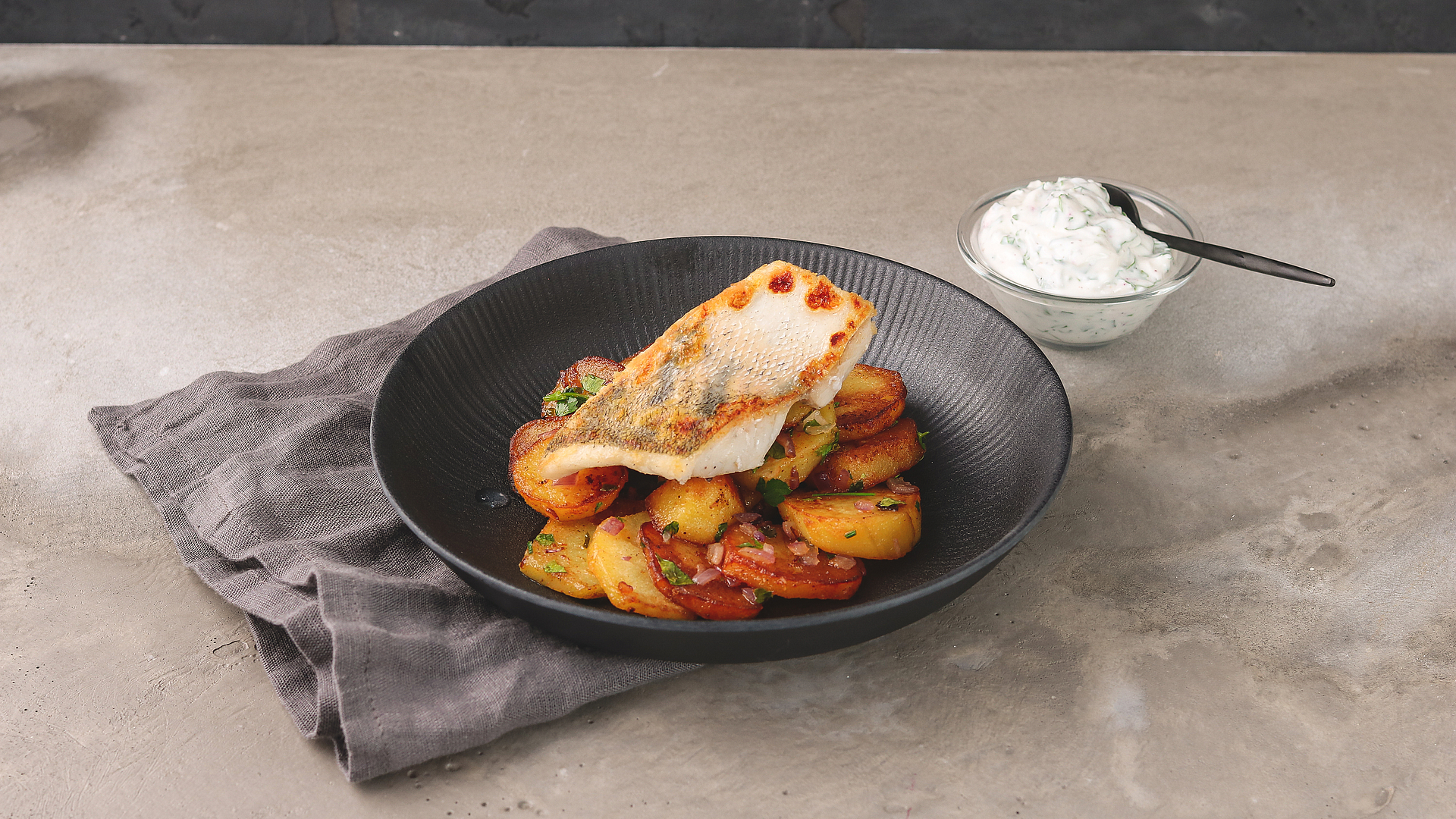 Zander with fried potatoes and a herb dip
Preparation
Prepare the ingredients
Cook the potatoes in salted water until soft, then peel and slice them. Peel and dice the onion. Wash all of the herbs for the dip, shake them dry and finely chop them.

Fry the potatoes
Roll the potato slices in the paprika and starch. Fry them in 2 tbsp oil until golden brown. In the meantime, wash the second half of the parsley bunch, shake it dry and finely chop it. Add the chopped parsley to the fried potatoes together with 1 tsp butter and the diced onion. Fry for another 3 minutes over a medium heat.

Prepare the herb dip
In the meantime, cut the lemon in half and squeeze the juice from one half. Mix together the quark, salt, pepper, lemon juice and finely chopped herbs.

Fry the zander
In a separate pan, fry the fish skin-side down in 2 tbsp oil over a medium heat until golden brown. After around 6 to 8 minutes, turn the fish over and fry the other side for another 2 minutes. Season the zander with some salt and pepper. Plate up the zander, fried potatoes and herb dip and serve with a lemon wedge.
Ingredients for 2 portions:
300 g fresh zander fillet
2 tbsp virgin sunflower oil
For the potatoes:
500 g potatoes (firm)
1 red onion
1 tsp paprika
1 tsp starch
2 tbsp virgin sunflower oil
½ bunch of parsley
1 tsp butter
For the dip:
1 bunch of basil
½ bunch of parsley
1 bunch of sage
300 g quark
Salt
Ground black pepper
½ lemon