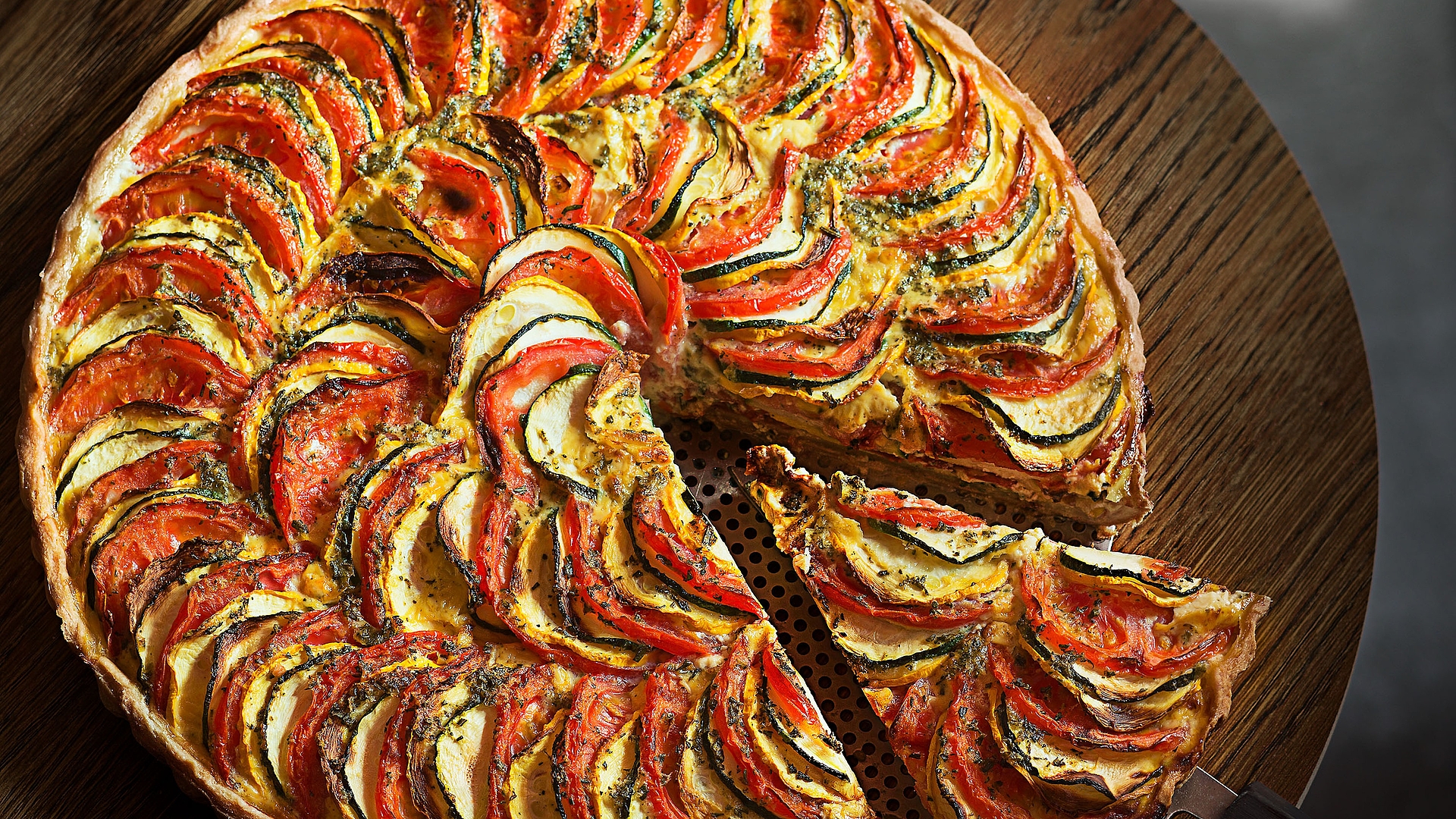 Tomato and courgette quiche
Preparation
PASTRY
Mix the flour and ½ tsp salt in a mixing bowl then add the quark, egg and cubes of butter and knead to a smooth pastry in a food processor. Wrap the pastry in cling film and rest in the fridge for about 1 hour.
TOPPING
Wash the courgettes and tomatoes, remove the stems and thinly slice. Wash the thyme and rosemary and shake them dry then remove the leaves/needles and chop finely. Finely grate the Parmesan then blend into a fine purée with the eggs, cream and 1 pinch each of salt and freshly grated nutmeg. Stir in half of the finely chopped herbs.
QUICHE
Grease the tin and sprinkle with flour. Roll out the pastry on a floured work surface to slightly larger than the tin then place it in the tin pressing the base and edges down firmly. Trim any excess pastry along the rim of the tin. Arrange the courgettes and tomatoes on the pastry in the shape of a rosette. Pour the cream and egg mixture over the top and sprinkle with the rest of the herbs. Bake the quiche in the X BO (160°C/-80% humidity) for 45 minutes until golden brown.
FINISHING TOUCHES
Remove the cooked quiche from the oven and serve while still hot.
Serves 4
For the pastry
250 g flour
Natural or sea salt
120 g low-fat quark
1 egg (size M)
120 g butter (room temp.)
For the topping
400 g yellow courgettes
400 g green courgettes
1.1 kg tomatoes
2 sprigs of thyme
2 sprigs of rosemary
50 g Parmesan (one piece)
3 eggs (size M)
150 g cream (or vegetable fat)
Natural or sea salt
Nutmeg
Additional items
Quiche tin (28 cm Ø)
Butter for greasing
Flour for lining