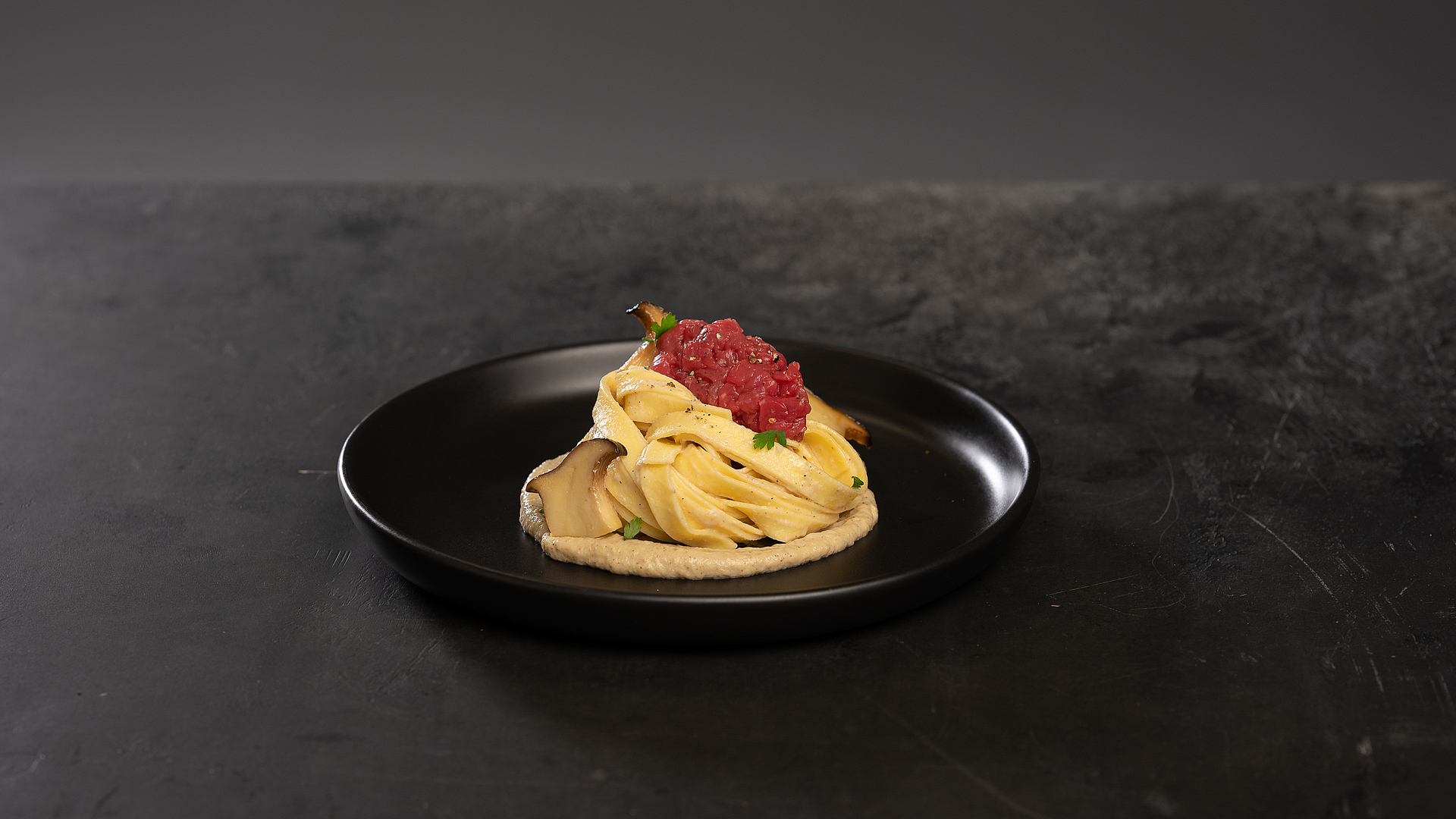 Tagliatelle with mushrooms and beef tartare
Preparation
Knead together the semolina, wholemeal flour, egg and egg yolks vigorously into a dough, then roll it out thinly. Cut the dough into 1-cm thick strips, shape the pasta into a nest and leave to rest.
Trim the king oyster mushrooms and cut them into slices. Heat up the olive oil in a frying pan and sauté the garlic and parsley stalks in the oil. Add some white wine and leave to simmer. Remove the parsley and garlic, then add the mushrooms. Pour in the rest of the white wine and bring to the boil. Add the vegetable stock and leave to stew for 15 minutes. Remove one-third of the mushrooms and keep them warm until further use. Blend the remaining mushrooms into a cream and finely dice the meat. Season the mushrooms and meat with salt, pepper and oil.
Cook the pasta in boiling salted water for around 4 minutes, leave to strain and stir in a knob of butter.
Pour the mushroom cream onto plates, put the tagliatelle and mushroom slices on top and garnish with the tartare and some parsley.
Serves two
80 g semolina
20 g wholemeal flour
1 egg (size M)
2 egg yolks (size M)
300 g king oyster mushrooms (or porcini)
Olive oil
2 garlic cloves
Fresh parsley
200 ml white wine
500 ml vegetable stock
180 g beef fillet
Butter as required
Ground salt & pepper