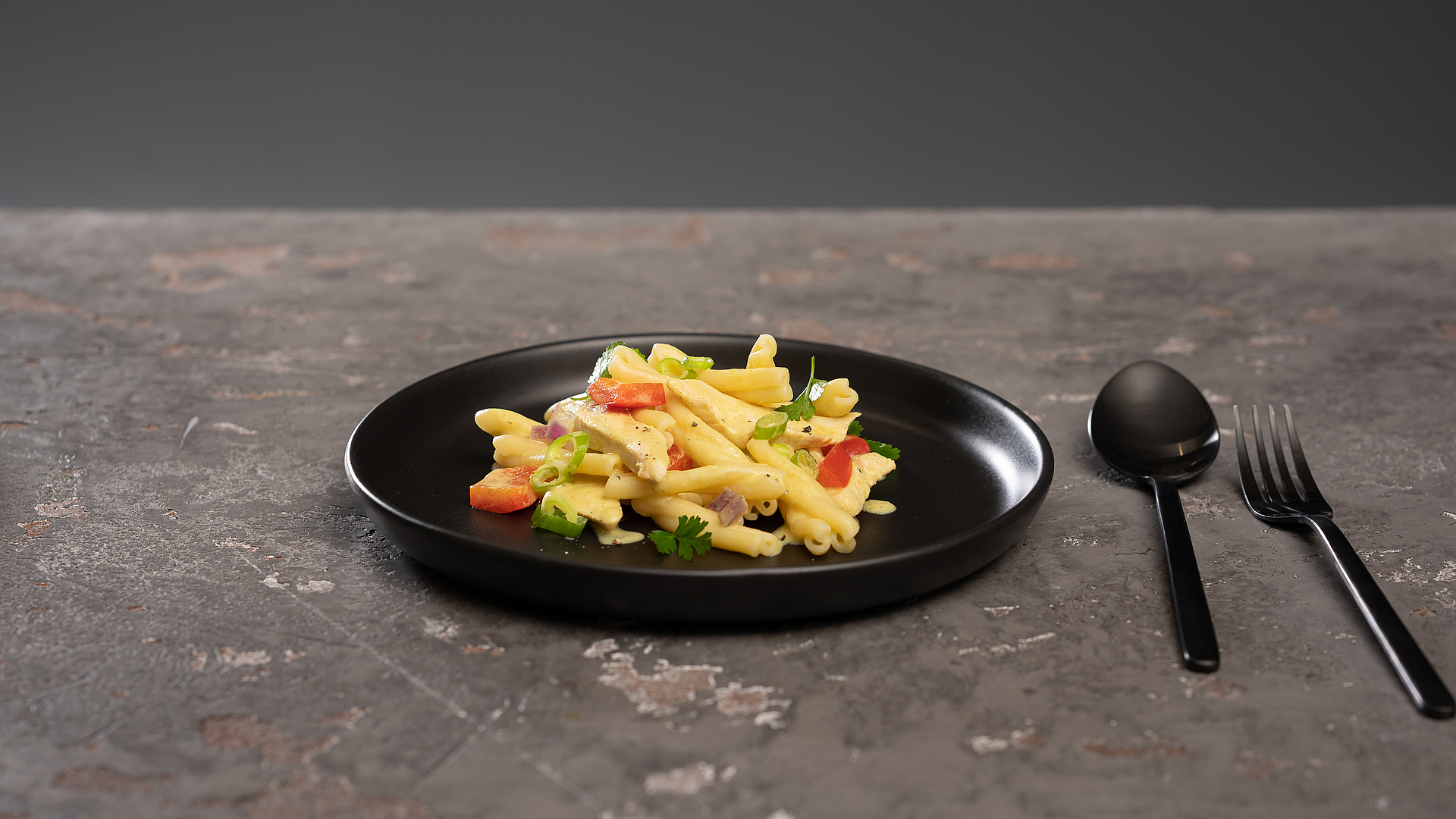 Coconut chicken with casarecce
Preparation
Wash the pepper and chilli pepper then halve them lengthwise. Chop the pepper halves into small pieces and finely dice the chilli pepper. Trim and wash the spring onions then chop into fine rings. Peel and finely dice the onion. Cut the chicken breast fillets into strips, then marinate them with 15 ml soy sauce, the diced chilli pepper and the potato starch. Wash the kaffir lime leaves and shake them dry. Wash the lemongrass and halve it lengthwise.
Heat up the coconut oil in a large pan then fry the chicken, pepper, spring onions and onion in the oil. Add the pasta, kaffir lime leaves, lemongrass and curry powder and season with salt and pepper. Pour in the coconut milk, vegetable stock and remaining soy sauce, bring to the boil then leave to cook on a medium heat for 12-15 minutes. Wash the herbs, shake them dry and chop them into thin strips.
Remove the lemongrass then divide the coconut chicken with casarecce between two plates and sprinkle with the chopped herbs.
Serves two
1 red pepper
1 red chilli pepper
2 spring onions
1 red onion
200 g chicken breast fillet
45 ml soy sauce
5 g potato starch
2 kaffir lime leaves
1 lemongrass stick
3 tbsp coconut oil
200 g casarecce
1 tsp curry powder
400 ml coconut milk
400 ml vegetable stock
2 sprigs of parsley
2 sprigs of coriander
Ground salt & pepper