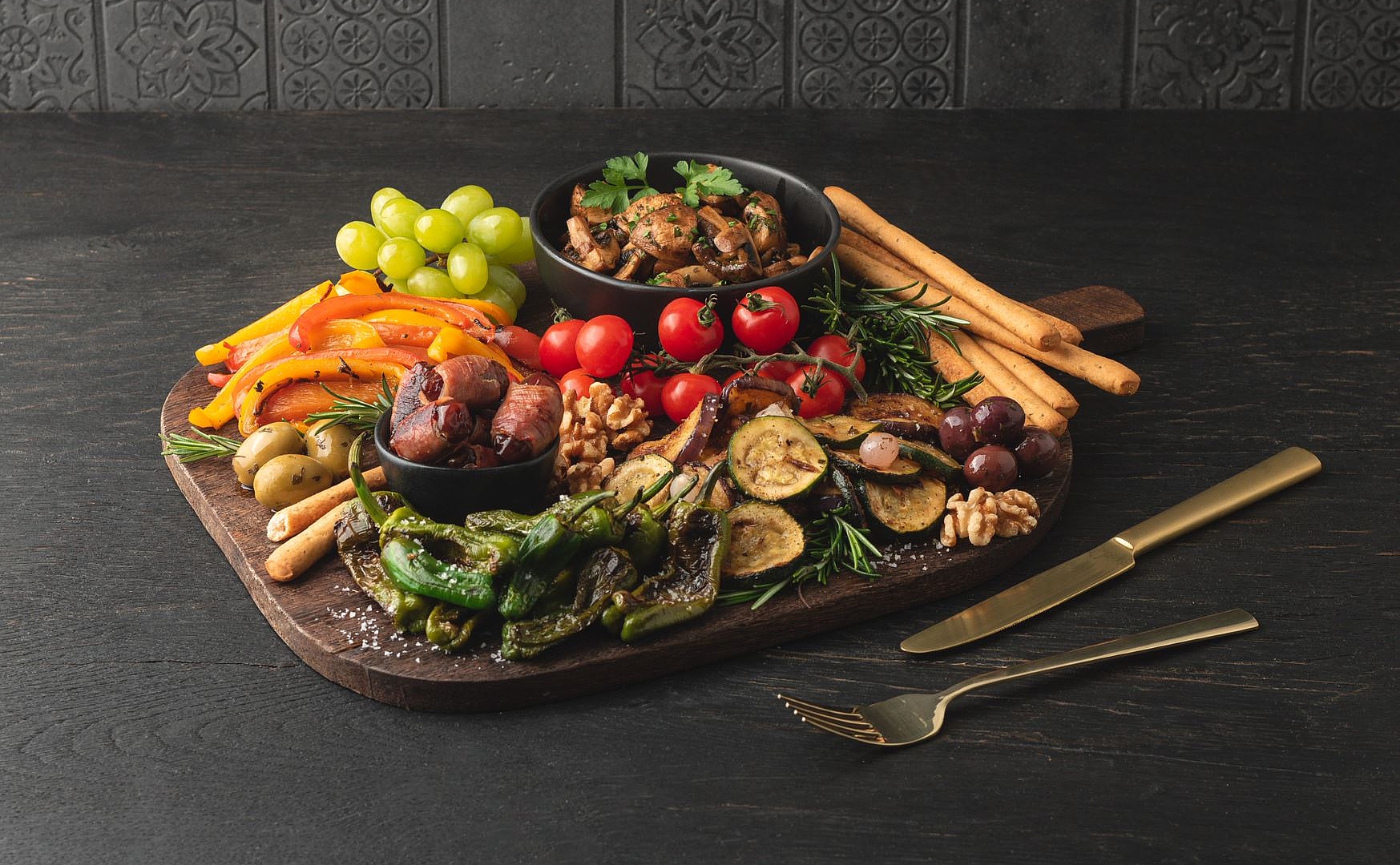 Preparation
Prepare the vegetables
Wash and quarter the peppers, remove the stalk bases, white ribs and seeds, then slice into bite-size strips. Wash and dry the courgette and aubergine and slice into bite-size strips. Peel and coarsely chop the shallots and garlic. Wash the rosemary, shake it dry, pluck the leaves from the stems and finely chop them.
Fry the vegetables
Braise all of the vegetables in some olive oil over a medium heat for around 10 minutes until the aubergine pieces become soft. Sprinkle the finely chopped rosemary leaves and the sea salt on top.
Prepare the mushrooms
Trim and quarter the mushrooms. Peel the garlic clove and cut it into thin strips. Fry the mushrooms in a pan over a medium heat for 2 minutes. Add the balsamic vinegar and honey and leave to reduce over a high heat for around 3 minutes. In the meantime, wash the parsley, shake it dry and finely chop it. Add the parsley and sea salt to the mushrooms and set aside to cool.
Fry the dates
Wrap each date in a thin slice of beef bacon. Wash the pimientos de Padrón, dab them dry, then put them in a medium-sized frying pan with some olive oil together with the wrapped dates. Fry over a medium heat for around 3-5 minutes until the bacon around the dates becomes crispy.
Arrange the various items on a large platter and serve.
Ingredients for 2 portions


For the vegetables
1 red pepper
1 yellow pepper
½ courgette
½ aubergine
2 shallots
1 garlic clove
2 sprigs of rosemary
3 tbsp extra virgin olive oil
¼ tsp coarse sea salt

For the balsamic mushrooms
200 g button mushrooms
1 garlic clove
4 tbsp balsamic vinegar
1 tbsp honey
¼ tsp coarse sea salt
2 sprigs of parsley

For the remaining antipasti
100 g dates
50 g beef bacon
100 g pimientos de Padrón
1 tbsp extra virgin olive oil
¼ tsp coarse sea salt

Other antipasti
50 g green grapes
20 g walnuts
50 g mixed olives
100 g cherry tomatoes
50 g grissini