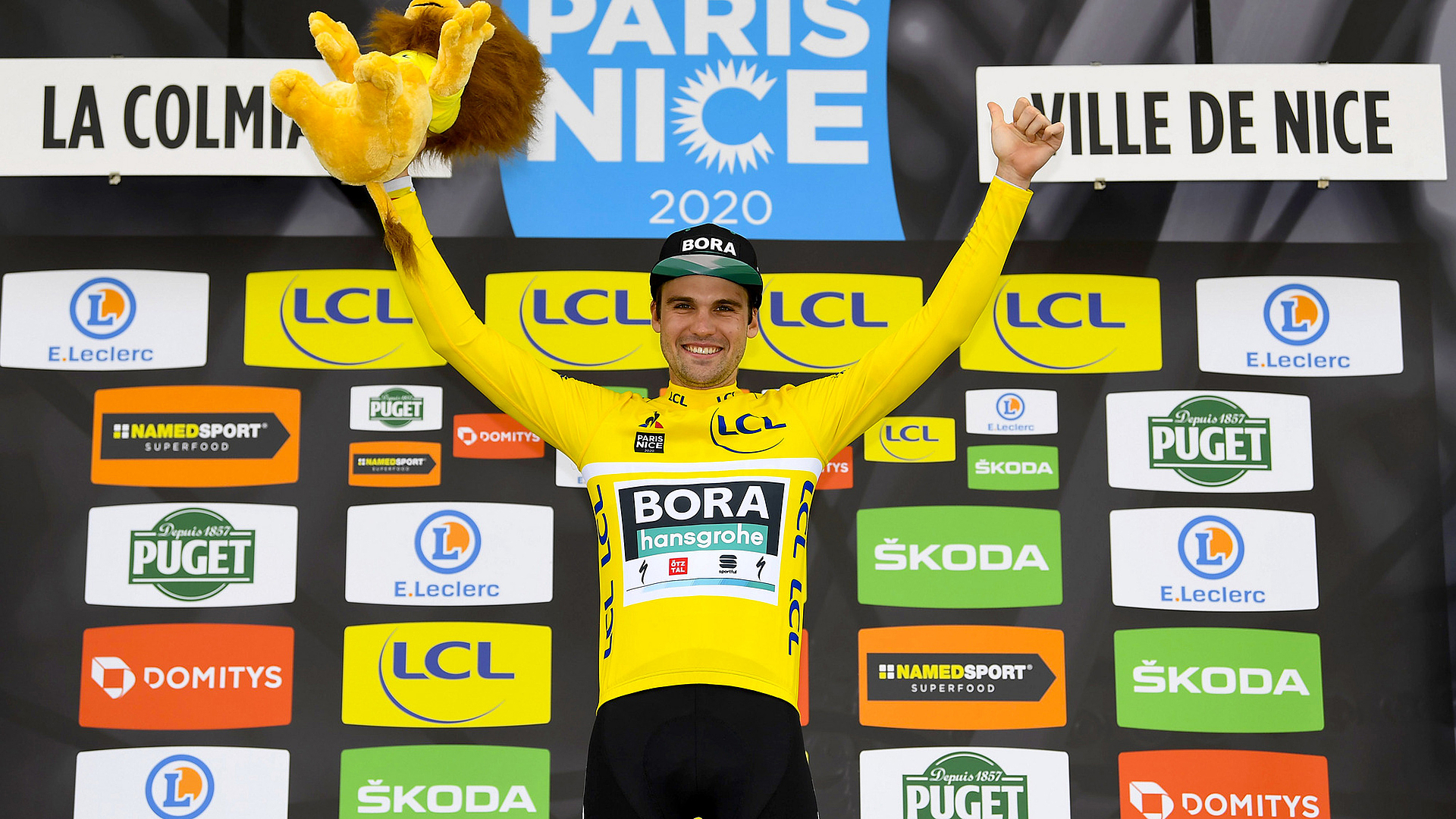 Maximilian Schachmann – motivation is his middle name
April 2021
By signing the 27-year-old Maximilian Schachmann, the BORA – hansgrohe team from Upper Bavaria brought on board one of the most promising German cyclists. He has worn the BORA – hansgrohe colours since 2019 and we are delighted to say that he will continue to do so until (at least) 2024. Long-term and sustainable development are important to the team. Over the last two years, the amicable young man from Berlin has established himself in the upper echelons of the sport with outstanding achievements. In his first year on the team, he achieved six first-place finishes, including winning the coveted title of German Champion. In spring 2020 he went the extra mile once more and brought home an overall win at the prestigious Paris – Nice stage race. A powerful third place at the Strade Bianche classic then showed that, even in this special shortened 2020 season, Max constantly remains one to watch. Despite breaking his collarbone shortly before the Tour de France, he still rode a strong and impressive race. Max is always looking to the future; he doesn't dwell on missed opportunities for long, instead focusing on the numerous chances ahead of him. He demonstrated this at his first race in 2021, in which he repeated his win at the Paris – Nice 'Race to the Sun' in a nail-biting finale. Here at BORA – hansgrohe, we have every confidence that Max will continue to make lots of positive headlines in the years to come.
Photo credit:
BORA – hansgrohe / Bettiniphoto
BORA – hansgrohe / Ralph Scherzer
BORA – hansgrohe / Chiara Redaschi
BORA / Stefan Schütz
A man who knows what he wants
Max seems to possess the perfect qualities for a successful career in top-level sport. No race goes unanalysed in search of his own errors and chances to improve. Even following his recent successes, Max still remains on the ball and refuses to let anyone stop him. He wants more. When talking about his goals, he does not beat about the bush; he has no problem clearly expressing his goals. Some may regard it as arrogance, but it is actually nothing more than a healthy dose of self-confidence, determination and focus. Even if he fails to achieve a goal, he simply shifts his focus to his next aim, his next opportunity. An objective analysis of his achievements and success shows the merits of his approach. The 27-year-old is by no means a sombre type; he enjoys making jokes, is easily approachable and always says a friendly "hello". This cheery demeanour combined with his inquisitive and down-to-earth nature are qualities that make him particularly popular on the professional circuit.
Max's big sister Carolin, who never used to miss a single Tour de France stage, and father passed on their passion for cycling to the rest of the family. The key moment for him, however, was probably his first cycling race at age 11, in which he came third. Shortly afterwards he joined Marzahner RC and later Berlin SC, both regional cycling clubs. One of his first coaches, Michael Lemke, identified his extraordinary talent very early on and offered him well-structured training that stood him in good stead for his future WorldTour career. Lemke also confirms the general assumption about Schachmann's character: "Max was ambitious and determined right from the start." The first signs of his talent were even evident on his daily commute to school, which young Max naturally completed on his bike. "The ride to school was a necessity as well as good training", recalls Schachmann. This laid the foundations for his later time trial skills as even back then, the journey was a race against the clock – or to be more precise, against the school bell. He often ended up dawdling in the mornings and so had frequent problems getting to class on time. At school, sport was far from his favourite subject. "I was awful at P.E. and it was the subject with my worst grades." Max always believed in the importance of a good education and graduated from secondary school with his Abitur (German university entrance qualification) with a focus on natural sciences. This was far from easy as performance sport always put twice the amount of strain on him. After his Abitur, he gave himself four years in the U23 class to make the jump to professional. If it had not happened by then, he planned to study industrial engineering. In 2013, he received an offer from the Thüringer Energie Team. Three other Continental teams also followed until he was signed by the Belgian WorldTeam Quickstep Floors in 2017. And so his success story began.
A cyclist with impressive mental strength
Success naturally changes people, even people like Maximilian Schachmann. This is something that he cannot deny. But even when he suddenly hits the limelight, he is able to deal with it well and make positive use of the hype to his own benefit – in both sporting and personal terms. Nothing has changed in the private life of the cheerful chap from Berlin, although he does put professional sport above everything else. In 2018, he moved to live by Lake Constance in Switzerland with his long-term girlfriend as the area offers perfect training conditions. "It's really hard to find a partner who is on board with everything and doesn't have an issue with frequently being left alone. I'm extremely grateful to have done so."
Max knows that a professional cyclist has to not only be physically fit, but also mentally strong. After having several dreams in recent years shattered by injuries (a comminuted heel fracture at the Tour of Poland, fractured metacarpal bones at the Tour de France in 2019 and, last but not least, a broken collarbone at Il Lombardia, which almost prevented him from starting the Tour de France 2020), Max impresses time and again with his mental strength and ability to look to the future with great positivity. The valiant cyclist from Berlin has the necessary rational mindset to positively focus on his next goal. His coach, Luxembourger Dan Lorang, who also coaches Emanuel Buchmann, Lennard Kämna and Pascal Ackermann, also gives him the support he needs in this regard. "I want to be successful. That means that I always push myself to the limit when cycling" states Schachmann, who simply regards crashes as part of a professional's development.
A carthorse with a heart of gold
Together with his German teammates Buchmann, Ackermann and Kämna, Maximilian Schachmann represents a new generation in German cycling. He is happy in this role as he regards himself as responsible for promoting clean and credible cycling as well as passing on positive values to young cyclists: professionalism, team spirit, discipline and ambition.
In addition to his obligations to his team and sponsors, Max also supports charitable causes. Since 2019, he has been an ambassador for the 'Right to play' foundation, which brings together children and young people, especially in Asia and Africa, through sport and enables them to grow up in a protected, self-determined manner with access to education. The commitment to the foundation instantly made sense to him. "I'm both happy and proud to support this charity!" He has already had the opportunity to visit the programmes in Ethiopia in person.
A head full of dreams and a focus on goals
Max loves being part of the BORA – hansgrohe team. He currently still takes on many different roles but by working together, the next few years will be used to determine the races in which he offers the greatest potential and the direction he will take. Thanks to his second overall win at the prestigious Paris–Nice stage race in March, Ralph Denk has not only been assured of Max's potential. "With this victory, he also definitively established himself as a Grand Tour rider", states Ralph Denk. "We will see how far he can be developed along that route, but Max definitely has many other qualities too: he is a good time trialist, strong in the mountains and has a powerful sprint from small groups. We want to help him find his place over the next few years." Before switching to BORA – hansgrohe, Max took a close look at the team. The individual support and meticulous work won him over. "It's impressive what Ralph Denk has built up over the years."
Following his latest successes, expectations are rising. However, the 27-year-old is relatively relaxed about it. "The media always expect you to go one further. For me though, feedback within and around the team is more important", he comments.
Whether victories at the Tour de France, Monuments or even the World Championships, these are all specific goals and dreams for Maximilian Schachmann. "It must feel amazing to wear the rainbow jersey for a year." This is a dream that, without doubt, can only come true if you have it in the first place. And Max never has a shortage of goals or dreams.