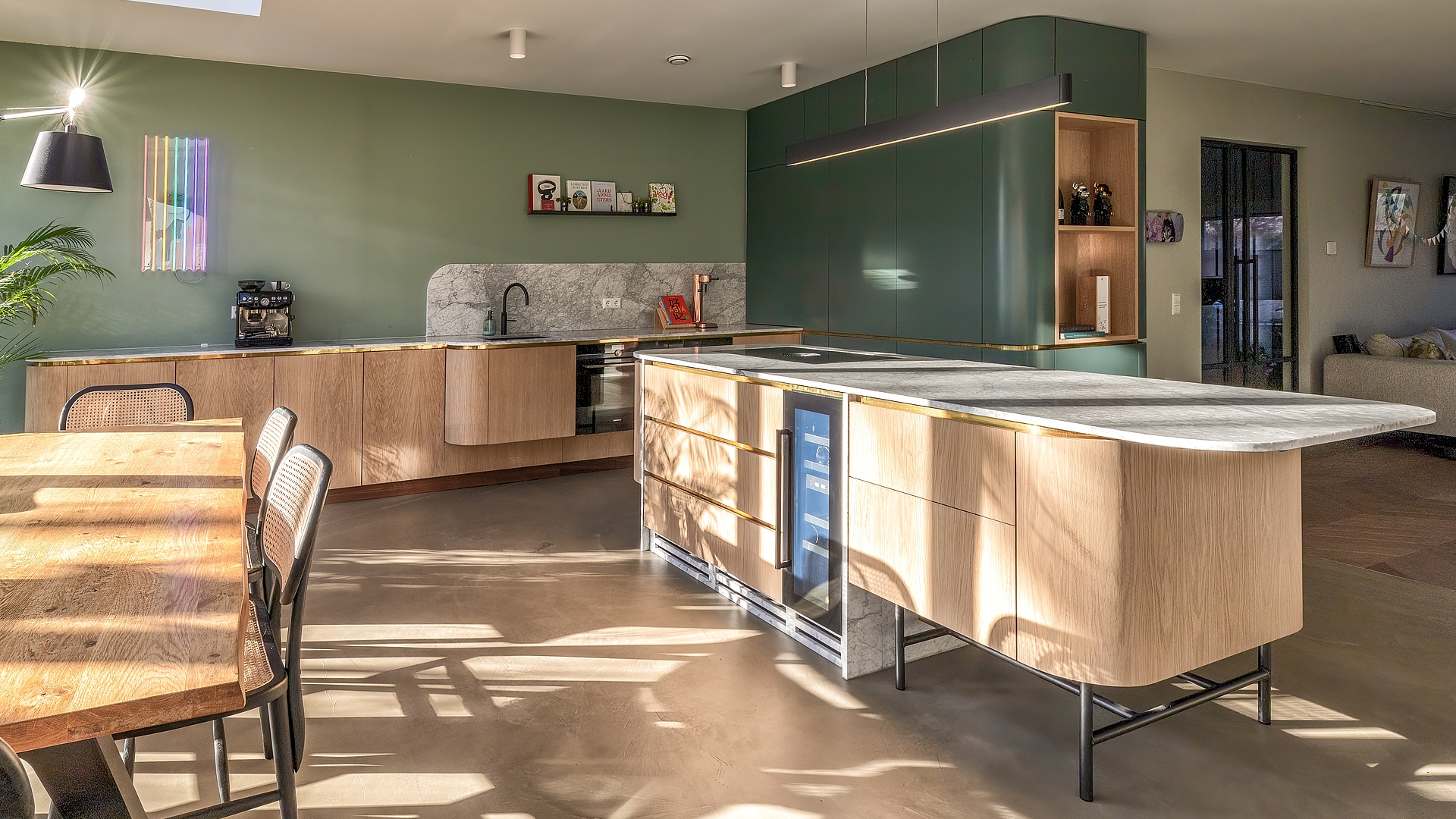 A well-rounded affair – curved furniture and kitchens
The days of defined corners and edges are over. Instead, the organic shapes and curved designs currently seen in kitchen furniture and décor items offer a new and, more importantly, softer ambiance. What's this curved furniture trend all about and where did it come from?
Credits: Brickhouse photography
The long tradition of organic shapes
Interior design history provides many examples of round, curved and organic shapes. Back in the Baroque and Rococo periods, undulating lines and sweeping curves were extremely popular in furniture, stucco and décor items. They symbolised the sophisticated lifestyle of the upper classes, who could afford spacious designs in their own living quarters, for example with sumptuous soft furnishings.
Whereas organic shapes were more playful and cluttered in the Baroque period, they became sharper and more geometric in the Art Nouveau and ultimately the Art Deco periods. Here, round and oval shapes were often contrasted with distinctive angular lines – a combination which remains extremely popular today. After a Bauhaus-inspired phase of minimalist lines, curvy designs reappeared in the 1970s.
Naturalness and harmony in your kitchen
Right now, the trend towards organic shapes in the home has taken hold once more, and there are many reasons for this: round shapes have a more natural and cosier feel than straight lines and right angles. They also match the shapes that we can find in nature. Therefore, round furniture and decorative items make us feel great in an almost 'natural way'.
But it's not so easy to create a harmonious overall impression in the home. Rounded corners, circular elements and flowing forms have a particularly relaxing effect when trendy curved furniture in natural shades such as cream white or earthy hues is combined with materials such as wood, cotton, wool and natural stone.
With the aforementioned tips, you can create a rounded design in your kitchen as a whole – either with a communication-friendly kitchen island or by rounding the individual edges of your kitchen units. You can decide how rounded you want the edges to be, to avoid bumping into your units when you're busy in the kitchen. At any rate you won't lose any space by doing so as plates are round anyway, so they fit perfectly into round (high) cupboards.
Shape your home to match the curvy trend
You'd like to bring some more curves into your home? Here are a few tips:
Natural-coloured armchairs with round seats and sofas with rounded backrests bring peace and harmony into your home.
You already have an angular sofa? Then a circular coffee table or an iconic kidney-shaped table would make a balanced contrast.
Add a few stylish accessories, such as round rugs and cushions, spherical lamps or organic-shaped vases.
Contrasts lend organic shapes a dynamic appearance, so try combining round shapes with straight ones.
Natural shades and materials fit in perfectly with the organic shapes trend.
What was popular during the Baroque and Art Déco periods still works today: the current curved shapes trend brings sensuality and harmony into your home. You too can achieve this effect by adding a few accessories and personal touches here and there.